Commentary 03 Nov 2009 08:40 am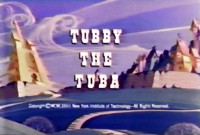 - There was a quiet day at the studio during the production of Tubby the Tuba. Johnny Gentilella and I were left alone for a few minutes during our lunch break. I took the opportunity to ask him a question I'd just about rehearsed asking for months prior.
While working together previously on Letterman for the Hubleys, I was the person who assisted all of the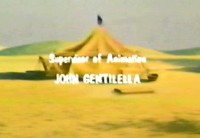 animators and inked all of the drawings. This was for 20 mins. of animation done in 2½ months in 1973. As a relative newcomer to the business, I studied and absorbed every drawing and exposure sheet that came my way. I was working with the work of some brilliant animators.
Essentially, in the kindest possible way, I asked Johnny Gent why a scene he did for Tubby at a podium matched a scene he did of Spellbinder, from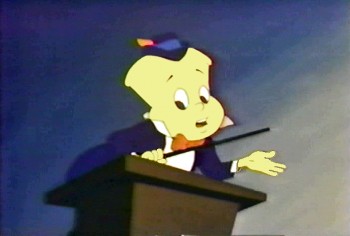 Letterman, at a podium almost drawing for drawing. The exact same scene with two different characters for two different films.
Johnny explained that in these days of low budgets and tight schedules the animator took the brunt of the responsibility for the movement despite the fact that there were no pencil tests to check on their scenes. If it didn't work, the animator usually lost the job. So, said Johnny, he had to fall back on what he knew worked, use all the tricks at his disposal and make it acceptable to his client – the film's director.
There wasn't the opportunity for him to play around or experiment. He used what he knew. I understood his logic and said so.
I remember, a couple of months later, telling Tissa David this story. She responded that Johnny was so lucky to have such a memory. She wished she could remember what she'd done from day to day so that she could repeat it. But no. She had to come out drawing, experimenting and creating every scene from scratch.
__________
While having coffee with John Dilworth last week we got into a conversation over something I'd posted on my blog. The subject started with the idea that humans do little motion in most of their activities.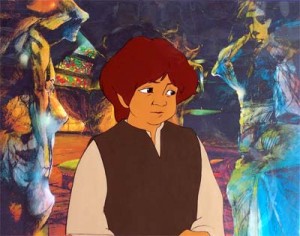 Ralph Bakshi . . . said that humans stand still most of the time, but that if an animated character would stay still, it wouldn't be acceptable. It would look like poor limited animation. It's a problem good animators enjoy solving.
This led to our discussing what kind of animation is actually out there and how limited or generic or poor the movement. Then John said something that stopped my brain in its tracks. He said that there's also the animator who doesn't do the movement that he actually imagines for the character but limits it. The reasons are many: money, speed, laziness, whatever. The acting is bad because the client and/or public will accept the cheaper movement, so why do more.
I had to admit that this is probably true for 99% of all bad animation out there. Assuming the animator can do the movement properly, there's the need to keep the money flowing, get the job in & out, or, in some cases, do all you need do to get the point across. It's a cynical thought, but it's probably also an accurate one for the reality of the world of the animator.
__________
Animation's come a long way since those days in 1973 when I worked at Tubby the Tuba. Now there are computers to "make our jobs easier."
Programs like Flash not only encourage limited animation but demand it. As a matter of fact most computer-drawn imagery is more easily designed for limited animation. Though I'm writing and thinking, principally, about 2D – flat art, I expect some of the same problems exit for cg animation. Animated features done "traditionally" aren't breaking much new ground either.
Now, I gaze at my navel wondering how much work I'm doing is in any way "daring", and thinking that I have to start getting serious. I think we all do.
27 Responses to "Lmtd anim8n"
Leave a Reply