Books &Norshtein 19 Nov 2009 08:47 am
- A week or so ago, there was a gentle knock on my door. It was a messenger coming from Richard O'Connor, one of the proprietors of Asterisk Animation. He had sent me a gift of a little treasure book; one printed in Japan which contained dozens of cartoon caricatures of Yurij Norshtein and his staff. The cartons are done by Tanya Usvayskaya. Let me post her own introduction. I'll follow that with two of the chapters from the book. The text is a bit hard to follow, so I'll retype it below each cartoon to make it more legible.
Honourable friends!

Hello!

My name is Tanya Usvayskaya. I'm working and studying at the Studio of Yuri Borisovich Norshtein – one of the most eminent animation directors. In this book you can see my small sketches 'from nature' depicting our studio life and different reactions to our events.
You can meet all members of our small team, as same as our friends, guests and close relatives.

All these small memos have been drawn with the intention to brighten and cheer up each of us, but in the book they'll help you to imagine that 'concentrated solution' where the cristals of our collective creative work are growing up.

Wishing a lot of joy to you I recall the words of little Yanochka to her grandfather Yuri Borisovich: 'Grandad, I want so much everyone to be delighted'

Sincerely Yours, Tanya Usvayskaya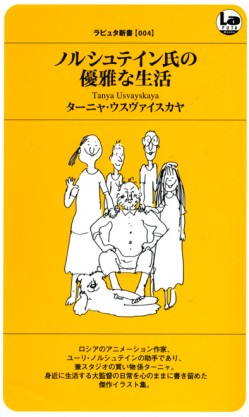 cov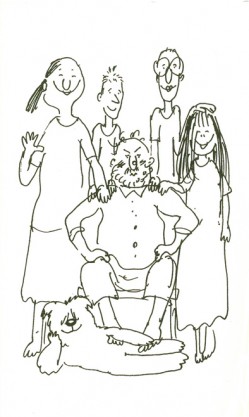 1
"Gather around, all of you!"
Members of the studio prepare for
photography. Photgrapher id Jukovski.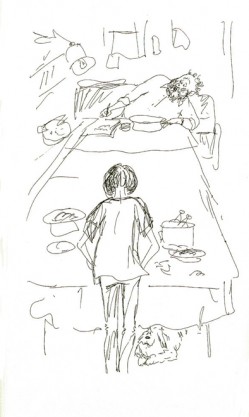 .

.

.


Norshtein is working and rinsing a bad tooth.
Zoia Trofimova, his student, is preparing her specialty, chicken broth. Zoia Trofimova is director of "PIPSQUEAK PRINCE."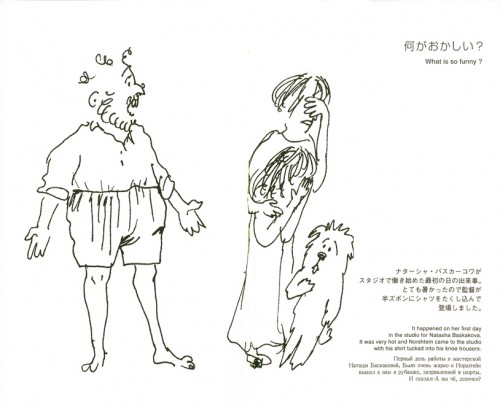 3
"What is so funny?"
It happened on her first day in the studio for Natasha Baskakova.
It was very hot and Norshtein came to the studio with his shirt
tucked into his knee trousers.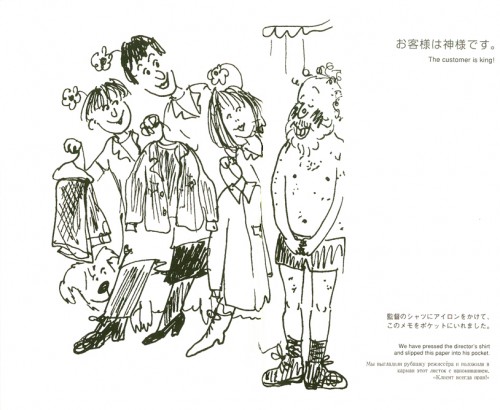 4
We have pressed the director's shirt,
and slipped this paper into his pocket.
"The customer is King!"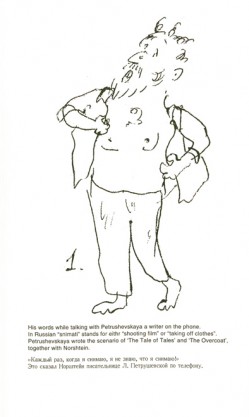 5a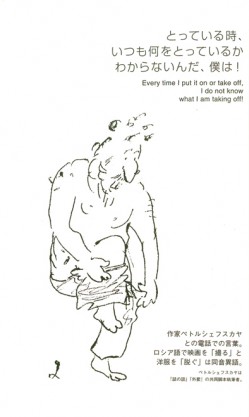 5b
5a – His words while talking with Petrushevskaya, a writer on the phone.
In Russian "snimati" stands for either "shooting film" or "taking off clothes."
Petrushevskaya wrote the scenario of "The Tale of
Tales" and "The Overcoat" together with Norshtein.
5b – "Every time I put it on or take off.
I do not know what I am taking off."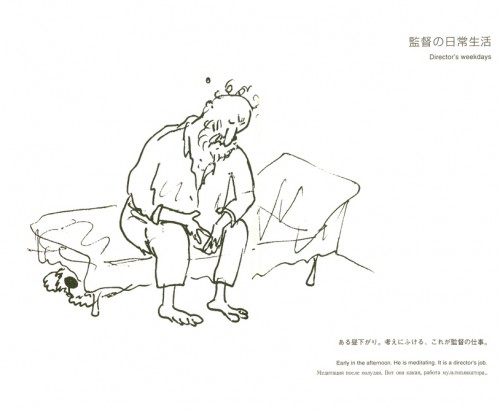 6
Director's weekdays.
Early in the afternoon. He is meditating. It is a director's job.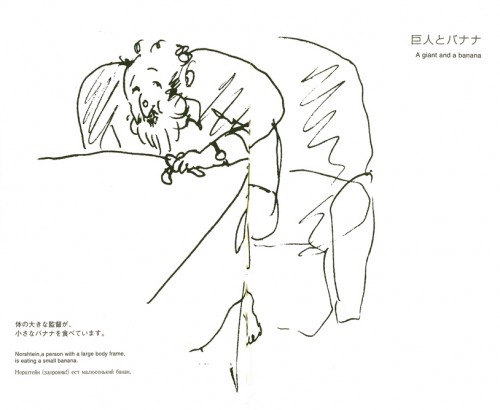 7
A giant and a banana.
Norstein, a person with a large body frame,
is eating a small banana.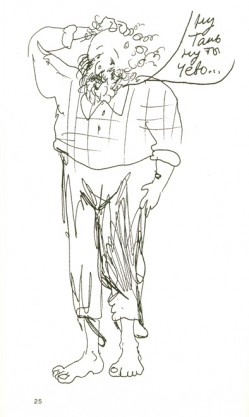 8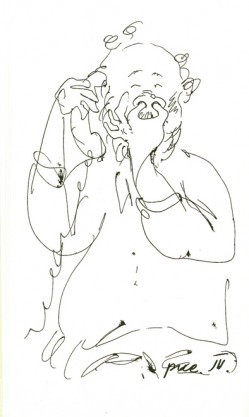 9
8 – "Er, uhm, you know . . ."
Norstein said to us apologetically, scratching his head.
It is a signal he sends when he wants to have a cup of tea.
9 – "Like a sucking pig."
Norshtein is talking on the telepone and scratching his nose.
Then he put his fingers into his nostrils.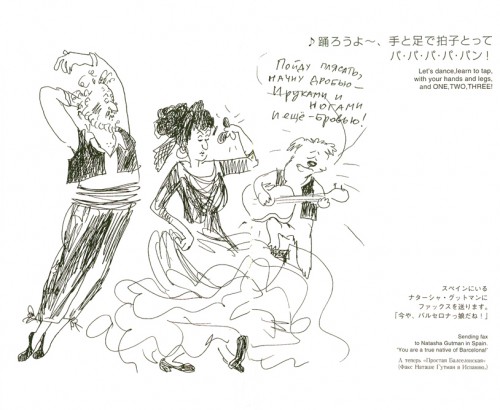 10
"Let's dance, learn to tap, with your hands
and legs, and One, Two, Three."
Sending fax to NATASHA GUTMAN in Spain.
"You are a true native of Barcelona!"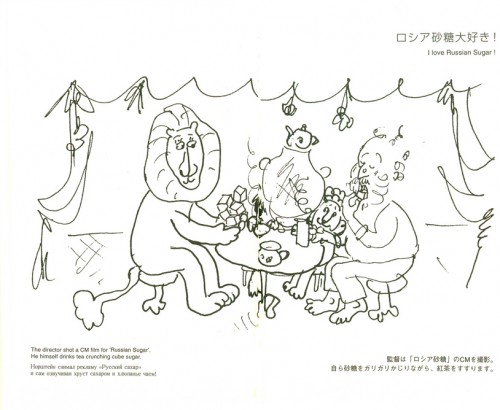 11
"I love Russian Sugar!"
The director shot a CM for "Russian Sugar".
He himself drinks crunching cube sugar.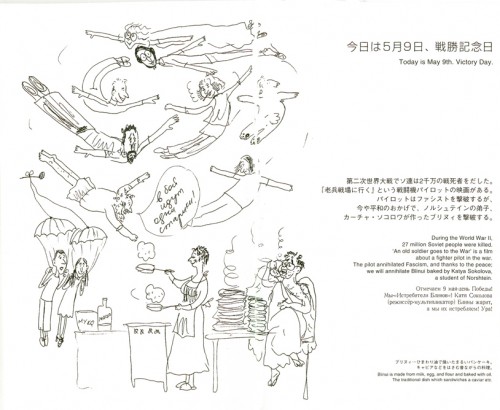 12
"Today is May 9th, Victory Day."
During the World War II 27 million Soviet people were killed.
"A old soldier goes to the War" is a film about a fighter pilot in the war.
The pilot annihilated Fascism, and thanks to the Peace;
we will annihilate Blinui baked by Katya Sokolova, a student of Noshtein.
Blinui is made from milk, eggs and flour and baked with oil.
The traditional dish which sandwiches cavier, etc.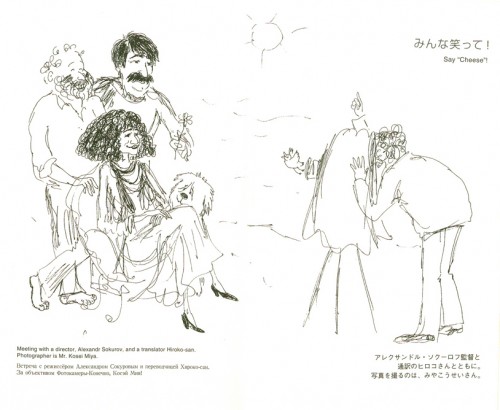 13
"Say cheese!"
Meeting with a director, Alexander Sokurov, and a translator, Hiroku-san.
The photographer is Mr. Kosei Miya.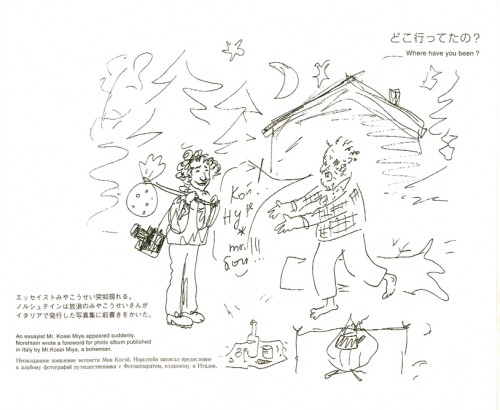 14
"Where have you been?"
An essayist, Mr Kosei Miya, appeared suddenly.
Norshtein wrote an introduction for a photo album
published in Italy by Mr. Kosei Miya, a bohemian.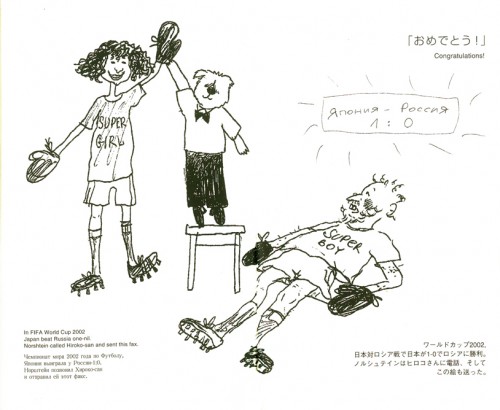 15
"Congratulations!"
In FIFA World Cup 2002 Japan beat Russia one – nil.
Norshtein called Hiroko-san and sent this fax.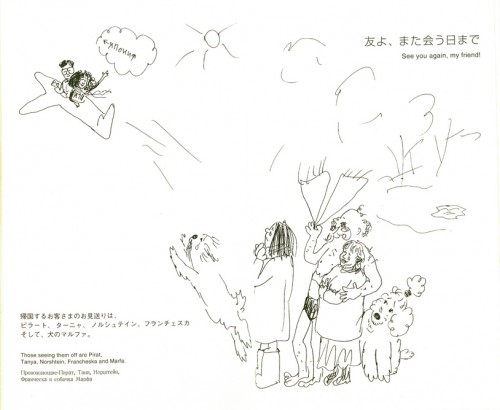 16
"See you again, my friend."
Those seeing them off are Pirat (the dog),
Tanya, Norshtein, Francheska and Marfa.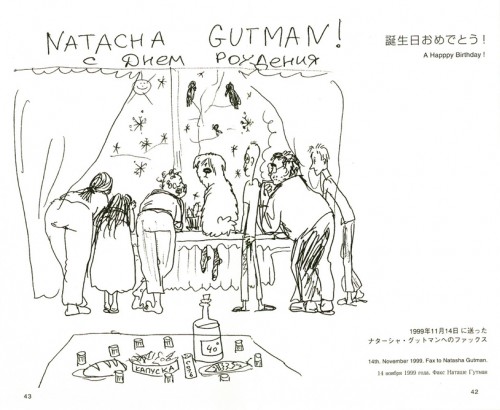 17
"A Happpy Birthday!"
14th November 1999. A fax to Natasha Gutman.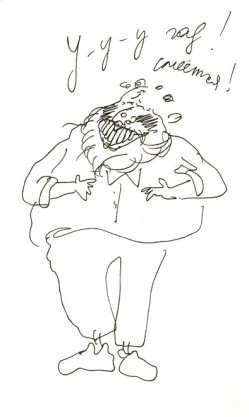 .

.

.

.

.

Ha-ha-ha
Hee-hee.

Yurij Borisovich said something offensive to Tanya and smiled with extreme satisfaction while Tanya took vengeance upon him by drawing this picture.
No one remembers what it was about,
and this picture remains.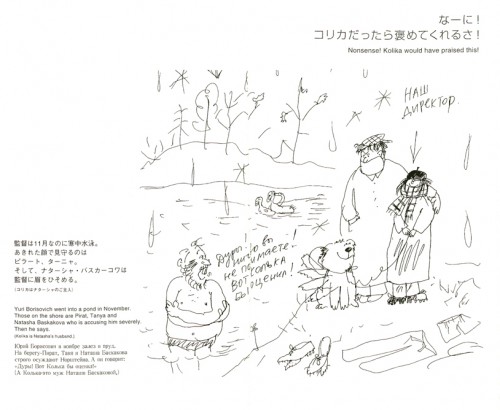 19
Yuri Borisovich went into a pond in November. those on the shore are
Pirat, Tanya, and Natasha Baskakova who is accusing him severely.
Then he says:
"Nonsense! Kolika would have praised this."
(Kolika is Natasha's husband.)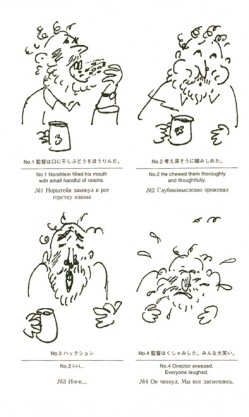 20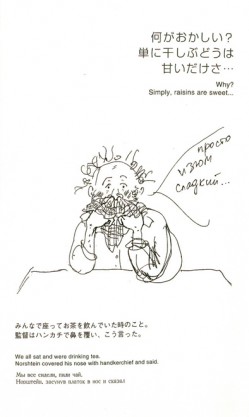 21
20-1 Norshtein filled his mouth with a handful of raisins.
20-2 He chewed them toroughly and thoughtfully.
20-3 . . . I – i – i
20-4 Director sneezed. Everybody laughed
21 We all sat and were drinking tea.
Norshtein covered his nose with a handkerchief and said,
"Why? Simply, raisins are sweet."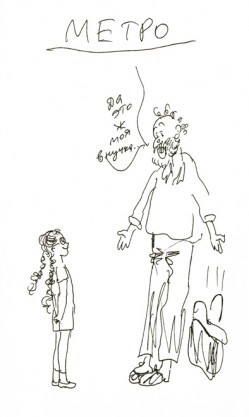 21
"Yes, it is my grandchild!"
Yuri Borisovich came to the studio in the morning and said,
"Imagine, I have just met my Granddaughter, Yanochika, in the subway!"

What a gem of a present. Thank you, Richard.
18 Responses to "Norstein Comics"
Leave a Reply