Photos 29 Nov 2009 09:08 am
- New York is an enormous spiderweb of parks and parklettes gathering within feet of each other. Of course you have the giants like Central Park or in Brooklyn Prospect Park or in Queens Forest Park or in the Bronx Van Cortlandt Park. But there are other, many other smaller parks. Some of them are a block or two large, like Bryant Park or Madison Square Park, but there are tinier ones. Many of them.
Within a two block radius from my studio, there are four of these tiny parks (and that doesn't include the three children's playgrounds or the basketball courts). Here are pictures of the four tiny parks: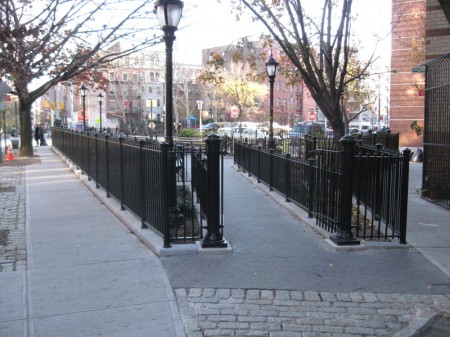 a1
(CLick any picture you'd like to see enlarged.)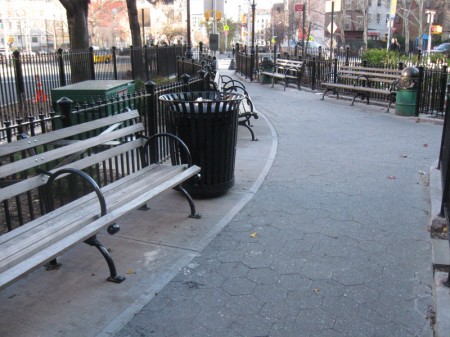 a2
The first of these parks is the newest. It's a triangle of a space
right at the intersection of Houston St. & Sixth Avenue.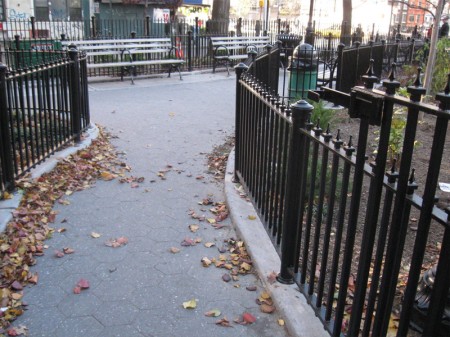 a3
It was originally fence-less. But then suddenly, ovenight,
it grew too many fences and not enough park.
Now, it's a strange space.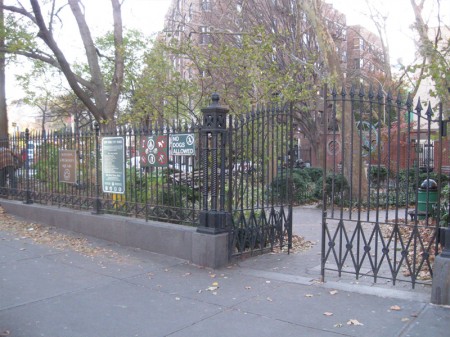 b1
Half a block away, right at the tip of
Bleecker & Sixth Ave., is Winston Churchill Square.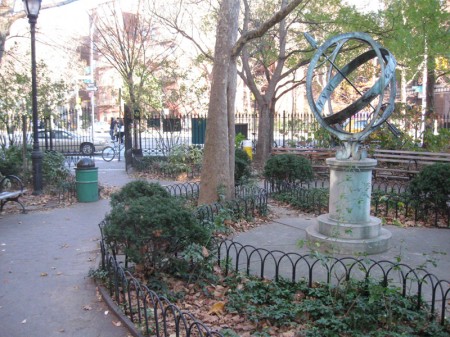 b2
It's a tiny little, tree congested space with a
beautiful orological statue in the center of it.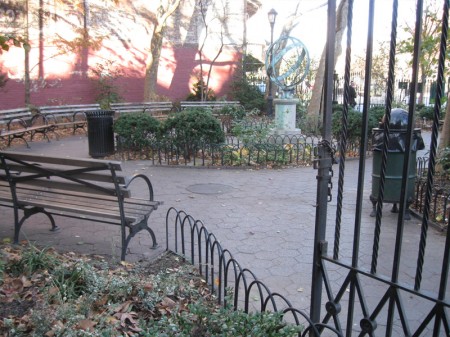 b3
This is probably the most peaceful of the parks and my favorite.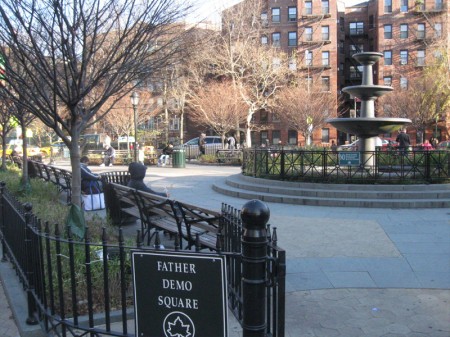 c1
The largest of the four and also relatively new
is Father Demo Square. This is right across the
street from Winston Churchill Square.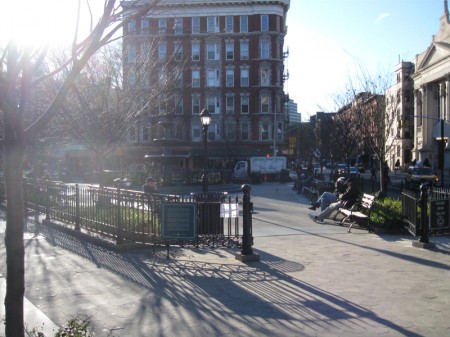 c2
This park seems the loneliest in that there's so much space
between benches and so little foliage planted around it.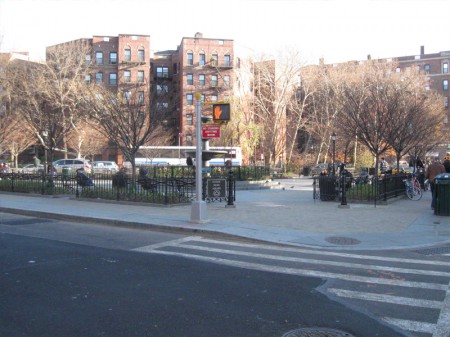 c3
It looks a bit better during the summer when the
fountain is going and the trees are green and in bloom.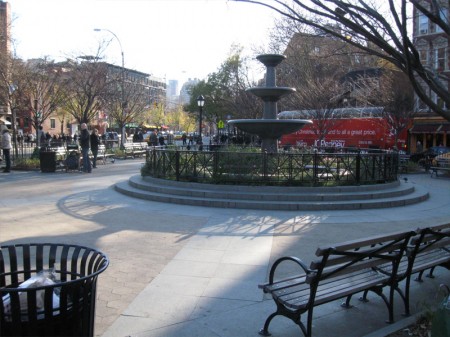 c4
The park features a brand new, usually operating fountain
made of some new material trying to look like marble.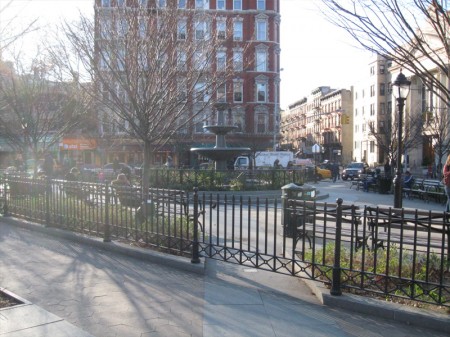 c5
This September, a local merchant told me I had just missed the
Yankees who been in this park. A few of the Yankees were out making
calls to a few NY neighborhoods to reach out and support some of the
local charities. Now I think of the Yankees when I think of this park.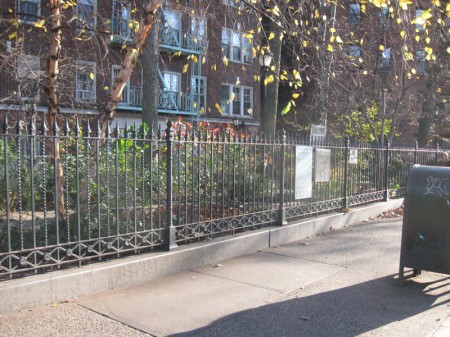 d1
There's a fenced in lot of greenery named Minetta Green (part of
Minetta Triangle.) I'm not sure if it is open to the public, though
I assume it must be.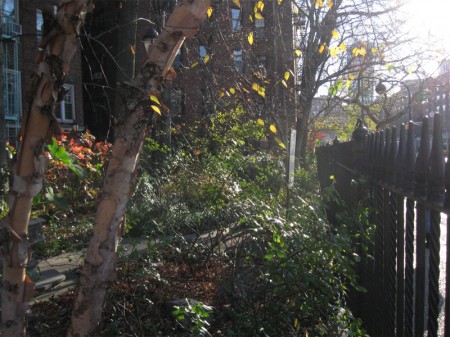 d2
I just never see anyone in there, and I don't see a gate. Although
I would guess there must be one. (I've just never looked hard enough.)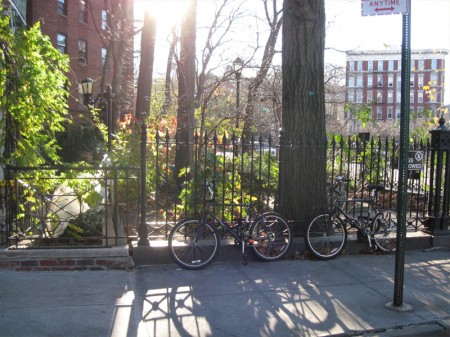 It's about 20 feet wide by about 120 feet long. Narrow.
It's right across the street from Father Demo Square.
All of them so close to each other.


- While out photographing I ran into Judy and Roberta Levitow.
I should have taken their picture. I'll see them Tuesday night for the event at The Paley Center, the panel devoted to Mr. Magoo's Christmas Carol. I hope NY turns out for this event. I'm looking forward to it and hope to snap plenty of photos.
3 Responses to "4 Tiny Parks"
on 29 Nov 2009 at 12:22 pm 1.Tim Rauch said …

ooooh! I'm gonna miss it. There's an opening of our artwork at our alma mater… but thanks for the reminder: I want that book! Hope it's a big night at the Paley Center, that looks like a wonderful film.

on 29 Nov 2009 at 11:12 pm 2.Kathy Ceceri said …

Hi Michael! Thought I'd check your Splog after watching "Man on Wire" and seeing "The Man Who Walked Between the Towers" on the special features!

Mr. Magoo's Christmas Carol is one of my favorites. I bought it to share with my kids when they were little. I'll have to pick up the making-of book.

And I'm glad to see you liked Fantastic Mr. Fox. I always feel guilty when I like a movie I think you wouldn't approve of. Click on my name on this post to read my review for GeekDad.

on 30 Nov 2009 at 9:10 pm 3.John said …

My guess is the park fences were probably put in place as part of the 'don't kill the grass' phenomenon that the NYC Parks Department periodically goes through every generation or so — they decide too many people are walking on and damaging the grass and fence areas off, then a few administrations later decide the fences make the parks too cold and impersonal and the fences come down … until the grass dies again.

(Gramercy Park of course is the best example of both a park that is beautiful but cold in an elitist way, since it's the only large private park in the city and you have to live in one of the buildings around the park to get a key. As a child, it was exciting to have a friend who actually had a key to get in there, but once inside you felt restricted, in the same way as when you're in the living room of a large home that's really only there for display, and not actually living in.)

Wish I could make it to the screening on Tuesday. Magoo's Christmas Carol is without question the most famous UPA work not done for theatrical presentation, and it will be interesting to see how a cartoon that was really done as a stage play comes across on a big screen.
Leave a Reply