Events &Photos 13 Dec 2009 09:10 am
- Last Tuesday, ASIFA East celebrated the work of one of New York's finest, John Dilworth. It was a treat to be asked to speak for John about his earliest days. Since I was there, I took as many pics as possible. However, the place was pretty dark, so it took four times as many pics as I'd planned to get some that weren't totally blurred out.
Here are a few which give an account of the show.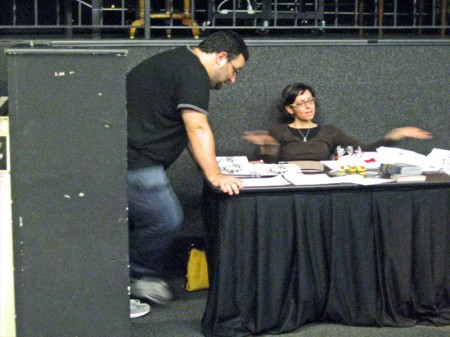 On entering, I was directed to a front/left row seat. Not the best
place to watch the show, but handy in making it to the podium.
As people assembled, up front, Elliot Cowan and Linda Beck covered a
table that was selling ASIFA-East calendars and Dilworth merchandise.
.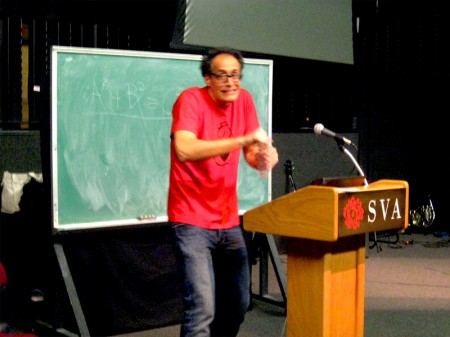 John D. checked out things at the podium before it started. You can
see that ASIFA operates out of a classroom at the School of Visual Arts.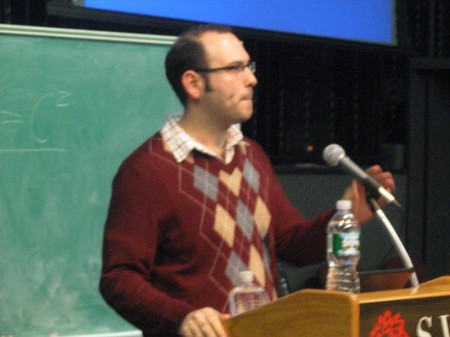 ASIFA-East President Dave Levy started things off by making some
preliminary comments and introducing the first speaker . . .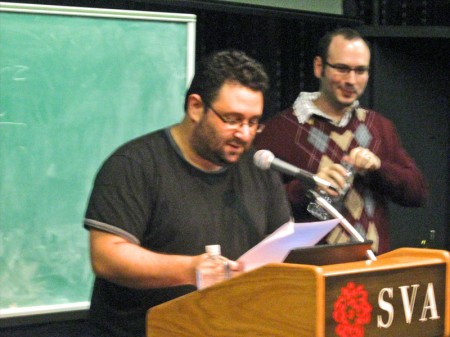 It wasn't Linda Simensky, who couldn't make it. Elliot Cowan read a
letter she'd sent. Dave stood in the back trying to wrest our attention.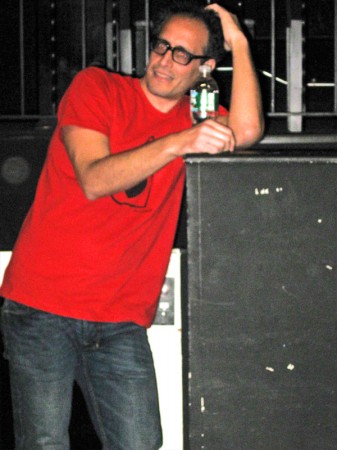 John stood off to the side grimacing at
every compliment or bad joke Linda offered.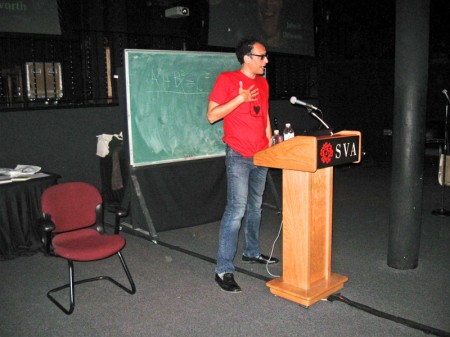 Finally, the star of the hour came forward to make
his opening comments and introduce his first guest.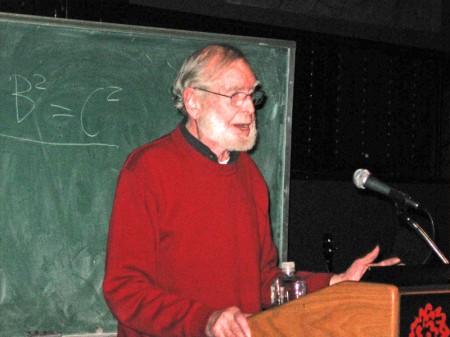 Howard Beckerman was one of John's earliest teachers and
he's now one of John's best friends.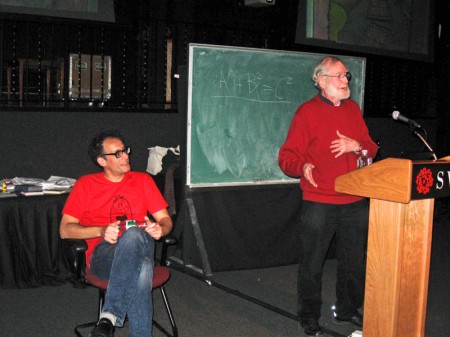 Howard introduced John's Thesis short. After the short's opening,
I was surprised at how great the timing was on this student film.
That's usually something that takes a lot of time to get.
(Remember, also, this was in the pre-computer days.)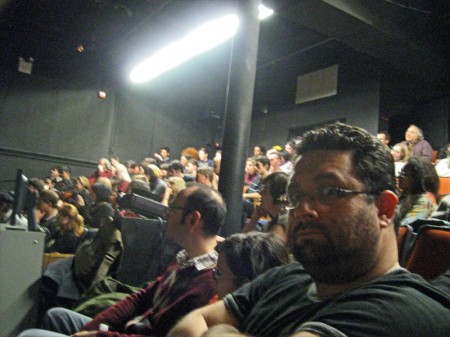 This was the view from my seat of part of the audience.
I was the next speaker (and there are no pics) and spoke about
John's early days animating for me on Lyle Lyle Crocodile.
From the podium, you looked out into blackness.
You weren't able to see any faces.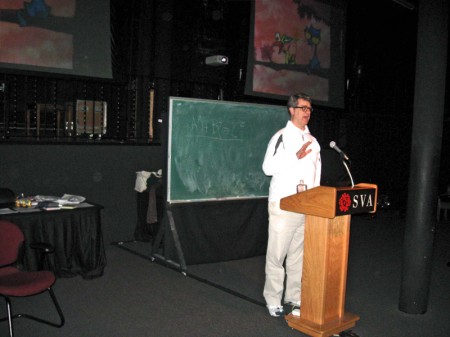 Fred Seibert followed me with a reminiscence of John's pitch
for THE CHICKEN FROM OUTER SPACE.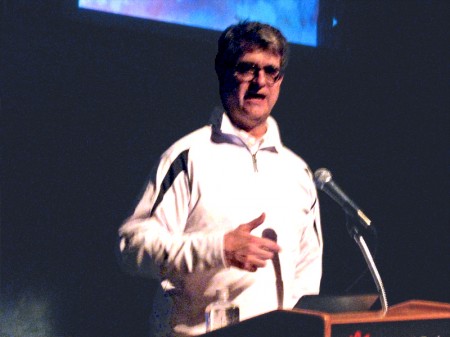 That short became the series COURAGE THE COWARDLY DOG
after it got an Oscar nomination for John.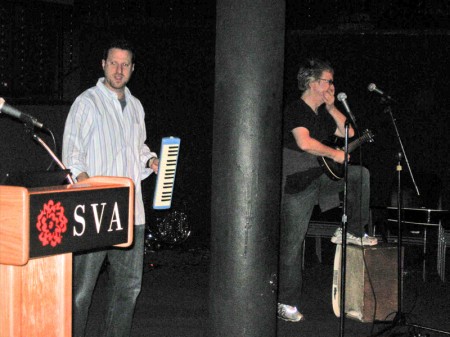 Jody Gray and Andy Ezrin came up to play the music live
for NOODLES AND NED (1997). However, the task couldn't be
pulled off and they just played some themes before showing the film.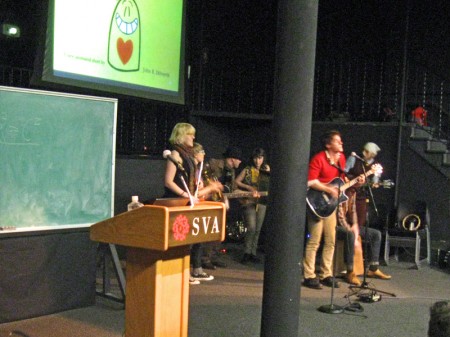 John brought on a live band to play a song written
in homage to his latest film, RINKY DINK.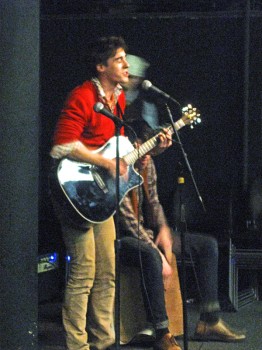 They'd also come on at the night's end to play another 15-20 mins.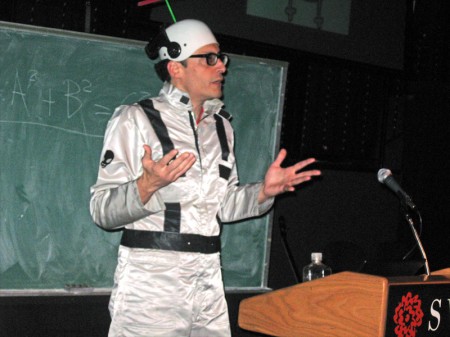 While the audience watched THE CHICKEN FROM OUTER SPACE,
John changed into his signature space suit.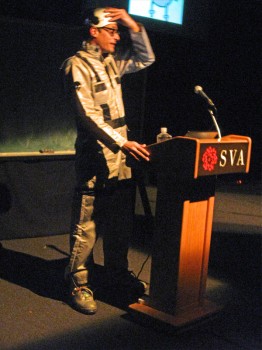 The idea, he told us, is to have a
blast while you're making the films.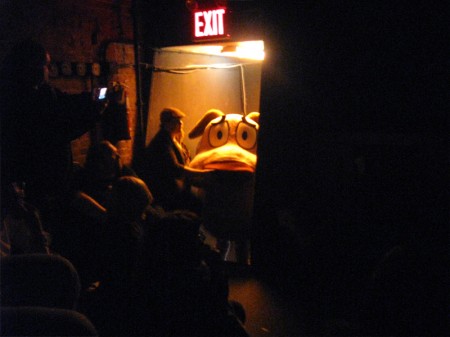 While John spoke, Courage the Cowardly Dog snuck into the room.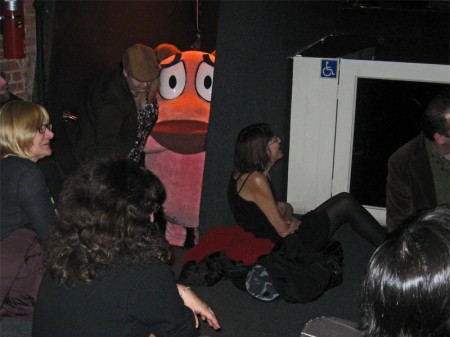 John had paid to ship the Cartoon Network costume to NY
so that his elusive character could be properly celebrated.
After the show, a bunch of us went out for beer and hamburgers.
The evening had been a lot of fun, and John Dilworth had pulled it
all together. A different kind of ASIFA-East event to end out 2009.
5 Responses to "John Dil @ ASIFA"
Leave a Reply