Events &UPA 16 Dec 2009 08:42 am
– I'm sad to report that Roy Disney died this morning. He would have been 80 on January 10th. He was battling cancer. The obvious connection to the family of the founders is going to be missed in the boardroom. I suggest you read Nikki Finke's commentary on his backroom career at the Disney of Eisner.

________________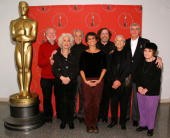 - Monday night there was the tribute to UPA that was hosted by the Motion Picture Academy and moderated by John Canemaker. A number of UPA-NY alumni gathered for the occasion. If you go here you can see a group photo of those artists in attendance.
The 35mm film prints were brilliant beyond my expectation. I think this is the first time I've actually seen the extra-ordinary colors of The Tell Tale Heart or Rooty Toot Toot. There was a point in the latter film when a character dissolves from white on light gray to a pale blue color. There are unbelievable white on whites of the final section of the film. It becomes such an amazing and daring choice by John Hubley when you can see that it wasn't just a deteriorated print – which is the way I've seen this film my entire life – but a decision. Every inch of this film is a masterwork that only grows with every screening I see.
Attandance at the show wasn't as good as I'd expected, but the theater was half full. Very few younger people. I suppose it's not easy to compete with YouTube's degenerated copies of these films. They offer the luxury of no effort.
Going to the show I realized that this is probably the last time in my life I'll see these films projected with such loving care with prints as rich as they were in the original. Certainly, this is the last time the group of ex-UPA workers will be assembled and honored. Howard Beckerman, Tissa David, Vinnie Cafarelli, Ruth Mane, Edna Jacobs have all been a part of my life. Emily Hubley and her husband, Will, were also there. It was fun talking with them throughout the dinner afterward.
Here are some quick snaps (meaning bad quality, my apologies) of some of the guests.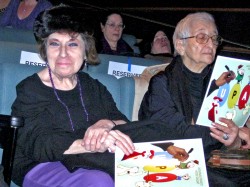 1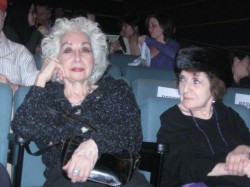 2
1. Ruth Mane and Tissa David. 2. Edna Jacobs and Ruth Mane.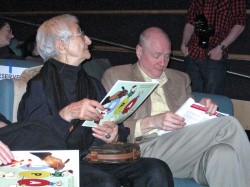 3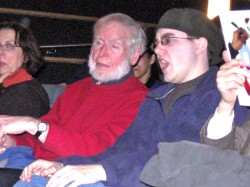 4
3. Tissa David alongside Joe Kennedy, John C's companion.
4. Howard Beckerman and his student.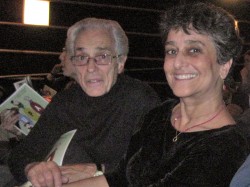 5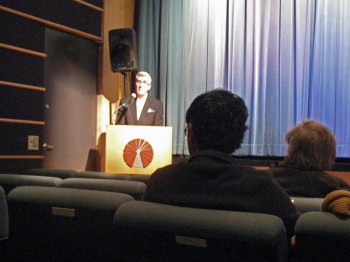 6
5- Vinnie Cafarelli and Candy Kugel – partners.
6. John Canemaker once he's taken the podium.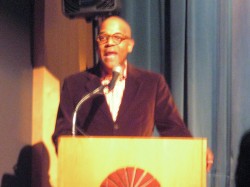 7
Patrick Harrison, the Academy leader for the NY chapter, introduces John Canemaker.
Here's the program we received, front and back. Tissa mentioned that she would have liked to have seen some of the artists printed alongside the films.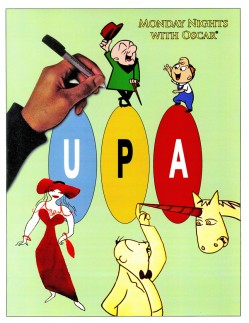 F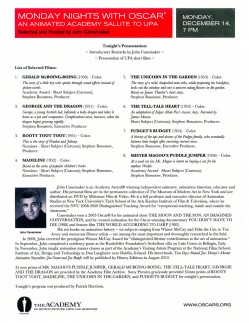 R
(Click any image to enlarge.)


_________________
- Yesterday, I posted something about The Brave Little Tailor. I received an email from Tim Hodge saing that he had an original drawing from the film going on auction in January.
"It's part of a fundraiser to benefit my son who was in an auto vs train accident in August of this year. His recovery is ongoing, but slow. Being a self employed artist, our short term insurance was adequate for most things, but not quite something of this magnitude."
You can check out his site here to get more information and to see other art for auction.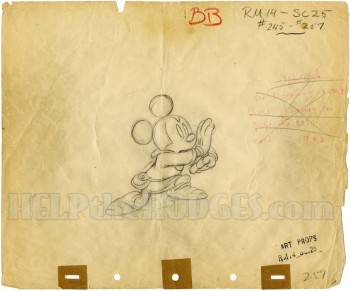 This is the drawing to be auctioned in January.
I think it's a Frank Thomas drawing.
18 Responses to "UPA Show"
Leave a Reply