Commentary &Daily post 22 Dec 2009 08:59 am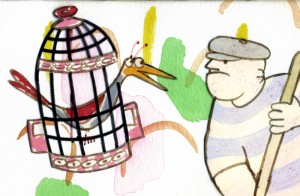 - I just learned the sad news of Arnold Stang's passing.
He played a bird on my film, Lyle, Lyle Crocodile. During the session, which included a song number, that Arnold participated in, Charles Strouse, the composer, jumped in to attack Arnold for not sounding enough like a bird. There was a back-and-forth fight between the two of them as to what an animated bird would sound like, as compared to a human being. Arnold pointed out that he was many animals in animation but had never been criticized for sounding human.
Recognizing the inherent problems in the discussion, outside of the booth I asked Charles to keep quiet and allow me to direct. I then told Arnold he was doing a great job – which he was – and to finish the piece in the same direction. He did, and the track ended well.
After the session, I privately spoke with Charles and resolved any problems. (He ultimately did this to me several times in several different sessions over the course of different films. In every case, I had to firmly stick to my guns.)
Arnold and I exchanged Christmas cards up until this year. Several times he called to ask if I had anything brewing for him. Unfortunately, we never worked together again. I'm glad for the bittersweet memories I do have, and I'm sad that he's gone. He was an extraordinary and unique talent.
___________________
- Nina Paley's Sita Sings the Blues will, at long last, make its New York City premiere on Christmas Day. The film will open at the IFC Center on Dec 25th and play through Dec 31st, New Year's Eve. This will be the first official screening of the movie.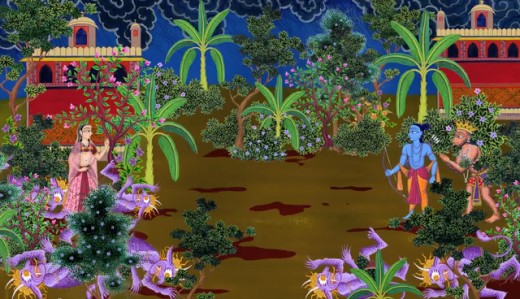 On Dec 25th Nina will appear for a Q&A session at the theater and may make other appearances at the theater during the week. These will be announced at a later date.
If you haven't seen the movie projected on a screen, you ought to. It takes on new dimensions, and you owe it to yourself. The film has played at over 200 International film festivals and has won many prestigious awards including at Berlin, Annecy and Ottawa.
___________________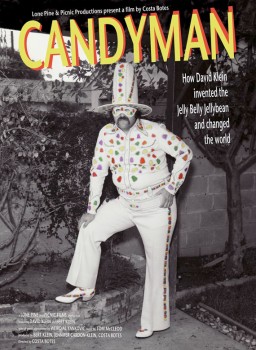 - You'll remember that I did a couple of posts on Bert and Jennifer Klein and their film, Pups of Liberty. I'm pleased to say that this film has been nominated for an Annie Award for best animated short. (The only other film in that category that I've seen is Bill Plympton's Santa, the Fascist Years. I suppose I can also guess what Robot Chicken: Star Wars 2.5 is. A Cartoon Network tv show. Honestly, it's not the best selection of shorts I've seen. Pups of Liberty has a good chance, and I congratulate the Kleins.)
Bert Klein recently contacted me to say that he's produced a feature film, with Jennifer Klein, – a live action documentary about his father, David Klein, the inventor of the Jelly Belly. It's called Candyman and is directed by Costa Botes, who directed Forgotten Silver with Peter Jackson in New Zealand.
You can view a trailer on their film's site, Candyman.
The film, Candyman was just accepted into the 2010 Slamdance Film Festival. It's going to be an exciting January at the Klein household.
___________________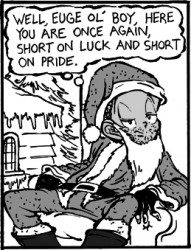 .
- Recently Jonathan Giles approaached me at an ASIFAEast program. He gave me a card for a website comic strip he's been drawing/posting for the past couple of years.
Anecdote is a strip that features a lot of kids with timely/often political subject matter. It's a well-drawn, entertaining read and I highly recommend it. Apparently, new strips are posted Wednesdays at 5:30pm, but plenty of strips remain on line.
I encourage you to check it out.
.
.
One Response to "Arnold Stang/Sita/Candyman/Anecdote"
on 22 Dec 2009 at 11:46 am 1.Charles Brubaker said …

Thanks for linking "Anecdote". Reading from the beginning it starts out as a "Bloom County" wannabe, but thankfully it developed into something of its own.
Leave a Reply