Richard Williams &Theater 29 Jan 2006 07:44 am
Broadway Rhythms:
Broadway entered my life a long time ago. After seeing a BBC tv special, a tour of Richard Williams' Soho studio, I learned about his animated titles for A Funny Thing Happened On The Way To The Forum. Seeing the film, reintroduced me to Tony Walton's name. I knew his name from Mary Poppins where he acted as a "design consultant" for sets & costumes.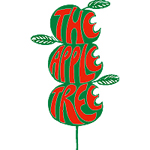 When the musical, The Apple Tree, opened on Broadway in 1967, I went. Richard Williams had designed an animated piece that illustrated the rise to super-stardom of Barbara Harris' character, Passionella. A young Alan Alda also starred in the show. Robert Klein was in one of his first shows.
It was the set and the costumes that I really took home with me. I became a new fan of musical theater and at least as much a fan of Tony Walton's work.
the logo designed by Dick Willliams
It took another three years before I found a musical to top that experience. Company was my first Stephen Sondheim show. In 1970, suddenly, theater had grown up for me. The story, songs and direction were sophisticated, urbane, and intelligent. The set by Boris Aronson had challenged everything I knew and took it to a new level. Chrome, glass, elevators and projections. The set seemed to constantly reconstruct itself and shift to something else: an apartment complex, an apartment, a disco, a bedroom, 42nd Street. It was all of these things with the help of my imagination.
I saw this show five times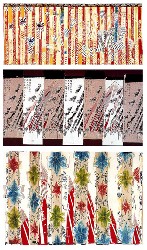 over the course of its run. For a young student, this was a large financial investment on my part, but I was hooked on Boris Aronson and planned to follow his work religiously.
Pacific Overtures (the original production in 1976) took theater to another level of sophisitcation. Aronson's set was overwhelming for me, and completely integral to this show. It was as much an necessary part of the show as the brilliant writing, songs, and direction.
He brought pre-Industrial Japan to the stage and moved the characters into the Industrial revolution. Aronson gave us dragons that were warships, a tree that expanded to a Japanese fan, a small meeting house and a throne room. We saw the simplicity of the culture and the complexity of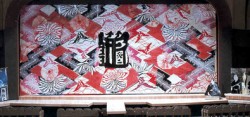 the big changes dev-
eloping.
-
Aronson designed several curtains for this production. The final one used is depicted on the left in a photo of the model.
In 1981 Richard Williams introduced me to Tony Walton. Tony needed a character animated for the show, Woman of the Year. They'd planned on six minutes of animation in the show; I ended up producing roughly 12 minutes in six weeks. The key spot was a song and dance duet that lead actor, Harry Guardino, would do with the character, Katz. Tony Charmoli danced a number he had choreographed for me, and I filmed it with a 16mm camera. We started animating.
There was no time for Pencil Tests. We did it, and I raced to Boston to put it into the show's try-outs there. It took another couple of days for the actors to rehearse the dance with the film, and I saw it in front of a live audience for my first viewing. They loved it.
Immediately, more animation was added to the show: several short sequences which allowed for set changes, behind the screen. Two weeks before opening, writer Peter Stone, composers Kander & Ebb, and director Robert Moore had concocted a new song and dance which would open the second act. I had to have it ready for the Broadway opening. I did, but there wasn't enough time for Harry Guardino to rehearse with the animation. The number was cut.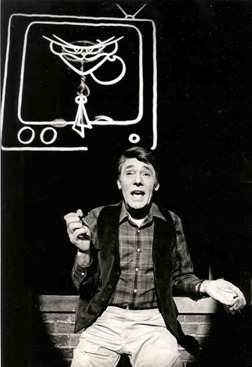 Bran Ferren was a technical genius I met and first worked with on this show. He was credited with designing "projections" for the show. He did a lot more.
The film was rear-screen projected. This meant I had to animate everything in a flopped postion. The projector was up and projected down, and it was only about six feet from the 42 foot screen. The film keystoned like a large triangle. I had to draw the piece in a reverse keystone to accomodate for the technical problem.
Our sound track had to have two tracks completely separated: on one, the voice went to the audience; on the other, a click-track went to the conductor. Since dolby had some leakage of one track to the next, Bran created a new form of dbx processing for the optical track. It was a technical nightmare that the audience never saw.
Here, a character animates to life behind Harry Guardino as he sings about the creation of it. – photo by Martha Swope
The seemingly chaotic and hectic world of Broadway was a delight. There was little money in it and less time, but I loved every second.
I gained an endless amount of respect for Tony Walton and the brilliant design he contributed, as he has done for every piece he's created. I also found that there wasn't a far distance between the designers of live theater and those of animation. Obviously, the link is closer with puppet animation (sets, costumes, et. al. ), but as one who has been there I don't feel that wide a gap. There are just different needs all in pursuit of art for an audience. I've learned a lot from the set design and production of live theater, and this I've applied to my films.
I still closely follow Tony Walton's career and work as I have watched numerous brilliant designers over the years. Theater has often enlightened some bits of my animation work, and I encourage everyone to see as much live theater as possible.
2 Responses to "Apple Tree and Aronson"
on 29 Jan 2006 at 12:56 pm 1.Jenny said …

Thta's fantastic stuff to have worked on and been around. I never got to see "Woman", but I well remember the kudos that animated sequence got in the reviews–it was a huge highlight. To have seen "Company" back then in NY?(I caught up with the road show of "A Little Night Music with Glynis Johns here in L.A.–my first musical)–I take it you've seen the incredible documentary of the recording of the "Company" cast album?
And thanks for attributing all that animation and scenic design. Really important history.
Leave a Reply