Animation &Animation Artifacts &Bill Peckmann &Disney 07 Jan 2010 10:04 am
- Thanks to the generous loan from Bill Peckmann, I have this animation model chart of Minnie in Sc. 10 from The Little Whirlwind. The animation is by Ken Muse, Les Clark and George deBeeson (Effx). I suspect that Les Clark had the greatest hand in animating Minnie.
Here's the model chart as copied: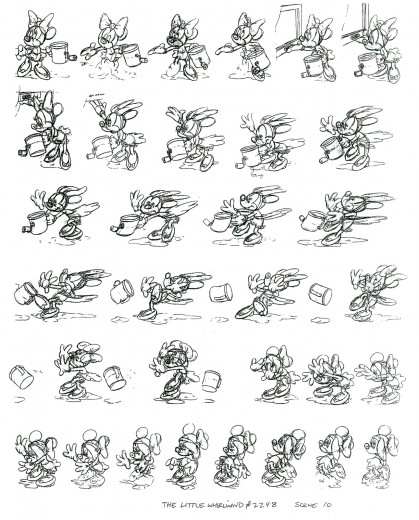 I've broken the images down and enlarged them a bit for viewing purposes:












The Following QT movie is exposed on
a mix of ones and twos. All guesswork on my part, and
there are probably some drawings left off the model sheet. Click left side of the black bar to play.
Right side to watch single frame.
6 Responses to "Little Whirlwind Action Chart"
Leave a Reply