Animation &Animation Artifacts &Bill Peckmann &Disney &Models 14 Jan 2010 09:04 am
- A second model sheet of Minnie shows the animation breakdown for scene 57 from the film, The Little Whirlwind. The scene was animated by Ward Kimball and Reuben Timmins (effx).
Here's the full model sheet. Note that some of the drawings are out of order (row 2 should be row 3.)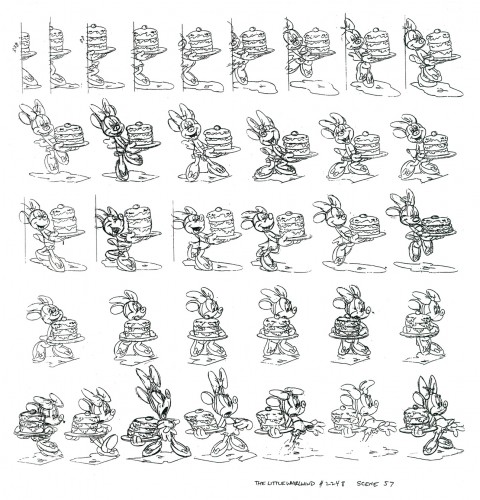 (Click any image to enlarge.)
Here's a breakdown of those same drawings enlarged for viewing.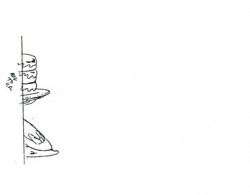 1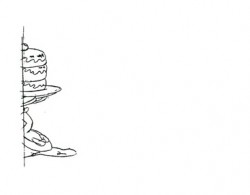 2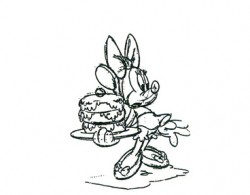 33
The Following QT movie is exposed on
twos since I have nothing to go by, I just let it play itself. Click left side of the black bar to play.
Right side to watch single frame.
Thanks to Bill Peckmann for the generous loan of this model sheet.
3 Responses to "Little Whirlwind – 2"
on 14 Jan 2010 at 12:07 pm 1.John V. said …

I wonder what Timmins animated. The shadow? The cake?

on 14 Jan 2010 at 12:15 pm 2.Tom Minton said …

Reuben Timmins (Timinsky at Fleischer) was an elderly but feisty effects animator at Filmation in 1978, who drew with a thick, flat, unsharpened carpenter's pencil. But it was all there. He knew his stuff and loathed young people making any noise within forty feet of his workspace. He told me he'd been one of the designated Disney effects people who dutifully studied live action footage of forest fires for two years prior to working on Bambi, but he left after the 1941 strike and didn't get to animate any fire on that picture. Too bad. He was good at fire.

on 13 Mar 2010 at 9:45 pm 3.Gary Landis said …

Ruben Timmons was my Aunt's father. He used to come to dinner at my grandmothers house and draw us cartoons.
He was always nice to me, but my aunt says he was nt very nice.
He once gave me some cells from Top Cat, which he had worked on. My mom threw them out with the garbage when cleaning house years later.
Many years after that I was visiting Chuck Jones gallery and saw some of those cells selling for $500+ each.
If my mom only knew!
Gary Landis,
Prof of Chemistry, Cypress College.
Leave a Reply