Books &Photos 17 Jan 2010 08:50 am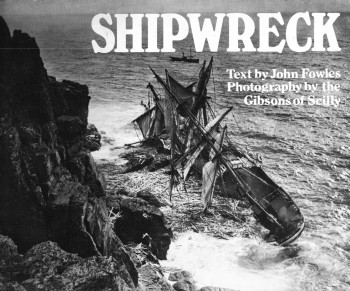 - By far one of my favorite writers was the British author, John Fowles. I enjoyed The Magus, but with The French Lieutenant's Woman he had me as more than a fan. His language, his intellectual arguments, his absolute respect for his reader all brought me back again and again to follow his every word. I spent time with a specific retailer in New York who specialized in Fowles' books to make sure that I wasn't missing anything that he published.
In 1985, on a vacation in London, I found a translation Fowles did of a French play, Martine by Jean Jacques Bernard, playing at the National theater. I hastily bought a couple of tickets to the show at the last preview, just prior to the play's opening. Arriving early, there was an hour to kill before going into the theater. Fortunately, some vendors had set up book stalls selling used books, and I pleasantly sorted through the wares. Looking up from a book of Edmund Dulac's illustrations, I saw John Fowles an aisle away. I was too timid back then to introduce myself and shake his hand. I just gloried in the knowledge that he was a brush away. The play was not memorable, but the evening was.
For a short while, Fowles wrote the text for a number of books which were really photographic essays. One of my favorites of these is one called Shipwreck. Featured throughout the book are historic photos of ships that crashed on the coasts of the Scilly Islands and West Cornwall. (Fowles was always dedicated to his home town of Lyme Regis.)
Here, I'm posting a few of the photos in the book because they are inordinately interesting to me, and I think you may also find them such. The text is by Fowles.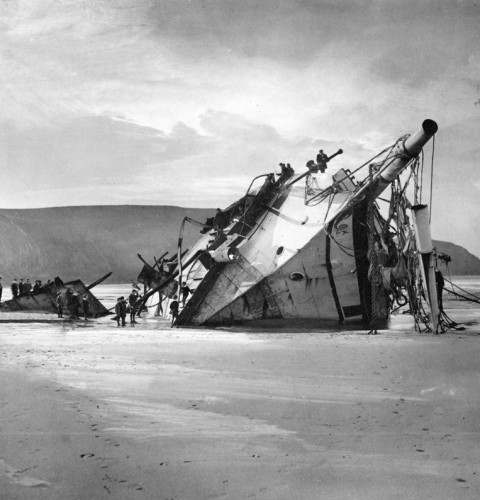 Seine
Ran ashore in Perran Bay (Perranporth), December 28th, 1900.
This beautiful ship was a French 'bounty clipper' – so called because
a government subsidy to French ship-owners allowed them to build
for elegance rather than more mundane qualities. The crew got off
in heavy seas. By dawn the next day she was dismasted and on her
beam-ends, and broke up on the next flood-tide. Two weeks later the
hulk of this celebrated barque was bought for only £42.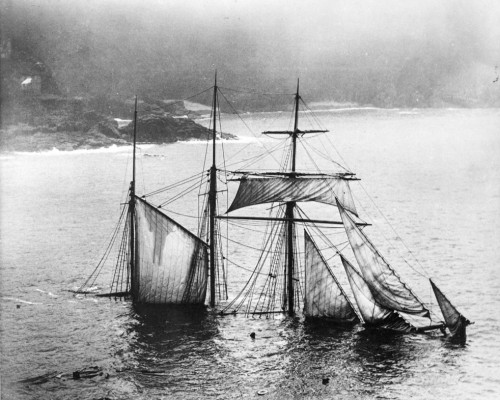 Mildred
Struck under Gurnard's Head in thick fog at midnight, April 6th, 1912.
She was carrying slag from Newport to London. When she began to
pound broadside on, the captain and crew launched a boat and rowed
along the cliffs to St Ives. The Mildred, Cornish built and owned,
was launched in 1889.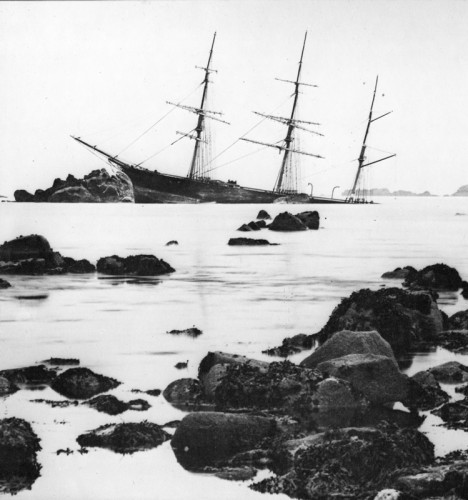 River Lune
Struck in fog and at night just south of Annet (Scillies), July 27th, 1879 –
the same day as the Maipu. The master later blamed a faulty
chronometer, since he had believed himself fifteen miles to the west.
The ship heeled and sunk aft in the first ten minutes. The crew took
to their boats, but returned in daylight to collect their belongings.
This barque was only eleven years old. She broke up soon afterwards.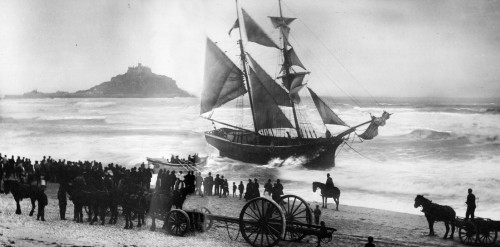 Jeune Hortense
Stranded near St Michael's Mount, May lyth, 1888. The foreground
carriage is for the Penzance lifeboat. This sturdy brigantine lived
to sail another day.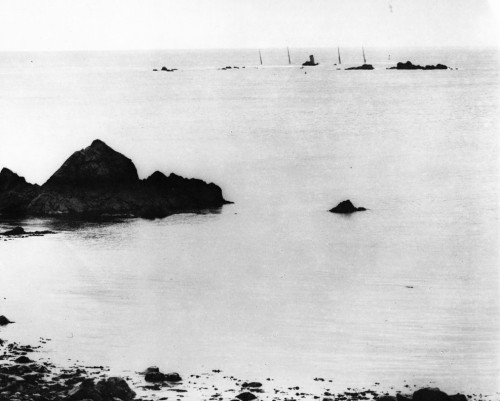 Mohegan
Struck the Manacles, October 14th, 1898. One of the most dreaded of all reefs,
the Manacles (from the Cornish 'maen eglos', rocks of the church, a reference
to the landmark of St Keverne's tower) stand east of the Lizard promontory,
in a perfect position to catch shipping on the way into Falmouth — and before
Marconi 'Falmouth for orders' (as to final North European destination) was
the commonest of all instructions to masters abroad. But the Mohegan was
outward bound, and hers is one of the most mysterious of all Victorian sea-disasters.
She was a luxury liner on only her second voyage, from Tilbury to New York.
Somewhere off Plymouth a wrong course was given. A number of people on shore
realized the ship was sailing full speed (13 knots) for catastrophe; a coastguard
even fired a warning rocket, but it came too late. The great ship struck just as
the passengers were sitting down to dinner. She sank in less than ten minutes,
and 106 people were drowned, including the captain and every single deck officer,
so we shall never know how the extraordinary mistake, in good visibility, was made.
The captain's body was washed up headless in Caernarvon Bay three months later.
Most of the dead were buried in a mass grave at St. Keverne.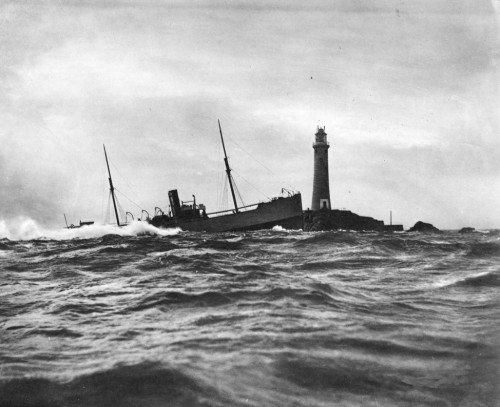 Blue Jacket
Stuck fast – and surely a classic example of the expression-on the
Longships lighthouse rocks off Land's End, December 9th, 1898. This
tramp was in ballast from Plymouth to Cardiff. The captain went below
to his cabin – and his wife – at 9.30 p.m., leaving the mate on watch.
He was woken near midnight by a tremendous crash, and came on deck
to find his listing ship brilliantly illuminated by the lighthouse only a few
yards away. Captain, wife and crew took to their boats and were picked
up by the Sennen lifeboat. How the mate managed to play moth to this
gigantic candle-the weather was poor, but provided at least two miles'
visibility-has remained a mystery. The Bluejacket sat perched in this
ludicrous position for over a year.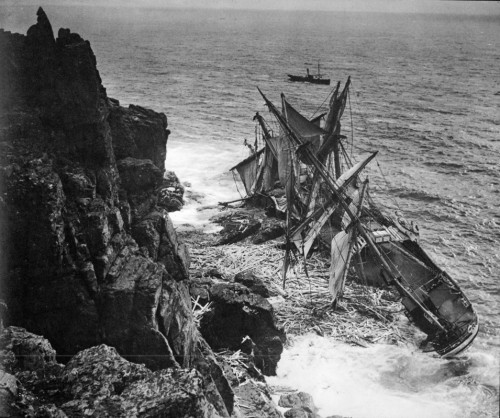 Hansy
Wrecked in Housel Bay near the Lizard Point, November 13th, 1911.
Sailing from Sweden to Melbourne with timber and pig-iron, she missed stays
while trying to come about in a gale. The crew were brought ashore by
breeches-buoy. Two days later a salvage party boarded – to find a pair of
goats lying happily in a seaman's bunk. Local fishermen did a thriving trade
in timber for weeks afterwards; and the iron pigs are fished up for ballast
to this day. The Scottish-built Hansy (formerly Aberfoyle) had had an
unhappy history. In 1890 the bulk of the crew jumped ship in Australia,
after a bad voyage out – only to be returned on board following a fortnight
in jail. Jail must have been more agreeable, for eight men jumped ship again
at the next port of call. In 1896 a steamer found the Aberfoyle drifting helplessly
off Tasmania. The captain had been swept overboard, the first mate had
committed suicide by leaping into the sea and the rest had given up hope.
Similar stories of low morale – and often of insane bitterness between
officers and crew – are manifold.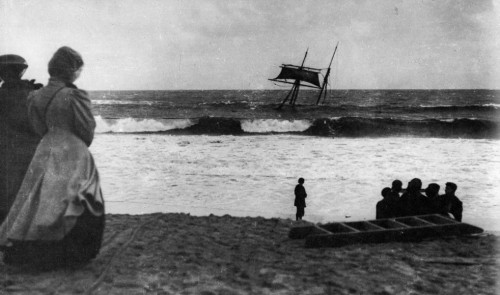 Susan Elizabeth
Driven ashore at Porthminster Beach (St Ives), October 17th, 1907.
A gale blew this collier's sails out off the Mumbles. Less than three months
later the Lizzie R. Wilce and the Mary Barrow also had to beach here.

7 Responses to "Shipwrecks"
Leave a Reply