Books 28 Jan 2010 09:34 am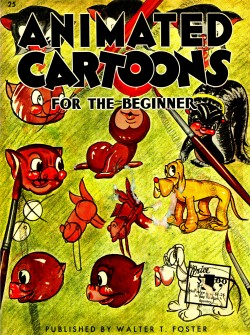 - We all know that Walter T. Foster art books published the grandaddy of modern How-To-Animate books, Preston Blair's Animation. But there was another book from the same publisher, and I don't know, to this day, who put it together. I think it might have been Walter T. Foster, himself.
Animated Cartoons for the Beginner.
When I was young – 10 or 11, somewhere in there – a guy who lived in my building, Norman (I don't remember his last name), worked for NY's largest art store at the time, Art Brown. My father broached him and told him of my obsession for animation and asked if the guy, who was an "artist," could help me. Norman came down to my apartment and spent a lot of time talking with me and encouraging me. He gave me a copy of both Walter T. Foster books on animation, and he won a fan forever. He soon moved out of the building but was replaced by a woman, who I guess took over his apartment, Norma
(I don't know her last name either.)
She brought some colored pencils, watercolors and a 5×7″ drawing pad with rough surface. She wanted me to draw/paint a story. I filled that book with illustrations of a Russian fairy tale called "The Prince and the Dragon." I liked the dragon part. As I did it, she spent time guiding me in using the materials.
There's nothing good or notworthy in that pad (which I still have), but it put me on a path after spending so much time whining about wanting to be an animator. The kindness of strangers.
Anyway, that other book, Walter T. Foster's Animated Cartoons for the Beginner, was always a poor and distant cousin to the Blair book. Even when I was 12, I looked down on it. I mean who draws like that? Except Nat Falk and Walter T. Foster. When I pulled the book out to show my guys in the studio, Matt Clinton's first comment was, "Who draws like that anymore?"
I guess they used to draw like this. Connie Rasinski and the folks up at Terrytoons perfected it, and copyists like Walter T. Foster turned it into something else.
But looking at the book today, it sure is something. It always irked me that the drawings on the right hand side (the even numbers, below) included walk cycles and movement that could be flipped. But the pages of the book weren't correctly assembled, so the animation doesn't flip without some big problems. It's crazy.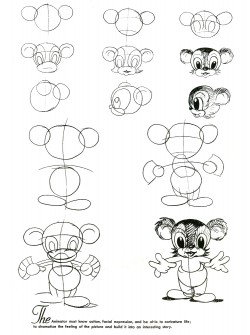 1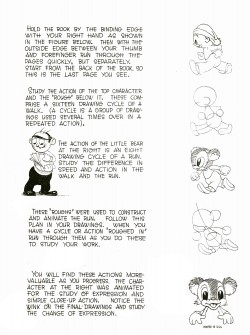 2
(Click any image to enlarge.)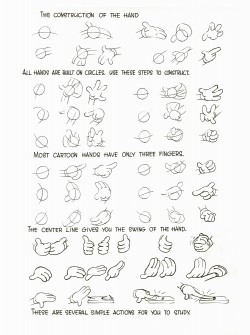 15

Next week, I'll post the other half of the book and try to make some QT movie flipbooks of the pages – those I'll have to put into proper flipping order.
12 Responses to "WTFoster's other book – 1"
Leave a Reply