Animation &Animation Artifacts &Bill Peckmann &Disney &Models 25 Jan 2010 08:32 am
- Last week I posted the model sheet for scene 10 of The Symphony Hour. This week I have scene 22. I've also broken down the drawings and made a QT comparison between the final film and these extremes by Les Clark. It's a short scene, but there're a lot of dynamics in it.
The model sheets come from the gracious courtesy of Bill Peckmann. Many thanks to him.
As with last week's post, first the full model sheet then a breakdown.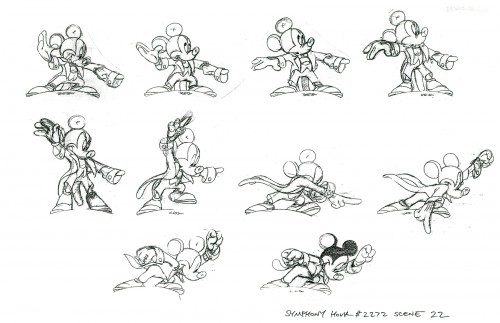 (Click any image to enlarge.)
The QT shows that the first images of the scene have change
a bit. Mickey's right hand is different. It changed to something
more dynamic. The scene feels as though it cuts short, except
that it's matching the track and works with sound. Since the
sound comes in with the head of the next scene, I left it out and
held the last drawing a beat longer than called for. Click left side of the black bar to play.
Right side to watch single frame.

For further study take a look at Mark Mayerson's Mosaic and comments on this film.
2 Responses to "The Symphony Hour – scene 22"
on 26 Jan 2010 at 2:40 am 1.Pilsner Panther said …

These examples of "raw" Disney animation are gorgeous, Michael, and they're one of the main reasons why I visit your site… it's certainly not to be reminded of winter weather in lower Manhattan, which I'd rather forget.

I once read (somewhere) that Frank Lloyd Wright was given a tour of the Disney studio in the 30′s or 40′s, and he was shown some pencil tests. Wright liked the pencil tests much more than he did the finished, inked-and-painted productions, so he told Walt that his films ought to be released in that form!

A suggestion that was— needless to say— ignored.

on 27 Sep 2015 at 4:22 am 2.Dostava Cveca said …

Hi there, just became aware of your weblog by way of Google, and found that it truly is truly informative. I'm going to watch out for brussels. I'll be grateful in the event you continue this in future. Numerous folks will be benefited from your writing. Cheers!
Leave a Reply