Art Art &Commentary 26 Jan 2010 09:00 am
My most embarrassing moment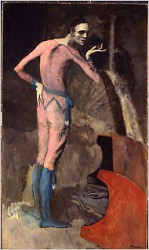 - There was a news story that was in all the papers yesterday. A woman visiting the Metropolitan Museum of Art, with a study group, accidentally tripped and slammed into a Picasso painting tearing a hole in the lower right hand corner of the painting. They've determined that it can be repaired without too much pain, and it will most likely not be noticeable.
I'm sure that woman has gone through a small bit of hell since Friday. Lucky her, she'll always be reminded of the incident every time she visits the Met. I know this because a similar thing happened to me many years ago.
I was a freshman in college. The teacher took the class, about 20 students to the Met to look at a small group of paintings. Like most dumb freshman, I was laughing and joking with friends on the periphery of the group, ignoring the teacher.
She had gathered the class in a corner around a small Rembrandt. I realized that it was time to stop fooling around and get in there to hear what the teacher was telling the class. I saw an opening against the wall and thought I could maneuver my way to the front.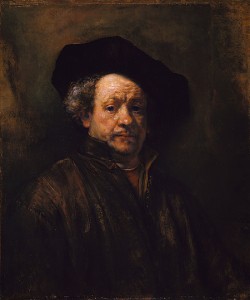 Well, there was an opening because there was a small platform to keep visitors away from the painting. I didn't see it and tripped.
I grabbed the first thing I could to prevent me from falling – the Rembrandt.
It was hanging by two wires, and I had a hand on each side of the painting winging back and forth. It prevented my fall, but it took a split second for me to realize what I was doing. Guards came running. The entire class, including the teacher, were aghast. I quickly let go. The painting continued to swing left to right and back again.
The Rembrandt to the (Right) wasn't the painting I grabbed, but it looked not too different in my memory; it was a portrait. (I've completely blocked out the name of the actual painting.)
I didn't rip anything but a hole in my brain that remains with me every time I go near the Met. So . . . I know what that poor woman felt, though her damage was quite a bit greater. She ripped a Picasso canvas; I just tested the wires that hung the Rembrandt. Luckily for me, they held up.
11 Responses to "Embarrassment among the Riches"
Leave a Reply