Independent Animation 30 Jan 2010 09:32 am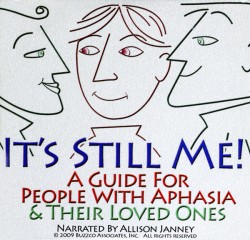 -Candy Kugel's made a short film to honor the memory of her late mother who developed severe Aphasia after having a stroke. The film was done in conjunction with the National Aphasia Association.
Allison Janney narrated the film.
Recently, having to self-promote her own film, support for the film came her way from a couple of celebrities, Michael Douglas and Lee Woodruff, the wife of journalist Bob Woodruff. I thought it worth showcasing these comments given Candy.
Here's the tribute given by the actor, Michael Douglas.
After my father, Kirk Douglas, had a stroke, I learned how truly frustrating it is to try to communicate with a loved one without words. My dad was still my dad, he just could not express himself, initially after the stroke, the way he had communicated so eloquently
his whole life. And we, his family, were frustrated by the struggle to understand him.
The DVD, "It's Still Me", would have been a welcome tool to help us incorporate novel and effective strategies to improve communication with each other. Luckily, my father can speak again, but many people with aphasia are not so lucky.

This was true of my neighbor, Adelaide (Chig) Kugel, who was the inspiration for "It's Still Me". Chig was a wonderful and sophisticated lady who developed severe aphasia after a stroke. Never able to speak fluently again, this former professional dancer learned to express herself beautifully without words while maintaining relationships with her family and friends.

Chig's daughter Candy created "It's Still Me" in partnership with the National Aphasia Association in memory of her mother in order to share with others the lessons they earned to communicate with each other and to maintain their loving bond. I highly recommend "It's Still Me" for families facing communication challenges brought on by stroke, aphasia and related conditions.
And this is the tribute by Lee Woodruff, wife of television journalist Bob Woodruff
Candy Kugel and the National Aphasia Association have done a masterful job on their DVD "It's Still Me", which gives people with aphasia and their families effective ways to communicate when words are not available. It is very well done, simple and has lots of useful information. I wish I had a resource like this when Bob was recovering from his traumatic brain injury and dealing with aphasia.

While I was reviewing the DVD, Bob passed by and became transfixed by the images and messages of "It's Still Me." The DVD's information and style is powerful on many levels, especially when emphasizing the fact that the intellect, personality and heart of your loved one is still there, even without words. My family and I know this firsthand.
More information about the dvd can be found here.
The dvd can be purchased here.
________________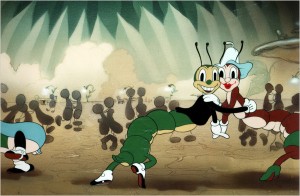 - Tomorrow, Sunday, at Lincoln Center there will be a program of Dance in Animation (particularly Disney). Mindy Aloff will talk about the cartoons and will sign copies of her new book, Hippos in Tutus.
Along with about 40 mins. of Disney animation there will be some newer Independent films that also focus on dance:
En Tus Brazos by Edouard Jouret, Matthieu Landour, and Fx Goby, France, 2006; 4m
Trash Dance by Oliver Fergusson-Taylor, UK, 2008; 1M
Entanglement Theory by Richard James Allen, Australia, 2009; 9m
She by Kathy Rose, USA, 2009; 4m
Romeo & Juliet Before Parting by Jay Field, Canada, 2009; 5m
Gabrielle by Stephanie Weber Biron, Canada, 2009; 4m.
Introduced by the director.
Today's NYTimes has a feature article on this program.
3 Responses to "It's Still Me"
on 30 Jan 2010 at 12:29 pm 1.Mark Mayerson said …

Hi Mike. Your link to the NY Times article doesn't work.

on 30 Jan 2010 at 12:44 pm 2.Michael said …

Thanks, Mark. I've corrected it.
Leave a Reply