Daily post &Norshtein 03 Feb 2010 09:02 am
- I thought I'd comment on the Oscar nominations.
The list of 10 Best Picture nominees creates some pathetic choices. The Blindside and District Nine should not be nominated for the Best Picture. It diminishes the category and demeans the other nominees. I'm sure Up got in there because of the increase to 10 nominees, but I'd gladly sacrifice that to give a little dignity to the award. The Messenger was better than either of those two films (and better than Avatar as well) yet it was left out in the cold.
They did this once before, in 1939, when every one of those 10 nominees deserved to be there. This year it was tough just picking 5 films to be nominated.
I'm glad Tomm Moore's The Secret of the Kells got nominated, though I don't think it was particularly good. However, it would have been a total sham if Cloudy With A Chance of Meatballs had been honored. My preference would have been for Ponyo, which may have been the best animated feature of last year's crop.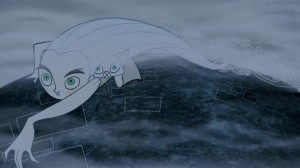 (By the way, there's another chance to see the Secret of the Kells in NY. Tomm Moore will be in attendance for a Q&A. It's playing Sat Feb 27 at the CANTOR FILM CENTER – 36 East 8th Street – at 1pm. Go here for tickets in advance. )
It's also sad that Runaway wasn't nominated for Best Animated Short. It's better than most of those nominated, even though I'm not a fan of any of the shorts in the running. There were a bad crop of films shown this year, and I would have had a hard time if I had to select any of them.
I have to say, watching Logorama, which ended with a devastating earthquake, so soon after the Haitian disaster was difficult. This wasn't the fault of the filmmakers, just the circumstances that were happening in the real world. It took something away from the film, for me.
___________________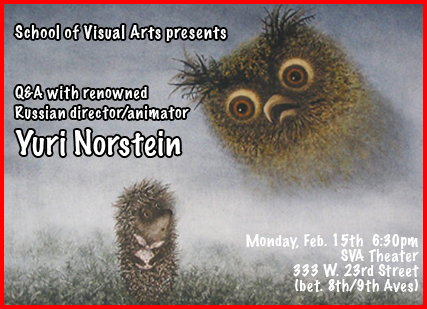 Yurij Norshtein is visiting the two coasts.
He'll be in San Franciso this Sunday, Feb. 7h, showing his films and talking at the Balboa Theater (3630 Balboa Street, San Francisco, CA). Tickets are $25. The event will be a fundraiser to support Yuri Norshtein's animation studio in Moscow.
He'll be in Olympia, Washington on Wednesday, February 10th at the Evergreen State College (Communications Building, Recital Hall in Olympia Washington.) Ticket prices are $10 regular admission, $8 seniors, $5 students.
He'll be in LA this Friday at the USC School of Cinematic Arts (the Norris Cinema Theatre/Frank Sinatra Hall.) The admission is free and begins at 7:00pm. Friday, February 5th, 2010. Igor Kovalyev (Milch, The Rugrats, Duckman) will lead the conversation with him.
And, finally, he'll be in New York on Monday, February 15 at the School of Visual Arts Theater (333 W. 23rd Street, between 8th/9th Ave.) This event is free to ASIFA East members (and anyone else, too.) Interesting enough, none of those who put together the NY edition of this show have any idea whether Norshtein will be screening films or just doing a Q&A. It's up to him (and I'm pretty confident his films WILL be screened – since he doesn't speak English, making a lengthy talk impossible.)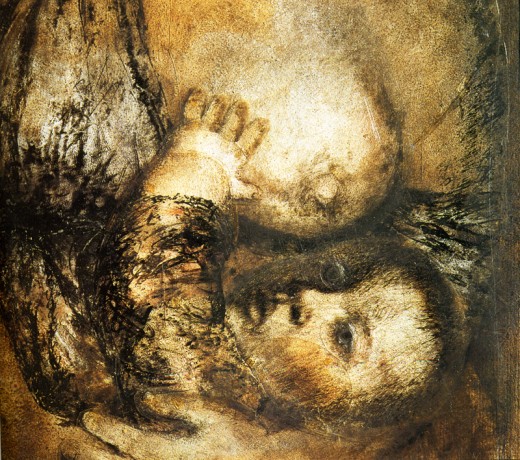 This is one of the great world leaders of animation, people. ATTEND ATTEND ATTEND and Stop being so lazy.
12 Responses to "Dumbing down Oscar/Norshtein visit"
Leave a Reply