Animation &Frame Grabs &Independent Animation 19 Feb 2010 08:52 am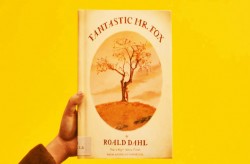 – I've made no bones of the fact that The Fantastic Mr. Fox is my favorite animated feature of the last year. (Though I probably put it in a tie with Ponyo – the forgotten feature.)
The film includes a lot of violent scenes, though that violence is never felt by the on-screen action. Fox's tail is shot off, but we only know this when we see Farmer Bean pick it up from the ground, and we feel it internally when we see Mrs. Fox trying to attend to her husband's wound.
The actual violent scenes on-screen are few, indeed.
One of my favorite animated bits in the film is probably the most actively violent. After being foiled by Mr. Fox several times, Bean sits boiling for a second, then wordlessly gets up and tears up the decor of the camper.
I've seen the film four times now (three in a theater and once on DVD). It hasn't lost any of its lustre, for me, and this scene was one I had to go back and view frame-by-frame. I thought it a good one to look at in frame grabs, and I post them here. The scene doesn't last more than a few seconds.


After seething for a moment, farmer Bean gets up
and quietly, wordlessly decimates the camper interior.


He throws everything atop the table off of it.


Then he reaches down and overturns the table, and
he moves back in perspective into the camper.


I love the way this film plays with the perspective as the
characters constantly move from foreground to background
to foreground to middle ground. It's expertly handled.


To the left is my favorite frame of the sequence.
It's only one frame as he rips down this curtain, but
it noticeably stands out within the animated scene.
Excellent job extending the length of the curtain here.


Then he rips off the other curtain.


He throws down shelving on the back wall . . .



. . . and he clears the table in the back of the room.



He throws the chair to the ground.


Then he moves forward . . .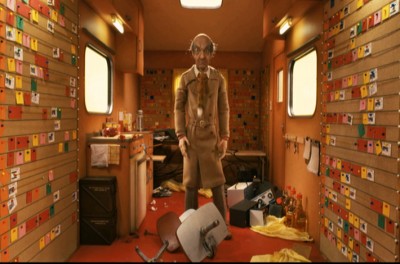 . . . and stands still, breathing heavily.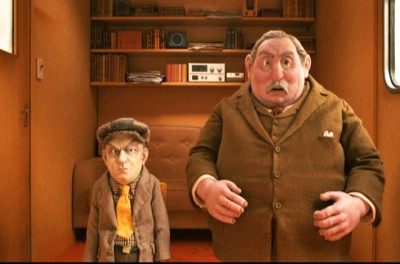 Reaction shot.


He moves forward . . .


. . . making sure we see the
fox tail hung around his neck as a tie.


He walks through and past the other farmers.


He rips apart everything on the back wall.


The other farmers just stand in shock . . .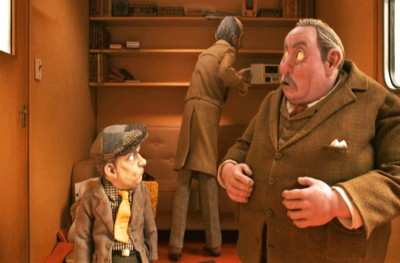 . . . as he wildly rips down the wall.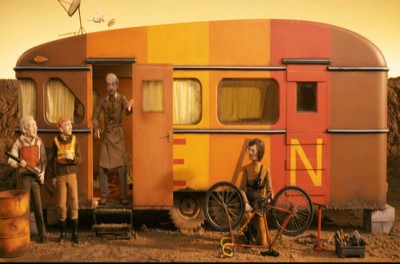 Then without a word he opens the camper door and looks out.
End of the short sequence.
.
All images © 2009 Twentieth Century Fox Film Corporation,
Indian Paintbrush Productions LLC and Regency Entertainment, Inc.
8 Responses to "Fox's Enemies"
Leave a Reply