Commentary &Events 15 Feb 2010 08:49 am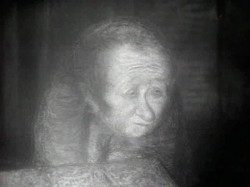 - Yurij Norshtein will appear tonight at The School of Visual Arts Theater (333 W. 23rd Street, between 8th/9th Ave). 6:30pm.
They will screen The Hedgehog in the Fog and The Overcoat, his long-in-progress film. Norshtein will also have an extended Q&A with the audience.
The man is one of the great animation masters, and I hope that there will be a good turnout for him. I wonder if the copy of The Overcoat that will be shown will be a more current version than the one that's been screened a couple of years back. I'd read that he was planning to break the film in two and release the first part at the end of 2009. Perhaps that is the case, and we will be seeing this version.
In any event, for me, this is a big event and I'm looking forward to it.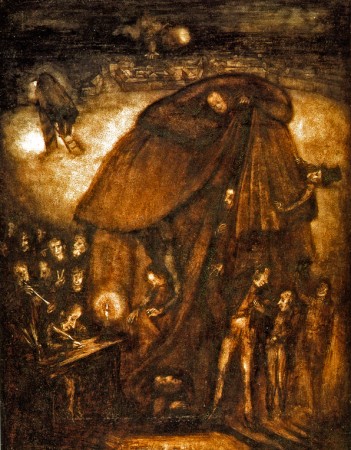 A sketch for The Overcoat.

___________________
.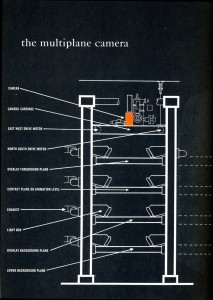 – I think I was hit with a fascination of the Multiplane Camera when I first read Bob Thomas' book,
The Art of Animation
, back in 1959. (See graphic to the right.) After that book I just searched out all the scenes described within it – the flying scene from
Peter Pan
, the town awakening in
Pinocchio
, and the entire
Old Mill
short. I was entranced and paid attention to every use of the device in Disney films. Of course, I saw what Ub Iwerks did with his machine, even before Disney, in all his very odd animated shorts. I even watched Don Bluth develop his own smallish multiplane camera for his films.
My father and brother-in-law teamed to build a multiplane stand for me when I was a kid animating and shooting my own 8mm films. The thing handled 12 levels of glass panels 18″x36″ and had some 5000 watts of lighting spread throughout. It got hot but enabled me to make some interesting films. Not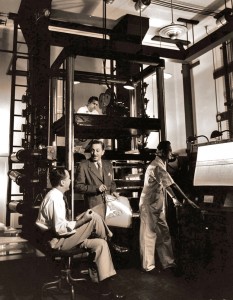 necessarily good – just interesting. It enabled so much invention in those short film fragments.
Hans Bacher this week has posted a collection of photos of the camera setup from the Disney studio. The collection is thrilling for those of us who have been entranced with this invention.
However, if you really want to get into the nitty-gritty of the machine, you have to visit a number of posts on Hans Perk's website A Film LA. There he has posted several extraordinary documents which detail William Garity's plans for the invention of the Multiplane Camera. You can see these documents here: 1, 2, 3
Then there are another three with many photos of the multiplane, some taken by Hans Perk, himself: 1, 2, 3.
___________________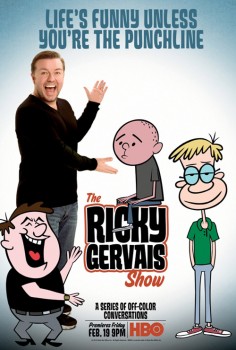 - Starting Friday on HBO The Ricky Gervais show premieres. This is an animated program built around podcasts that Gervais has been distributing on-line. The voice tracks are animated in LA predictably utilizing Flash for the lowest budget. The style is out of the predictable cookie-cutter mold we've been seeing lately. You can catch a couple of segments here.
The NYTimes has an article in their Sunday paper about the show, but, as might be expected, nothing about the animation is actually discussed. Star driven vehicles aren't about the animation. Though the Times does offer an excellent interactive feature that showcases a lot of the artwork.
It's difficult to find out much about the actual production. Media Rights Capital is co-producing the animated HBO show along with Wildbrain. The credited animation director is Craig Kellman.
The review in Variety wasn't glowing:
. . . employing a stiff "The Flintstones"-type look and visual template.
Animation would seem to be an ideal vehicle for this, but there's only so much it can do — in part because there's no adhesive to the episodes. The three guys sit and bullshit for 20-some-odd minutes — at times entertainingly — until the program simply ends. Perhaps that's why the effect diminishes as the episodes wear on, though Glyn Hughes' jaunty score does play them out on a high note.
If you're a Ricky Gervais fan, I suggest you check out his blog. It's actually entertaining without being too "me me me".
3 Responses to "Norshtein/Multiplane/Gervais"
on 17 Feb 2010 at 12:32 am 1.hans bacher said …

would love to see your own version of the multiplane camera, you have some photos of it? I had one smaller stand built, when I was about 15. the technical part in those days was always more fascinating than the actual animation…

on 17 Feb 2010 at 11:25 am 2.Michael said …

I don't have photos of my little multiplane camera. I do have a very clear memory of it though and could easily draw plans for it. Basically, it was a three-sided wooden box with sliding shelves grooved into it for the glass planes. They couldn't move up or down (as any real multiplane camera should) but the camera could go up and down or left and right. As the camera moved down and past any level, I'd just remove it so the camera could keep on going.

There was an enormous number of photoflood bulbs heating up the whole box (and whole basement in which it was located.) Once the heat grew so intense one of the planes of glass collapsed and smashed through another six levels of glass. Pretty dangerous stuff for a 12 year old kid.

I think one of my favorite films done on it was a stop-motion pipe-cleaner set of characters that lay on their side a level apart from each other (which made it easier to animate them) and a lot of subtle 2D objects were placed around them in multiplane dimensions.
Leave a Reply