Books &Illustration 18 Feb 2010 09:03 am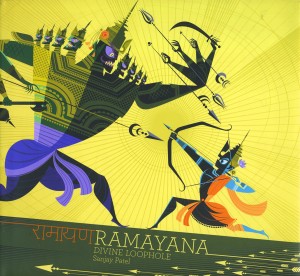 - Nina Paley has been very successful in adapting the Ramayana in her feature film, Sita Sings the Blues. She not only gives a shortened version of the Indian folklore but uses the tale to comment on her personal story of betrayal and estrangement and divorce. Her film is highly styled, beautifully animated, and well received.
So soon after the success of her film comes this book by Sanjay Patel. He is a supervising animator and storyboard artist at Pixar. someone I didn't know about until I'd received an unsolicited copy of his artbook from Chronicle Books. Ramayana, Divine Loophole.
The book is a beautifully produced work full of strongly designed graphics illustrating the Ramayana. The text gives an indication of the story, but it doesn't fully go into the lengthy text of the original tale. We're offered a synopsis; it's really just an excuse to hang the illustrations, and it's a good one.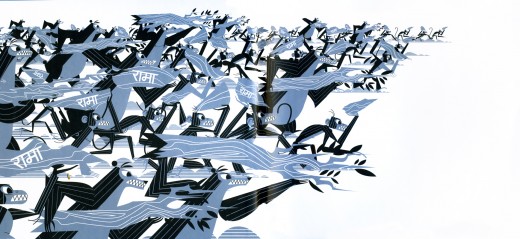 (Click any image to enlarge.)
It's tempting to compare some of the graphics between this book and Nina Paley's film, but there's a distinct difference between the two. They're both a sort of "cartoon modern" adaptation of Indian art. Nina has a feminine turn in her drawings, lots of circles and arcs, whereas Sanjay takes an angular approach with a very masculine line that feels somewhat near the CalArts style which is obviously popular in LA and has permeated the animation syling these days.
Sanjay Patel also states on his site that he was initially inspired by Nina Paley's film.
Both artists create attractive works that glisten in both film and book versions. Personally, my taste runs marginally more toward Nina's work, but I'm impressed with the depth and detail in the book's illustrations.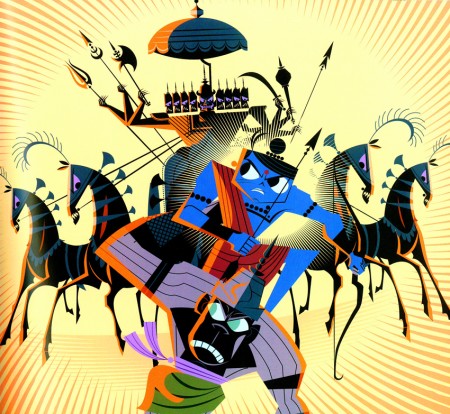 Every once in a while, you feel as though you're
looking at something out of Samurai Jack.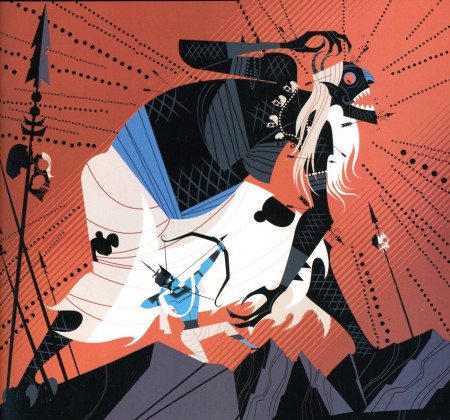 The author has a keen eye for character design, but it doesn't always feel unique. There are infrequent times when it looks like something out of Cartoon Network. Undoubtedly, this comes from his CalArts background and the strong influences he's felt in the animation industry in California. However, more of the time it feels totally Sanja Patel, as in the exceptional illustration above.
Often there's a beautiful sense of color and design that makes the images sparkle. His compositions are also sterling, so you give him lots of grace for any of his lesser influences.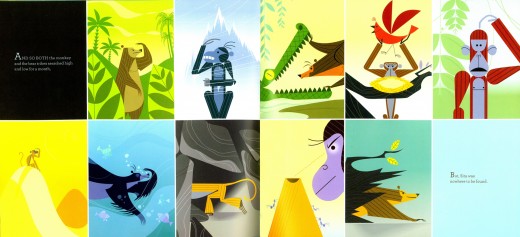 Most of the book is composed of two-page spreads with the text
enveloped in the illustration. Not always easy to read, but pleasant
to view. (Also hard to scan with the breaks in the middle.)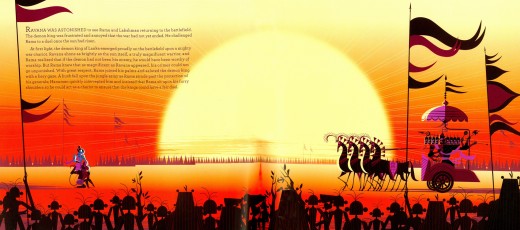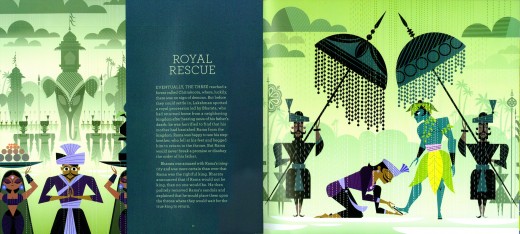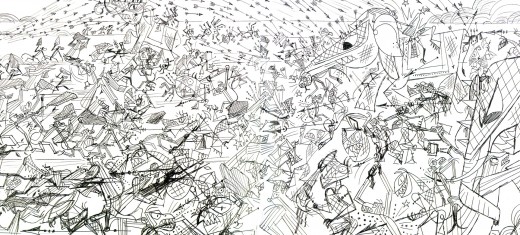 Toward the rear of the book there are a number of
complex drawings which are amazingly alive.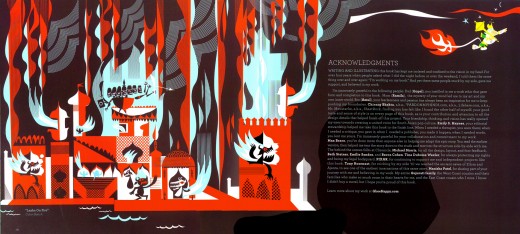 I'd encourage anyone interested to get a copy of this book. The book is enormously attractive and the art is well worth the visit.
There's an excellent demonstration of author, Sanjay Patel's process in creating an illustration in a PDF from his publisher, Chronicle Books. As a matter of fact they have a complete Q&A with the author here in which he discusses his creative process.
Sanjay Patel's blog is located here.
Chronicle is the publisher of this attractive book. They seem to be doing consistently attractive art books. The first notice I had of them was with Amid Amidi's Cartoon Modern, a book that still stands strong among those that were published in the past couple of years. They've also done a number of the "Art of . . . " books for Pixar and Disney.
2 Responses to "Ramayana"
on 18 Feb 2010 at 4:11 pm 1.Stephen Worth said …

Sanjay is a very talented artist and a nice guy. He worked with us at Spumco on the Bjork video right out of Cal Arts and animated two fantastic scenes. I was so impressed with his work, I fished his roughs for one scene out of the trash and I still have them. I'm glad to see what he's up to now.

on 28 Oct 2015 at 2:39 pm 2.Martin said …

"Nina has a feminine turn in her drawings, lots of circles and arcs, whereas Sanjay takes an angular approach with a very masculine line"
hahahahahaha oh jeez, I couldn't take this review seriously at ALL after this bit.
This is not the 80′s, friend. Maybe update your way of thinking a little bit?
Leave a Reply