Animation &Art Art &Norshtein 17 Feb 2010 09:20 am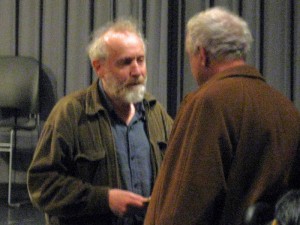 - I was pretty proud of the New York animation community. There was a full turnout for the Yurij Norshtein show on Monday night. All of the key people one hoped would show up, did show up. I was surprised at the many familiar faces in attendance: Amid Amidi, Richard O'Connor, John Dilworth, John Canemaker, Emily Hubley, the Rauch brothers, the Kraus brothers, Biljana Labovic, Jeremiah Dickey, Howard Beckerman, Matt Clinton, David Levy . . . the list goes on.
Norshtein and Reeves Lehman, dean of animation at SVA
And it was appropriate for him to
have a good turnout. Norshtein is the height of "Art" in animation, and he's a beacon for us all. If ever one gave everything to the creation and forward movement of the artform, this guy is it. He's been working on his film adaptation of Gogol's The Overcoat for the past 25 years or so. He screened roughly 13 minutes of the film broken into two parts. Both were screened in silent B&W.
The first part was the opening 10 mins of the film. Throngs of shoppers and passersby in the snow on a crowded Moscow street. All I could think of was the enormous number of cutout parts for all these people, just to assemble one image of the film. Yet they were animated and the sequence was long. One guy did all the construction of those characters, all the animation, all the movement. How in hell did he keep each of those many people and parts of people in his head so that he knew how they moved? No computer assistance to help, only his brain. And to top it off the camera, with all those planes, is moving as well. It's an extraordinary feat.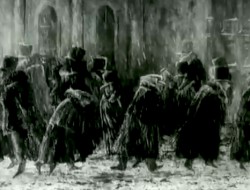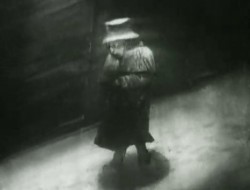 Then the lead character enters and we see what he sees – not the crowds but the writing in his head. He's a lowly scrivener, a copyist; someone who spends his day copying documents. Obviously, he can't remove the work and the words from his mind, though the world he walks in is filled with distraction.
From these street scenes he goes home to an extended sequence of warming himself up and eating a small bowl of soup. The character motion and development is all open to us in this incredible scene wherein we enter the tiny physical, introverted world of this man.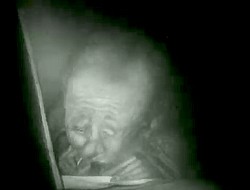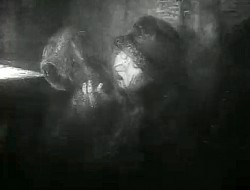 The final three minutes show him realizing how worn his overcoat has become. Threadbare doesn't begin to describe it as his fingers easily poke through the fabric again, and again. When he puts the coat over his head, fibers end up in his mouth.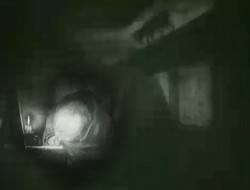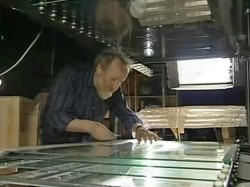 A long, very long display of character. All B&W and silent. It's going to be another masterpiece from this brilliant artist. All done by hand by him on a complex and large camera set up. One person controlling all the pieces.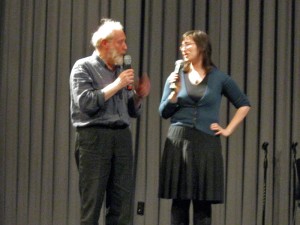 The Heron and the Crane and Hedgehog in the Fog were screened from the Jove dvd. Most of the evening was Norshtein answering questions. (There was a bit of an onstage struggle between two interpreters, during the opening segments, with the stronger interpreter doing duty for most of the event.) He took the dumbest of questions and turned them into answers we always wanted to hear. A question from a young girl about what his favorite animated films turned into a list of expected films that I was not surprised to hear: Night on Bald Mountain Disney, Crac Back, There Once Was a Dog Nazarov, and he admitted that it's a list that's constantly changing. He also spoke of recently watching a print of Bambi frame-by-frame on an editing machine. He said it was a film that has enormous beauty in every frame, in it's backgrounds and layout, as well as in its whole as a film.
During his answering questions he spoke articulately to us about everything from animation to great painters to great authors. I have to say that I can't remember any other ASIFA meeting where the "young" Michelangelo or Velazquez were discussed, nevermind Chekhov and Proust. In the past week, I've attended a number of Oscar parties – one for James Cameron, one for Quentin Tarantino, one for Sandra Bullock. If there's a celebrity in New York, I've had a chance to meet them. I'd trade them all for that evening with Norshtein at that little SVA theater.
After the screening, they were selling photo prints in the lobby, signed by Norshtein. I bought two hoping in some small way to support him on this trip. They also serve as souvenir reminders to me that I have to be more of an artist in my own work.
Two preproduction images for The Overcoat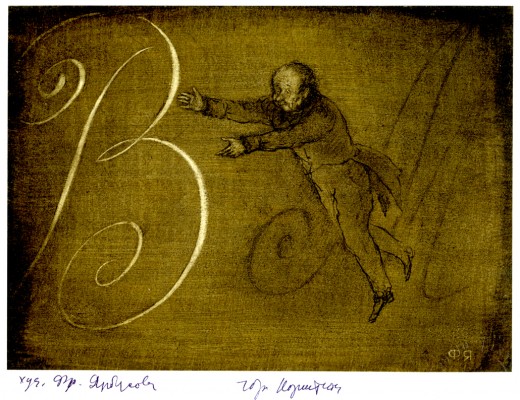 (As always, click any image you'd like to enlarge.)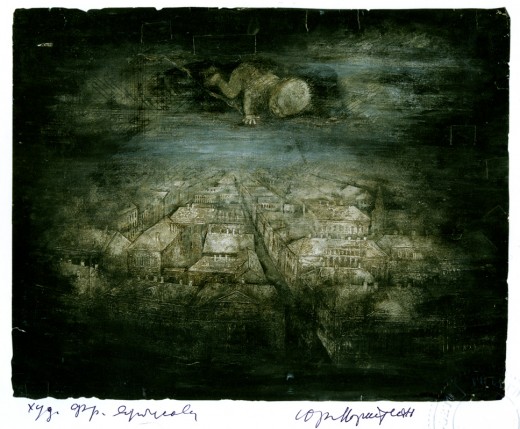 You can read more details by Dayna Gonzalez about the event at the ASIFAEast newsletter.
And Richard O'Connor offers a collection of notes and quotes from the evening to his blog for Asterisk Animation.
7 Responses to "Norshtein & The Overcoat"
Leave a Reply