Books &Commentary &Richard Williams 11 Mar 2010 08:58 am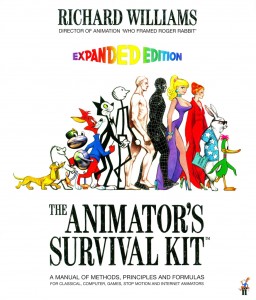 - Richard Williams, as we all know, was the genius who single-handedly fostered the renaissance of animation in the 60s & 70s. His London studio became the center of animation when the Disney studio faltered for that period.
Or maybe we only know him as the author of that book, The Animator's Survival Kit. That's the book in which he has put his immense knowledge about the technique of animation, and there's also his series of DVD lectures. Or maybe it's the series of lectures and the companion book.
Recently released is the revised edition of the book which is at least 40 pages longer and includes a sample DVD to give an idea of his lecture series.
Both books are identical until page 339, the new book expands on the original. It talks about what Williams calls, ". . . the more difficult areas of animation," such as animal action and gaits and offers suggestions on how to correctly use live action, to help push the medium further. (No mention is made of Motion Capture.) In fact, there's a long piece comparing use of semi-realistic to cartoon animation.
The book says it's for all types of animation from 2D to cg from puppet to highly rendered. However, to me, it feels more inclined to speak to the 2D drawing animator. I'm sure there are a lot of lessons the cg animator can and should take from the book, but I'm not sure how much use will be made of it.
Some of the lessons are excellent, but I wonder if others aren't too sophisticated for those who will use the book to actually learn the craft. In fact, at first glance it looks like the Preston Blair book on acid, but Dick goes into a discussion about the Blair book and then builds on it, taking the material into a very complicated world. The delight is that Dick never sees his lessons as compicated, but moves straight on assuming we'll all follow. The pages are hand lettered for the final 2/3 of the book, and this is particularly inviting for the artists out there. Howver, the drawings are dense with information and material and should not be confused with anything less than what they are. Richly informative.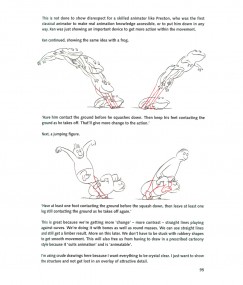 a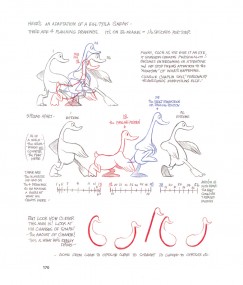 b

At first glance, the book looks like an update of the Preston Blair book, but
Dick takes on that point and builds from there leaving no doubt for the reader.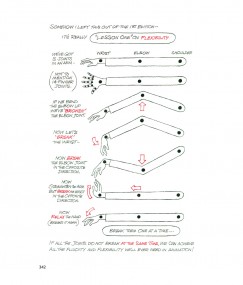 c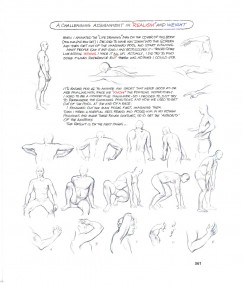 d
The additions are literally added to the end. 40 odd pages that are devoted
to more compicated motion patterns or things Dick left out the his original book.
It's quite a tool if you use it well. A course, in itself, within the 380 pages. Every dedicated animator should own one, and then they own it they should read it.
14 Responses to "Dick Williams' Survival Kit"
Leave a Reply