Commentary &Daily post 24 Mar 2010 08:14 am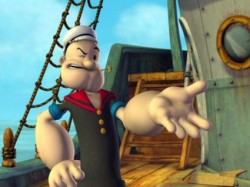 - Good news for Segar lovers! Variety reports that Popeye is going cgi and Sony is about to make the film. Naturally, it'll be in 3D so that when Bluto gets smashed out of the audience he can fly over our heads. The film will be directed by a relative neophyte, Mike Jones. He'd written a film called Eventland and another The Minotaur Takes a Cigarette Break which is now in production.
He doesn't quite have the experience of theatrical director Des McAnuf who did The Adventures of Rocky and Bullwinkle or Peter Hewitt (Bill and Ted's Bogus Journey) who did Garfield, but he brings plenty of enthusiasm. It should be fun, but I'm not sure if it'll be better than Bob Altman's Popeye. Then again, it will be 3D.
The good news is that the great compilation DVDs of the Fleischer years is still available from Amazon. Even after you've seen the cgi 3D Popeye you can come home to clear your palate with these first class copies of the original shorts.
________________
.
- Then again, the other animated feature announced this past week sounds heavenly. According to the March 18th
Nikki Finke
article,
Tim Burton
's going to do a 3D puppet animated version of
The Addams Family
with Chris Meladandri producing. Sounds like an ideal marriage. However, the next day, according to
Screen Rant
, the Burton people adamantly denied the project had anything to do with the director. Let's hope that Nikki Finke is correct – as she often is.
Johnny Depp and Helena Bonham Carter would make an original Morticia and Gomez.
________________
.
- Years ago children's television wasn't quite the slick wonderland that it is now. It was less of a babysitter, but on a local level tv stations tried a lot harder often depending on flamboyant actors to develop characters. These were usually voice over announcers who put on costumes and let 'er rip.
In New York, you had the Sunday shows that included Wonderama on ch. 5 – before it had anything to do with Fox – and you had the Chuck McCann show on ch. 11 – before it had anything to do with the WB (or whatever they call themselves today.) McCann was a crazy kinda guy who read the comic strips in funny voices and wigs and entertained us all silly.
During the week, there were Johnny Jellybean, starring Joe Bova. He shared his lunch with us during the day and starred in Once Upon a Mattress on Broadway at night. The morning shows were mostly B&W cartoons with hosts like Cap'n Allan Swift – replaced by Cap'n Jack McCarthy – introducing Popeye and Officer Joe Bolton who gave us the Three Stooges.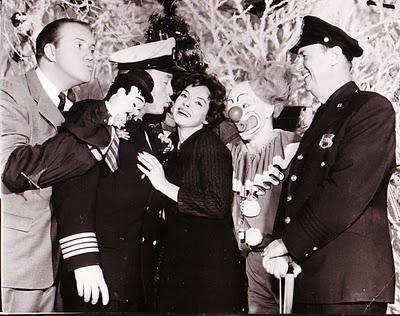 The ch. 11 roundup: Chuck McCann (with Laurel & Hardy puppets),
Captain Jack McCarthy, Gloria Okon, Bill BOZO Britten, and
Officer Joe Bolton.
The mornings belonged to Sandy Becker. He was a manic kinda guy who seemed to be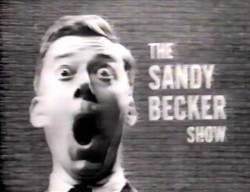 talking to kids but really playing for the grown ups using kids toys and games. I remember well how he did his best to destroy a Mr. Machine robot as he demonstrated the host, Mattel's product. The robot kept walking off the desk. I remember another show where Sandy didn't show up at the beginning of the program and they kept running B&W WB cartoons. Mid show he appeared somewhat breathless, and advised us kiddies that if we happened to see a red Volkswagen with such and such a license plate, could we call the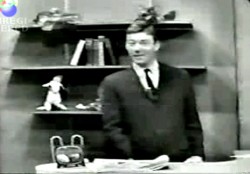 police because his car had disappeared that morning.
You can see some of the nastier bits here.
I guess he had a one hour special in those years: Sandy Becker's Christmas Carol. It featured a lot of the puppets and characters that appeared on his show. I'd received an email from Craig Marin of Flexitoons who is trying to "reimagine" the show for DVD. Here's how they state it in their press release:
The program starred Sandy's entire ensemble of puppets – most memorably Geeba Geeba as Scrooge, Sir Clive as Bob Cratchit, and Marvin Mouse as Tiny Tim.

For Millions of Baby Boomers, who grew up with Sandy as a vital member of their "TV-family", it was their first introduction to Charles Dickens ghostly tale of greed and redemption. To this day, Sandy's production lives warmly in their hearts and fondly in their memories. Unfortunately, as was the case with many live programs of the time, the tapes – to the best of anyone's knowledge – were destroyed or erased or taped-over. 
 


In the 1990's Sandy and Flexitoon partner Craig Marin – who as a child was greatly influenced by Sandy and later became his friend as an adult – often talked about and planned to remake his Christmas Carol. But sadly, when Sandy passed away those plans were put on hold.

Now, through the power of Kickstarter, the Holiday special is back on track. FLEXITOON, one of America's premier puppet production companies on television, film and stage is ready to produce a re-imagining of Sandy Becker's Christmas Carol, using all the original puppets he bequeathed to them upon his passing.
You can see a video presentation here.
You can go to their Facebook page here.

________________
.
- I've waited patiently for
Mike Barrier
to give his thoughts on the passing of
Fess Parker
. He didn't disappoint with the excellent piece and companion interview that appears today on his blog. Mike showed us the man, Fess Parker, as opposed to the memorabilia which appeared in many other obituaries. (Come to think of it, Mike did the same for
Walt Disney
with his book,
The Animated Man
.) If you have any interest in the star of a Disney series that rocked the world for 15 minutes in the 1950′s, then head on over to his site.
14 Responses to "Popeye, Burton & Sandy"
Leave a Reply