Articles on Animation 27 Mar 2010 08:13 am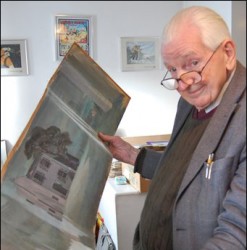 - I wasn't aware that Harold Whitaker was still alive and kicking until I'd received this note from Animal Farm aficionado, Chris Rushworthy:
I came across this BBC online article the other day. It has some very interesting images of Harold Whitaker and some of his Animal Farm collection. I salivated over the original background shown for the Old Major speech scene of which I have most cels and camera sheets.
Go here to see the pictoral piece.
Whittaker, of course, was the leading animator at the Halas & Batchelor studio for many years. After retiring from H&B, he wrote the book on Animation Timing that, to me, is one of the finest books available on animation production. The book, Timing for Animation, was recently updated by Tom Sito and is widely available. Everything in the book is explained in a deceptively simple way, yet it beams with clarity few other animation books achieve. I haven't seen the updated version of the book, though I'm sure it stays true to Whitaker's original.
Many thanks to Chris for directing me to this piece from the BBC; the photos are first rate.
Go here to visit Chris Rushworthy's excellent site built around his collection of Animal Farm artwork.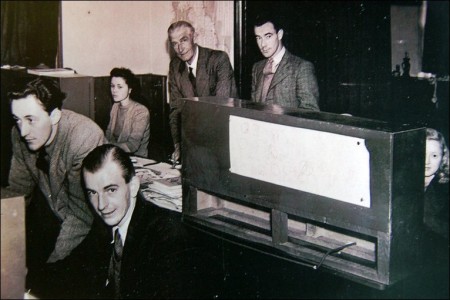 Whittaker (front center) at the Anson Dyer studio.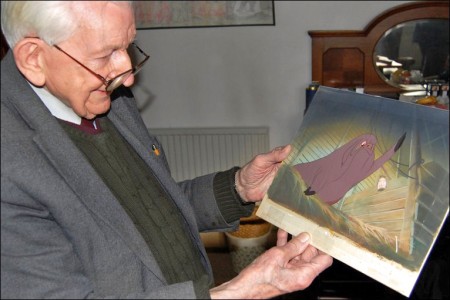 ____________________
– With the opening yesterday of Waking Sleeping Beauty, there's a timed interview with Don Hahn in the Onion's AVClub. It's a long and excellent read with some pointed questions asked and answered. Here, for example, is one that caught my eye:
AVC: The story the film is telling changes throughout the film. It starts out being about the animators, and it ends up being about the executives. Did you always start out with that arc? Did it change as you got access to some of these people?

DH: We had access from the beginning. Some of the earliest talks we did were with some of the executives. I think what we wanted to do though, was—I didn't want to create class distinctions between executives and artists. I didn't want to create a good-guy/bad-guy scenario from the very beginning. I think that's a little simplistic. The truth is, without the executive boldness and the artistic achievement, it wouldn't have happened. I don't think we even use the word "executive" in the movie. We talk about these people. We talk about who they are and what they do, but it was important to show that everybody had a role at the table, and if you pulled one of those people out, the checks and balances would be thrown off a little bit.

So the arc of the story was somewhat determined by what literally happened. It was a group of lost boys, a group of people right out of school with big dreams that couldn't be expressed yet. And then having Wells and Eisner and Katzenberg come into the studio—at the same time Howard Ashman comes in—and you have this tremendous renaissance, a change in the approach, outsiders coming in, Roger Rabbit happening, and this huge growth in the potential of animation that culminates in great financial success, that culminates in some egos getting in the way. Then Frank Wells' death is the domino that pushes over and starts to unravel a lot of those situations, which culminates in the end of the movie.
The film is a must-see for anyone connected with animation who takes Disney films seriously. It's a strong entertainment and a producer's vision of what he saw while living through it. Currently it's at the Landmark Sunshine Theater in New York.
____________________
2 Responses to "Harald Whitaker / Don Hahn"
on 27 Mar 2010 at 10:05 am 1.Mark Mayerson said …

Waking Sleeping Beauty hasn't opened yet in Toronto, but you can be sure that I'll see it when it does.

on 27 Mar 2010 at 11:47 pm 2.David Nethery said …

I'm so pleased to know that Harold Whitaker is still with us. Fascinating to see the artwork he's saved over the years . I'm sure those photos were just the tip of the iceberg.

Agreed that his book "Timing for Animation" is first rate.
Leave a Reply