Animation &Articles on Animation &Independent Animation &Puppet Animation 14 Apr 2010 07:41 am
- Dipping back in the well of the Closeup Magazine from 1976. Edited by David Prestone, this magazine featured articles – mostly interviews – with 3D stop-motion animators. The focus of this particlar issue was Michael Myerberg's Hansel and Gretel, an animated puppet feature done in 1954.
An interview with Animator
Teddy Shepard
Born in New York, Ms. Shepard became a drama major in college, and appeared in several summer stock and off-Broadway productions. It was while making the rounds of theatrical agencies in search of work that she became aware of the interviews Michael Myerberg Productions was conducting for animators. After working on HANSEL AND GRETEL, she spent some time with the Suzari marionettes, graduating to the HOWDY DOODY television show (where she originated the character of Dilly-Dally, and was a stand-in for some time as the title puppet's manipulator), and has, lastly, been associated with the Pickwick Puppet Theater for the past several years. It was as a member of this company that she confronted the world of rock and roll music eye-to-eye, when she appeared on Broadway at the Uris Theater with the British group. Mott the Hoople. (She manipulated a Sancho Panza puppet in the song "Marionette.")
____________________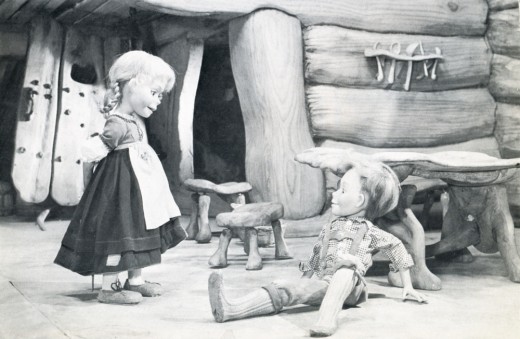 TS; Yes, I was elected to appear witn the one big head that had been built, on a couple of television shows (TV was all live at the time) shortly after the movie had opened. I was to demonstrate how the film had been made using the heads, but we had the fake computer setup there also, to give the impression that the head was electrically operated—when it was really worked manually. We still had to keep that a big secret!
CU: Being a novice to the stop-motion process, with only a three-week training period behind you didn't you find this form of animation slow and tedious?
TS: No, I found the more involved I got and the more intricate the movements got, that it was anything but tedious. Some time after the film was completed I worked on a few commercials for cosmetics—Hazel Bishop lipstick, and I think Myerberg was involved with these, as we filmed them in the five-story building on East Second Street he had bought. I believe we utilized the GRETEL puppet in them . . .
Speaking of that three-week training period, I remember I was petrified when it was over—I didn't think I was ready to go immediately to work on the film, but they said, "Go onl You're ready!" I and another person being trained acted out little scenes with some of the puppets. Animating them walking, and doing various movements of the hands . . . The scenes would be filmed and then played back for us so we could spot our mistakes. Since money was low they only filmed a few tests for each person.
CU: How did the tests turn out?
TS: Believe it or not, they came out very well! Surprisingly so! The idea was not to be jerky, but to have smooth action, moving the puppets in small increments. When doing the actual animation for the film, we would all act out the various scenes first, in front of a mirror.
CU; Were any animators assigned to do a certain character and that character only, or did you all take turns with the various figures?
TS: Since we had two crews working, when you came in to work your next shift you would carry on from where the previous people left off, no matter which figures were in the scene. It turned out that generally I stayed with GRETEL, or the mother—I did her a great deal of the time, and I did the witch one day too. You know, we had these awful stereotypes in those days … the women puppeteers would animate the female figures and the men did the males, which is ridiculous!
CU: That's sort of a "too many cooks spoiling the broth" situation, though. Each character should really have its own "personality " – a way of walking and moving that is that one figure's alone, and is given to that character by one animator alone. If you recall the feature YELLOW SUBMARINE, there's a scene where the four eel-animated Beatles are walking down a long flight of stairs, and each Beatlo has been given a very distinctive walk that's carried throughout the entire film. You can tell which Beatle is in a scene without seeing his face!
TS: Yes. As a matter of fact, HANSEL had a definite little personality, and he would have to be done by someone who was more familiar with that kind of boyish movement, i recall, having worked with GRETEL so much, that after a while she started getting "tacky" looking and they had to have another figure of her made. They were having difficulty making her look the same as the previous model.
One strange piece of animation I and a few others worked on was a "burst of light" effect we were trying to achieve. We had 6,000 jewels on the ground on a piece of black velvet, and each jewel had to be moved separately for an effect that lasted only a few seconds on the screen. We'd be down on our hands and knees moving the gems, and people would walk by and burst out laughing!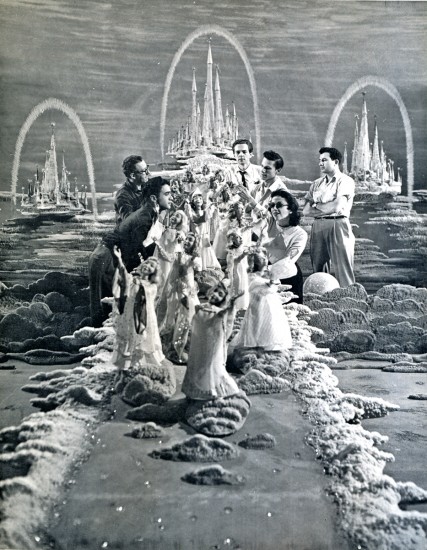 Animating the descent of the agels from their fairy kingdom.
Pictured are (clockwise) Danny Diamond, Kermit Love, Joe Horstman,
Sky Highchief, Teddy Shepard, and outside of circle (arms
crossed) Roger Caras.
CU: What's your opinion of the final film? Do you think it would have turned out better if you had been given more time?
TS: Certainly. There was such a rush on towards the end, money was running out and we were working so hard to finish … we were all really learning the process, too. When I first saw the finished movie back in 1954, I was initially disappointed, but I think it's held up quite well with the passage of time. And those figures were so beautiful . . . you could get so many intricate moves with them, more so than any other stop-motion models I've ever seen!
Other animated commercials produced by Michael Myerberg Productions during the early 1950′s (commercials whose profits were immediately used to forward production of the HANSEL AND GRETEL feature) were several for Ivory Soap Flakes (for which a mother and baby were constructed) and Ehler's Coffee (a butler). Sometimes finished figures were built specifically to interest potential new customers. (A Kool Cigarette Penguin, and a Lil Abner model were examples of this policy.) When all plans for future stop-motion animation projects were finally abandoned, Myerberg returned to the role of theater producer for the Broadway stage.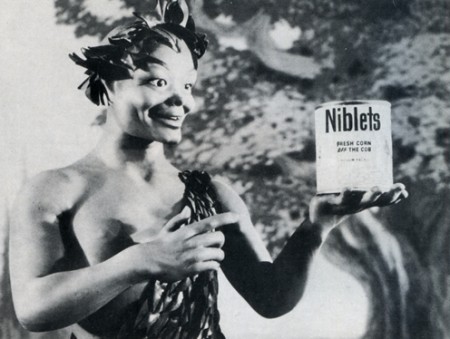 Michael Myerberg utilized the KINEMINS technique on television commercials
as well as feature films. ABOVE AND BELOW: A GREEN GIANT figure
sculpted by James Summers, circa 1953. A Speedy Alka-Seltzer model
was also sculpted, but never used. Monetary problems continually plagued
Myeiberg, forcing many of his innovative ideas to remain on the drawing board.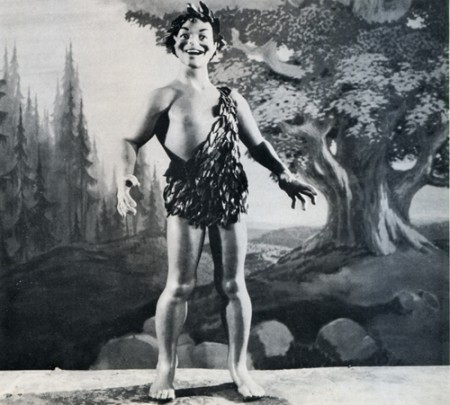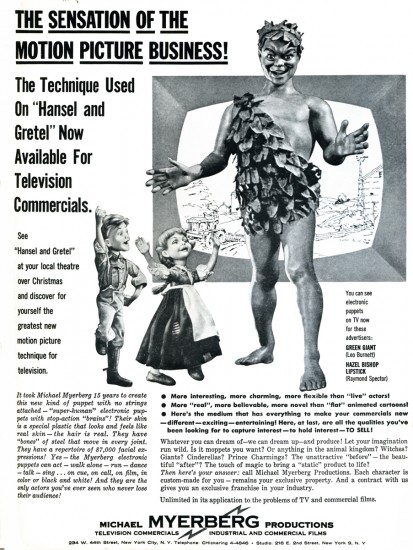 ARE ANY OF THE ORIGINAL KINEMINS STILL IN EXISTENCE?
Tragically, no! In late 1955, vandals broke into the East Second Street studio and wrecked havoc among the stop-motion models and scenery which were in storage there. Most of the figurines were smashed beyond repair, but, hoping that one or two models might have been carried away intact, Myerberg notified the local police station, telling them that the KINEMINS skin was highly toxic to human beings. Unfortunately, this story brought no results.
3 Responses to "Teddy Shepard interview"
on 14 Apr 2010 at 10:45 am 1.Matt Jones said …

Hi Michael – I've added an article on Dick Williams to the Thief blog that you may not have seen.

Best,

Matt

on 14 Apr 2010 at 4:48 pm 2.Ken Priebe said …

WOW!!!!! This is so awesome.

That Kineman Jolly Green Giant is lurking on YouTube.

on 01 Apr 2015 at 8:40 pm 3.Alan Cook said …

OK, we need to standardize the spelling. The Jolly Green Giant ad has Myerberg, in bold print, not Meyerberg. So we should stick with that.
Leave a Reply