Commentary &Layout & Design &Theater 13 Apr 2010 05:47 am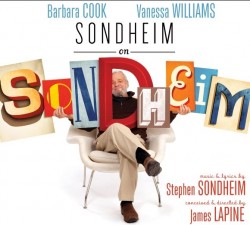 - This past weekend I saw a new Broadway show produced by The Roundabout Theater Company, playing at Studio 54. Sondheim on Sondheim is a show which revisits all of Stephen Sondheim's lengthy and brilliant career in the theater.
Barbara Cook, Vanessa Williams and Tom Wopat lead a cast of eight who perform work from the Sondheim catalogue of songs, while cascading through the history of the man and, as a result, the history of modern theater – post Rodgers and Hammerstein.
The set for this is a modernist construction by designer Beowulf Borritt. If you ask me, this extraordinary design is a brilliant turn for theater. There's a construction of 35 multiple screens that tie together or in parts projecting film, video, slides. Stephen Sondheim is a participant in the show in that he's always there in some projection talking about the shows, his career, his cocreators and producers. The highlight of the show, for me, was the end where Sondheim plays "Anyone Can Whistle" on the piano, and the cast sings to this. Simple and very emotional.
Through a lot of searching I was able to locate some of his original watercolors on line and thought I'd show some of these. A couple came from a slide program on the NYTimes which spoke about the use of projections in theater designs. This has fascinated me since my work on Woman of the Year, projecting an animated character behind the actor onto a 43 foot screen. (The animation work on Sunday in the Park with George – also a Roundabout Production at Studio 54 – was a projection miracle, though the rest of that recent production left me a bit cold.)
Let's start with a short storyboard sequence which shows Sondheim aging.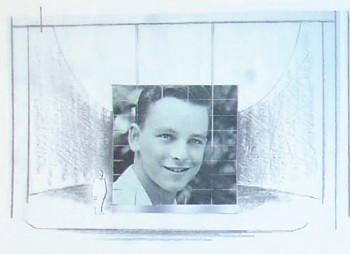 1
The sequence begins with a young Stephen Sondheim.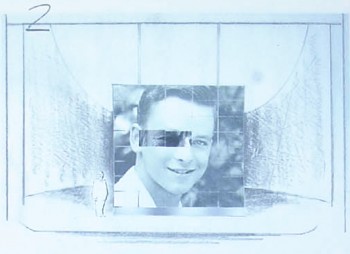 2
Slowly, and musically the image transforms . . .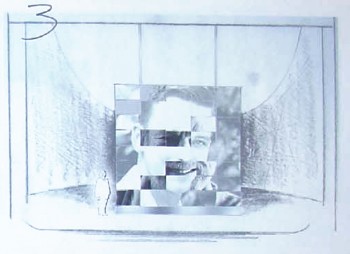 3
. . . through digital projections . . .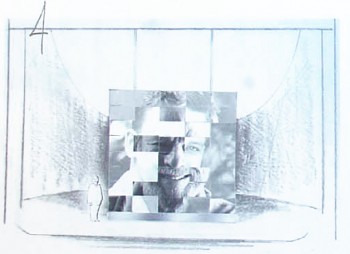 4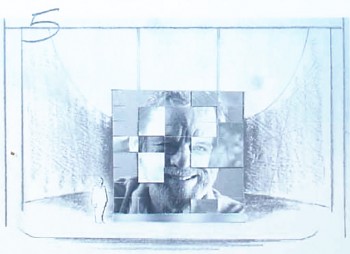 5
. . . to an older face.
The set . . .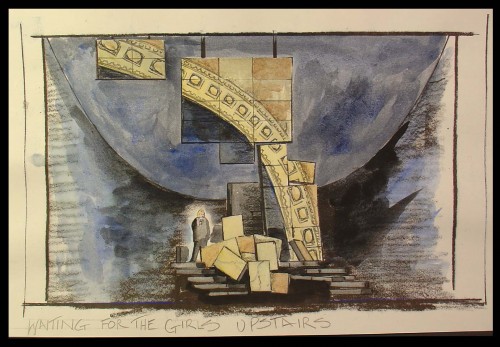 The set is a somewhat abstract construction that utilizes many
screens of digital projections both video and slide.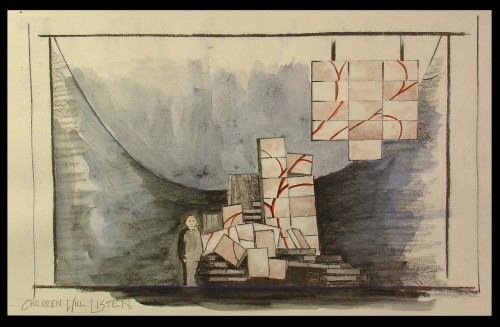 You can see how the parts shape shift even though
the projections continue on the parts.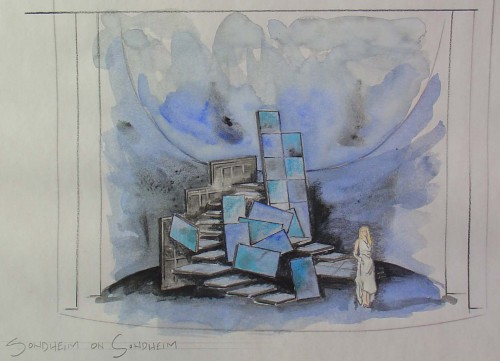 Lighting by designer Ken Billington is also brilliantly part of this set.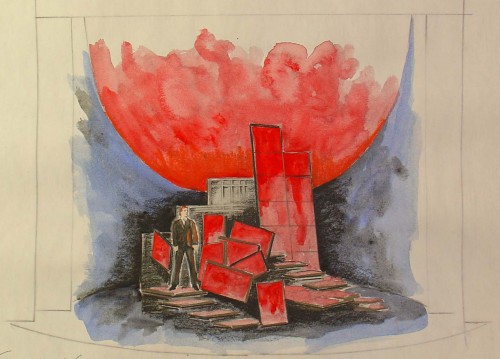 All of the parts – lighting, set, projections – all act as one.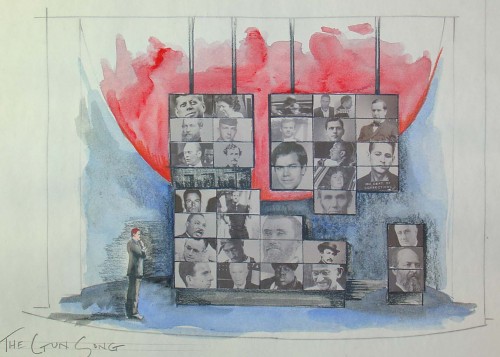 The history of the Presidency serves as a backdrop for the ASSASSINS number.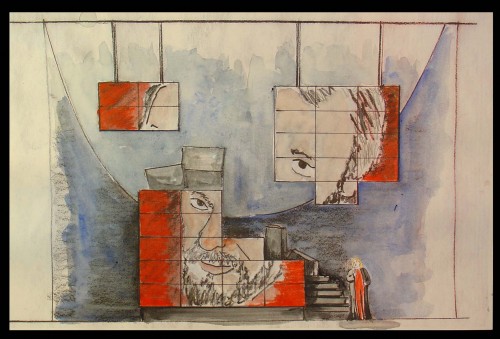 Ultimately, the portrait of Sondheim comes together.
All sketches © 2010 Beowulf Boritt

These drawings and watercolors give an indication of what the set looks like, but they can't relay the brilliance of the device. It's magnificently used, and the photos, video and animation on the screens is quite often brilliant. I can't begin to capture the essence of it, but I can tell you it's a highlight in theater for me this year.
The orchestrations for this show are by Michael Starobin, and they are just as wonderful as anything else he's done. The miniscule orchestra never sounds it, and this should show others on Broadway how to do it. It was my pleasure to work with Michael on a number of films he scored for me. I always felt privileged to have him there and excited as any note of music came in for those many films (which included Lyle Lyle Crocodile, Ira Sleeps Over, and Poky Little Puppy's First Christmas.)
This show is excellent, and it is even more superb if, like me, you're a Sondheim devotee. You couldn't ask for more from theater – except perhaps a return to some of those original productions as they sit and grow in my memory. Elaine Stritch singing Ladies Who Lunch, Glynis Johns singing Send in the Clowns, Mako and others singing Someone in a Tree, Mandy Patinkin singing Finishing the Hat – There are just too many others to keep mentioning.
However, I do have to say that in several cases, arrangements and production of some of the songs performed in this show are better than the original versions. The cast of eight sounds brilliant and easily outperforms the British cast that did Sunday in the Park recently at this same theater. Vanessa Williams is truly a star, you can't take your eyes off of her, yet she sings with the ensemble.
If you have any affinity for Sondheim, go to see this show for a brilliant performance of many of his songs as well as a near-perfect cast and a magnificent set.
2 Responses to "Sondheim on Sondheim"
on 13 Apr 2010 at 9:43 am 1.Galen Fott said …

Sounds like a fantastic evening! Thanks for this post.

on 13 Apr 2010 at 10:50 am 2.Richard said …

It is a BRILLIANT show. I'm not usually one for these kind of retrospectives–primarily because they're usually quite hastily put together, and try too hard to be "different" than just "good." Even pastisches of Sondheim's works like "Marry Me A Little" and "Putting It Together" are just plain corny.

But this show just blew me away. The songs are intentionally sung precisely as Sondheim wants, and are all the greater for it. The arrangements are sharp, subtle, and supportive. And the staging is a LOT of fun! I've been a Sondheim fan for 40 years, and have seen multiple version of most of the shows culled for this presentation. This one is, easily, the best.
Leave a Reply