Daily post 31 Jan 2006 08:43 am
The 5 Oscar nominations for Best Animated Short Film went to:
"9″ directed by Shane Acker
Badgered directed by Sharon Colman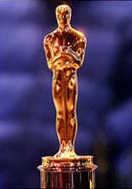 The Moon and the Son: An Imagined Conversation directed by John Canemaker
The Mysterious Geographic Explorations of Jasper Morello directed by Anthony Lucas
One Man Band directed by Mark Andrews & Andrew Jimenez
-
The 3 Animated Feature nominees include:
Howl's Moving Castle directed by Hiyao Miyazaki
Tim Burton's Corpse Bride directed by Tim Burton and Mike Johnson
Wallace & Gromit: The Curse of the Were-Rabbit directed by Nick Park and Steve Box
-
- On a strictly personal note, I couldn't be happier for my friend, John Canemaker. He's a fabulous person who's continued making films for many years. His enormous and deserved success in animation history only informs the films he's done. This film had to have been difficult for him to make, and I'm absolutely pleased at the success it's having.
I'm also happy to see another 2D animated film, Badgered, nominated. Two out the five nominations are 2D, and the predominance of cgi is gone from these categories. None of the cgi features made it. This is interesting.
4 Responses to "Nominations"
Leave a Reply