Daily post 23 Apr 2010 06:23 am
- Today's William Shakespeare's birthday. It's an odd choice of date given that there's so little information about the guy. But since today's also my birthday, I'll enjoy the association by accident.
I've decided to post something that's been floating around my studio for the past couple of years. It's one of those things that never got properly put away once we moved into the new digs. (New, that is, five years ago.) But since I like seeing it, I also like stumbling across it in the morass of paper in my office.
Tissa David did a birthday card for me for my 50th birthday. She recounted, in storyboard, our first meeting. I was on my second day working for the Hubleys – my first animation job.
It's close to being accurate, but not as nasty as the version in my head. Here's Tissa's board.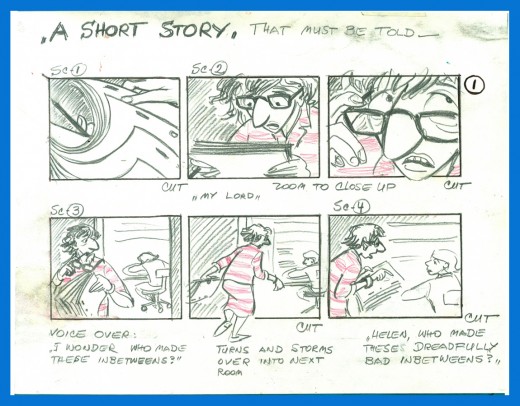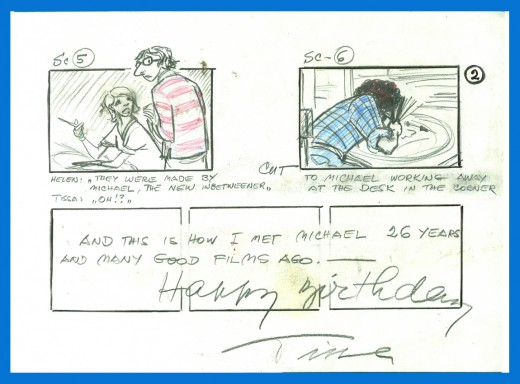 Helen, is Helen Komar, a lifelong assistant working in NY first at Paramount then onto lots of other places. She managed the animation area for John and Faith for a couple of years. Another great person who slips through the history books.
I had inbetweened two of Tissa's scenes on the first day of work. Tissa came in the next day while I was busy working on more. She went to Helen's desk and the two of them talked for a short bit. Then I heard, "Who has made these HORRIBLE inbetweens?" spoken in the most definitive Hungarian accent you'll ever hear.
When I sheepishly admitted to it – since only Helen or I could have done them, and there was no doubt Helen hadn't – Tissa offered to give me some lessons in how to make a proper inbetween. Those lessons seem to have been ongoing most of my life. I'm not sure I can do one to this day.
13 Responses to "B'day"
Leave a Reply