Animation &Disney 18 May 2010 10:29 am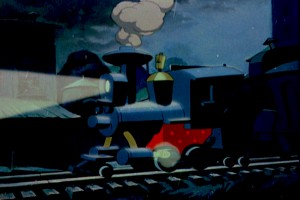 - As stated yesterday, the Roustabout sequence of Dumbo is one of my favorite sequcences in any Disney feature. I love the fact that it is blatantly political in its scope while completely servicing the feature.
The bold and dramatic artwork represents nothing so much as Russian poster art of the 20s and 30s. Whether this is accidental or not is open to question, but given the political nature of many of the workers (pre-strike) I think they knew what they were doing. You can see that in the strong chalk drawings, done as preliminary art, and you can see it in the final.
The men's chorus singing the piece just underscores that theme, and is entirely supportive. (Go to AFilm LA to hear the original recording of this with the King's Men singing.)
Hans Perk has been posting the drafts for Dumbo, and Mark Mayerson has been posting his excellent Mosaics he creates for the film.
Here, are frame grabs detailing the sequence.

__________________(Click any image to enlarge.)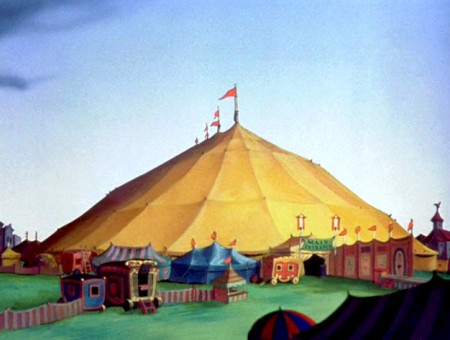 From A Film LA:
Seq. 04.0 "Roustabouts"
Directed by Sam Armstrong, assistant directors Lloyd Richardson and W. Hays, layout Dick Kelsey.
Jack Campbell seems to have animated most of the Roustabouts. Then we find Hugh Fraser, Edwin Fourcher, Jerome Brown, Karl Van Leuven, Russ Dyson, Frank Grundeen, Jim Escalante, Vern Witt, Claude Smith, Sandy Strother, Cornett Wood, Ed Aardal, Miles Pike, George Rowley, Josh Meador and John Reed, most of whom are effects animators.
4 Responses to "Roustabouts – 2"
Leave a Reply