Commentary 27 May 2010 07:50 am
- I received the following press release from Joanna Quinn yesterday. Normally, I would not reprint a press release, but I think so highly of Joanna's work and recognize that this is a truly special honor and occasion for anyone in the animation community, that I feel compelled to post it as is:
Joanna Quinn: Arte Vs. Animación

JOANNA QUINN – AWARD and EXHIBITION


Joanna Quinn one of the UK's most celebrated filmmakers whose animated films have received many international Awards including 2 Oscar nominations, BAFTAS and Emmys, is to receive yet another major award at the 25th Cinema Jove International Film Festival in Valencia, Spain.

In June 2010 she is being honoured with the prestigious award – 'La Luna de Valencia' (the Moon of the City of Valencia). Previous recipients of the award have included the internationally acclaimed film directors Guillermo del Toro (Pan's Labyrinth), Stephen Frears (The Queen, My Beautiful Launderette), Richard Lester (Superman 2 & 3, Help!), veteran cult horror master Roger Corman and
animation heroes like Alexandre Petrov, Caroline Leaf, and Piotr Dumala.

The city is simultaneously hosting a major retrospective exhibition of Joanna's films, drawings and Artwork entitled 'Joanna Quinn: Arte Vs. Animación', which was originally curated and exhibited at the National Media Museum in Bradford in October 2009 under the title 'Drawings that Move – the Art of Joanna Quinn'.

Joanna commented:
"It's a great privilege to be receiving this award – I'm overwhelmed at the thought of being honoured in the same way as all those brilliant film directors…wow. For me it's wonderful to see a selection of 25 years of my drawings presented in one venue. Normally people never see the individual drawings and all the work that goes into my films, so it's great that they'll be able to see the whole process at
the exhibition".

Exhibition information:
Joanna Quinn: Arte Vs.Animación: 13.5.2010 – 12.7.2010
Vicerectorado de Cultura, Valencia tel: (34) 607 289 990 email: sgarciar@dib.upv.es

Festival information
25th Cinema Jove International Film Festival: 19.6.2010 – 26.6.2010
Cinema Jove, Valencia tel: (34) 963 301 625 email: prensa@cinemajove.com

For further details contact: Les Mills or Catrin Unwin
44 (0)2920 666418 or 44 (0)2920 226225
email: les.beryl@fut.net or studio.beryl@btconnect.com
_________________
- Michael Barrier has returned from Russia with some entertaining pictures and travel information. He's also been the first to comment on Thad Komorowski's note about Brad Bird's escape from animation to start directing Mission Impossible 4.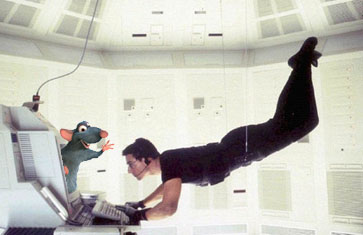 In writing his piece, Mike gets it right, I think, about changes in Pixar (post sellout to Disney) and Disney animation. It hasn't been all good, and it looks like Bird is looking to improve his profile and financial fortunes by leaving animation behind. The same is probably true of Andrew Stanton who is now scheduled to direct a live action John Carter of Mars for Pixar. (Remember the animated tests Clampett did of this story back in the '30s? It looked like the Fleischer Superman, years earlier.) Although in directing live action for Pixar, Stanton puts his toes in the water rather than jumping.
It's questionable whether Bird will come back to animation. His fortunes, fame and pleasure will probably be greater in live action. Of course, the film will be crap (could anything called Mission Impossible 4 be anything but?) Remember that Tom Cruise plucked up J. J. Abrams from the first season of Lost to give him Mission Impossible III, thus making him an industry powerhouse in Hollywood. It's not unlikely that the same could happen to Brad Bird.
7 Responses to "Joanna Quinn / Brad Bird"
Leave a Reply