Art Art &Commentary 30 May 2010 09:19 am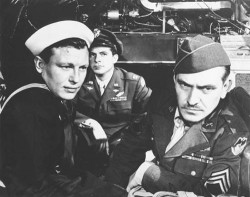 - The magnificence of William Wyler's film, The Best Years of Our Lives, cannot be overstated. To me, it's a near-perfect movie. The direction, the script, the cast, the cinematography and the music all done by masters at their peaks blends into an extraordinary film.
When I was 11, this film was about to start on The Late Show, a local CBS late night movie that began at 11:15pm. My father asked me if I wanted to stay up to watch it. He said it was one of the all-time greats. Now, I have to admit I didn't always agree with what he felt were the all-time greats, but I stayed. Within ten minutes, I was in tears as the three military men return to Boone City, their small home town. The cab drives by the many small stores and houses in the area, and little more than the sight of these passing buildings wells the tears in your eyes as you feel what these three guys are feeling. That Wyler would have accomplished so much emotion in so short a time is extraordinary.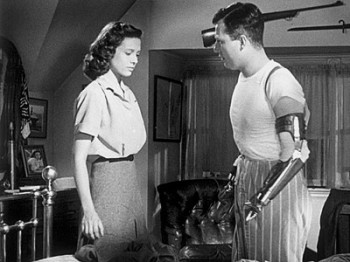 I stayed with the 2½ hr. film, even though my father fell asleep hours before the end. He was right, it was an all-time great. I've since seen the film at least 50 more times. In the past two months, I've spent a lot of time at home, recovering from an operation, and have seen many, many movies over that time. Last night, TCM aired it again (the second time in the last two weeks) for Memorial Day. I was pulled into it again, and I'm happy for it.
Wyler, it seems, had absolute patience for long self-explaining scenes. He gave characters plenty of time to pause and think, and their thoughts register fully and loudly to us. It's amazing business that today's films (and probably their audience) cannot sit still to watch. With this film, you can see how much you're missing in that impatience.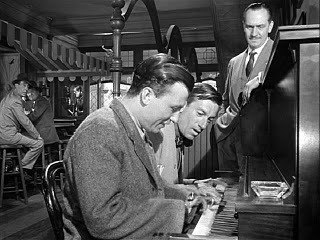 The photography by the great Gregg Toland has to be second only to his work on Citizen Kane. The deep focus imagery is used to pull strong emotion and tell the story more simply. As Homer (Harold Russell) and Butch (Hoagy Carmichael) play chopsticks in the foreground, we're watching Fred (Dana Andrews) make a desperate and sad phone call far in the distance of the bar. While Homer and Wilma marry to the right of the screen, Fred, in the foreground, is watching Peggy (Teresa Wright) in the distance. There are those scenes of Fred walking among the detritus of the Air Force as hundreds and hundreds and hundreds of fighter planes line up for destruction.
Hugo Friedhofer was a great arranger and song writer. His score for this film stands out as one of the great scores of all time. It carries you through the movie and strengthens the work of every other brilliant craftsman who worked on it. The music is brilliant.
I can't say enough about this film. It's Memorial Day, and writing about it gives me a chance to mention the holiday. But I'm certainly honoring what I feel is one of the great films of my life. I hope all of you have, at least, seen it once. If not I urge that you do. I doubt you'll ever see the likes of it made today.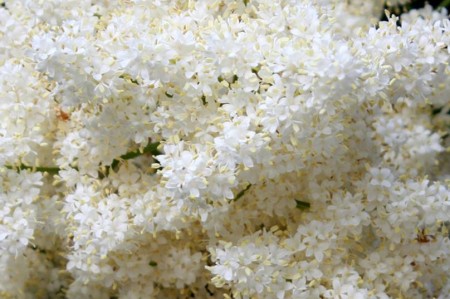 Photo by Steve Fisher
Remember the troops for Memorial Day.
7 Responses to "The Best Years"
Leave a Reply