Animation &Disney &Peet 15 Jun 2010 08:10 am
- There've been a lot of comments on my blog about how Bill Peet just about re-animated the bathing scene for Bill Tytla. I thought it worth looking into what I could find in print. To start with anything BUT Peet's autobiography would be foolish, so let's see what he wrote about his time on Dumbo within that book.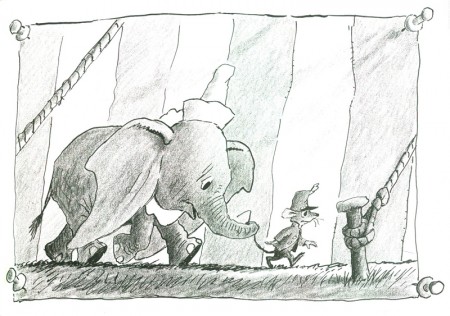 The intimidating big business atmosphere of the new building became much less difficult for me when I was assigned to work on Dumbo, the story of the little circus elephant with the enormous floppy ears. Otto Englander, the supervisor of Dumbo, was familiar with my work on Pinocchio and gave me a large part of the story to develop on my own.

The year and a half I spent on Dumbo was a happy time especially since our first son, Bill, was born just the year before I went to work on the picture, and my infant son was a definite influence on the way I drew the baby elephant.

With all my years of sketching and painting the circus I was well prepared for Dumbo, and I contributed so much to the production that Otto allowed me to present my story boards to Walt one day.

In facing Walt for the first time I understood why so many story men became so nervous and shaky they often lost their voices. It was an unnerving experience to concentrate on the boards while Walt leaned forward in his chair as if he were ready to pounce.

Hi fierce scowl was also disconcerting even though it was usually a sign of deep concentration.

I was greatly relieved to make it through the boards without faltering and find Walt relaxed and smiling.

But then Walt was enthusiastic about all my boards on Dumbo, and I thought sure I was established as a full-fledged story man on films to come. No such luck!
Here's what Peet had to say in an interview done on Hogan's Alley.
Bill Peet: Walt got a little stingy with us on Dumbo because they had a showpiece with Bambi. They could play around with little things like the raindrops. Beautiful, but slow and expensive. We weren't allowed any trimmings. Bambi was a wedding cake. Dumbo was one layer with a little bit of icing. Ours was more successful because it had common appeal, even though the animation was crude in some places. Dumbo didn't make big money. It had only cost $800,000, so all it had to do to make its cost back was go a little over $1 million. The other features had cost $3 million, plus the cost of the prints, and with no foreign market because of the war.

John Province: Two of the best, Bill Tytla and Fred Moore, worked on Dumbo.

Peet: People were always amazed at Bill Tytla, that he could draw the giant devil for "Night On Bald Mountain," and the giant in "Brave Little Tailor;" these ponderous, muscled characters, and then do this little elephant. After he got his first scene on Dumbo, he passed me in the hall and said, "Y'know, Bill, I can't draw these goddamned little elephants. If I send Nick [his assistant] up with the scene, would you see if you could work it out?" Nick brought up this stack of drawings, Bill's scene where the elephants first appear was just a mess. So I went over every one of them, probably a couple of hundred drawings, every damned frame in the picture, and redrew the whole scene. They shot the pencil test and showed it to Walt. He was ecstatic! Nick came up and told me, "Walt loved that thing, and I want to shake your hand!" Well, Bill never bothered to thank me, Walt either.
Reworking drawings is not animation, and Bill Peet knew that as well. Animation is all in the timing. I also doubt that a sequence that long would have only had "a couple hundred drawings" (even if that isn't an exaggeration.) I don't think Peet is giving Tytla his due. Certainly he deserves some attention for pulling the character on model and showing the assistant how to handle it, but there's a lot more to it.
Mike Barrier, in his inestimably valuable book, Hollywood Cartoons, reports:
Jackson, who directed all the sequences with significant amounts of animation by Bill Tytla, handed out scenes to Tytla, "but there would be others who would work with him who would do certain scenes…. Quite often Bill would knock out a few poses to get them started and would supervise what they did, very carefully," to the point that he accompanied those junior animators when Jackson looked at their pencil tests in sweatbox sessions.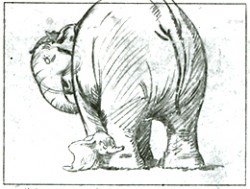 If Tytla had trouble drawing Dumbo, he wouldn't have had so much authority over the junior animators. I have no doubt Peet got him up and going with the initial scenes, but Tytla is evident in every drawing credited to him in that film. He did that animation.
Personally, I think this sequence is brilliant enough that both men deserved the credit of genius. It's one of the high-water marks of animation in its entire history. I also think it's doubtful that we'll see its like again.
2 Responses to "Bill Peet & Dumbo animation"
on 15 Jun 2010 at 12:03 pm 1.Eric Noble said …

I think that's a pretty fair judgment of what actually happened. Nice post.

on 15 Jun 2010 at 2:16 pm 2.John V. said …

Who is "Nick"?
Leave a Reply