Commentary 25 Jun 2010 06:19 am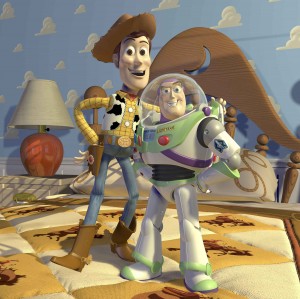 - Toy Story 3 is such a difficult film for me to write about that I am very inclined not to say much of anything more than the negative sentence I contributed last week in passing while commenting on Mike Barrier's writing. However, negative I'll be I feel it's probably important, at least for my own ego, to write down my thoughts. I know most of you won't agree with me, but that's not really important to me. I just wanted to air my considered comments.
As such, I've decided to break those comments into two:
1.Things I liked about Toy Story 3.
There's a funny bit toward the front of the film, wherein Woody, the only toy not to be tied in a plastic bag waiting for the soon-approaching garbage truck, runs up and down several lawns in a frenzy trying to save his friends. The animation on the run is hilarious. Whoever animated it captured the lunacy of a marionette without strings running with arms and legs fluttering about in an absolute chaos.

The 3D is excellently crafted. Unlike the Dreamworks approach to 3D there are no characters or objects being thrown at the audience in a cheap attempt to create a gasp or shock moment. This is no MONSTERS VS ALIENS where the audience has to keep ducking throughout. Toy Story sets up a comfortable 3D enviironment and casually invites you in. I enjoyed it and applaud the design of that element of the film.

The voice work, as in most Pixar films, is excellent. Casting is fine, particularly Michael Keaton as the Ken doll. Tom Hanks certainly carries his character even when the animation doesn't completely. Ned Beatty creates a very odd villain in a quietly voiced character with lots of venom but no loud shouting. It is rather sinister in the end.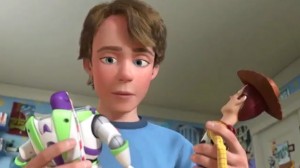 2. Things I didn't like about Toy Story 3.
Pixar films have gotten into something of a formula, and that formula keeps heading closer to violent, action-adventure movies as opposed to the sensitive stories they brought us early on. This story is a Rube Goldberg contraption of a film. Patchwork and obvious in its construction, the film races from one locale to another back and forth trying to keep viewers on the edge of their seat throughout. The characters, for the most part, are always in danger, and the effort is to try to keep up with the twists and turns, especially of Woody, to follow things. As I said, this has become the pattern of recent Pixar films They spend considerable time setting up their characters and then throw them and us on a roller coaster ride trying to climax to an ending. In Wall-E, there's was a wonderfully silent opening half hour of a movie before we were shuttled to outer space where characters raced from one end of the space ship to the other, inside and out, as the audience was dragged along. Up featured a wild chase around an island which brought the characters back, in a frenzy, to fight off financial villains in their own world. The action/adventure element The Incredibles was probably the most crucial to that film since it was a film about superheroes, and we knew going in that we'd be seeing violent chase-type action.

However, Toy Story 3 is all chase from the opening to the close. Consequently, I never once cozied up to the characters as I had in the first film, and even the second. This film, to me, just features the characters and voices without giving us much character.

Then, continuing with the story, we're given a climax that is so violent that parents of young children will be bothered by the horrific moments of tension that their children will have to endure getting to the end. Threatening to incinerate all of the characters comes as something of a reality that is milked for all its soppiness. (Characters waiting to be trashed form a ring holding hands so we know how much they mean to each other, but more to make us endure a longer, slower death. I found it unconscionable of the film makers, who are – let's face it – making a children's film for all ages. This is one film I would have given a PG-13.

I didn't quite feel the animation was on par with Pixar's best. The mix of quiet, sensitive movement with the popping from pose to pose style just doesn't work for me, and I wish they would have chosen one style over another. Don't get me wrong, technically the film is stunning, as you would expect it to be from this company, but the artistic choices weren't always what I would have chosen.

Randy Newman's score rambles about a bit too much for me. His score for Toy Story 1 stood out as something different for an animated feature. In Toy Story 2, he introduced his Oscar-winning song and let that tune carry the picture in a very melodic way. The score to Toy Story 3 is all in short spurts of action music, which is obviously locked into the violently short scenes featured throughout the movie. I wish he had found a way to make this feel less like an action-adventure movie.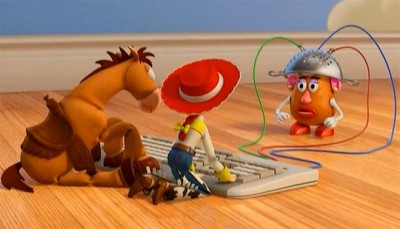 Actually, I have plenty more to say, but I think I should stop here. I didn't have a great time at the movies watching this film. I wanted more from this magnificent studio. After their initial films, I was convinced that we'd be watching an animation company mature into something brilliant. If all they're going to offer is an animated variant of the typical fare we're offered from Jerry Bruckheimer, I'm not sure I see the point.
24 Responses to "Thoughts on TS3D"
Leave a Reply