Commentary &Photos 18 Jul 2010 07:26 am
- A couple weeks back, I posted some photos of things I love around my studio. When you have a place like I do, and you're as much of a gatherer as I am, things start piling up. There are in the maelstrom I call my workplace a number of things I absolutely love and love looking at.
Here are more of them:
When I celebrated my Fiftieth Birthday, Heidi threw a big, enormous party for me. Lots of people brought art pieces and some of them are just treasures.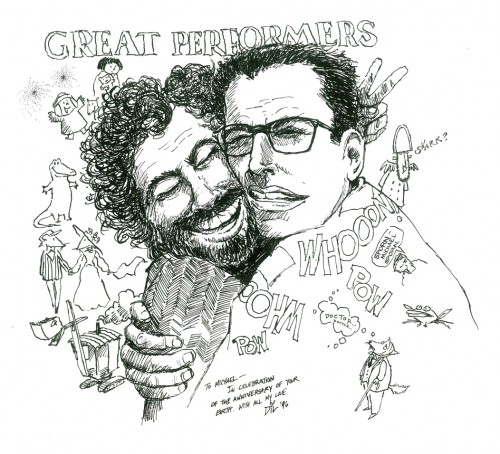 John Dilworth did this drawing of me with him surrounded by
some of the characters from my films. The picture came from
a photo taken of the two of us up at Lincoln Center.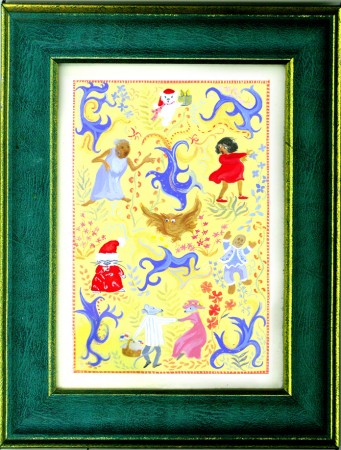 Laura Bryson did this little jewel of a painting – almost a Persian
miniature – of some of the bits from a number of my films.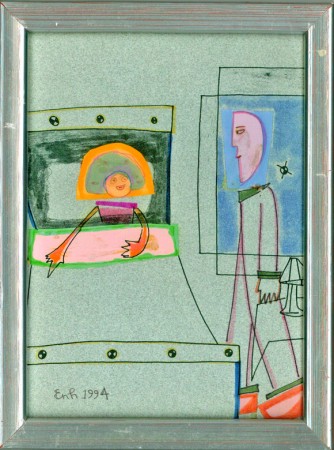 Emily Hubley gave me this great framed drawing.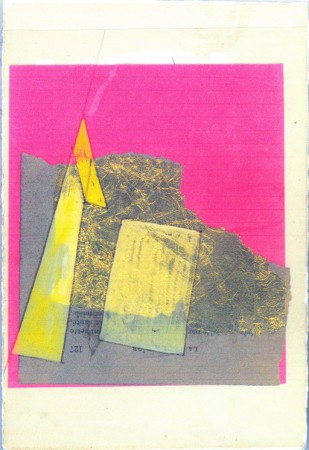 Bridget Thorne collaborated with her son, Matthew,
on this illustration that says everything to me.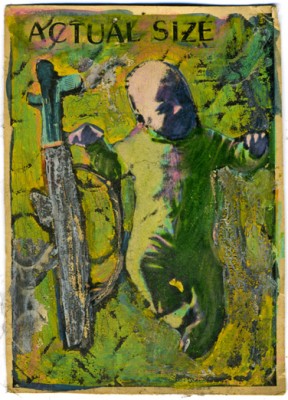 But then this was the first time they collaborated as mother/son.
Here's Bridget's birth announcement for Matthew many years ago.
Away from the art, here are some more things: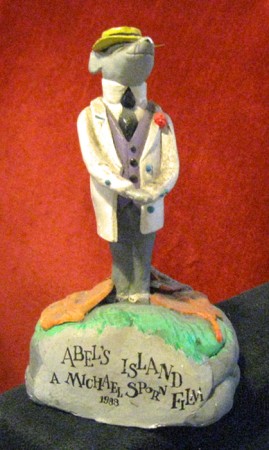 When we were completing Abel's Island, John Dilworth made this
little sculpty statue of Abel. His walking stick has long been lost.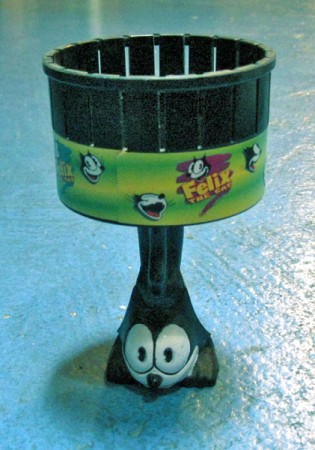 Wendy's, at one time, gave away this little zoetrope
(that never really worked.)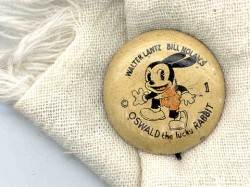 I love this Oswald the Rabbit pin which was a giveaway
for all lovers of the Bill Nolan rabbit back in 1931.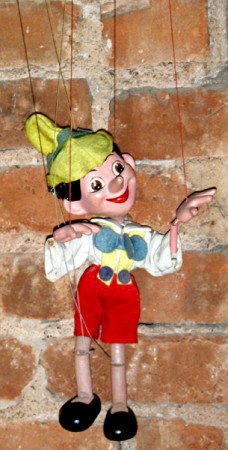 I treasure this Pinocchio marionette, that was given to me by my
beloved Heidi as a birthday gift many years ago. The puppet is an
antique made of a wood pulp that they used before they invented plastic.
2 Responses to "More Things I Love"
on 19 Jul 2010 at 1:06 am 1.Galen Fott said …

That Pinocchio is one of the great Pelham Puppets, circa 1963:

http://www.ppo.co.uk/bimbo/index.php?option=com_content&view=article&id=416:sl-pinocchio&catid=14:sl-puppet-range

I've got one too, though not in as good shape as yours! Pelhams are highly collectible.

on 20 Jul 2010 at 9:13 am 2.Laura Bryson said …

Michael, how touched I am to see my painting! I chose to emulate manuscript illumination because your films were my first illustrations for Animation, thus the historical parallel.
I had the good fortune to see original cells from the film Yellow Submarine, yesterday. If you recall, my great uncle was President of King Features when it was produced… They are not elaborate, and the backgrounds are not behind them. But if you are interested, I bet we can get a little show or posting ..!
Leave a Reply