Commentary &Independent Animation 27 Jul 2010 08:27 am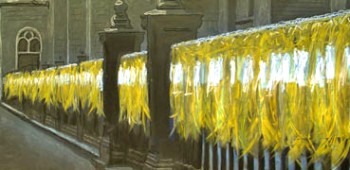 - Dustin Grella is a young film maker whose independent short, Prayers for Peace is now available on Vimeo, here. It's a beautiful animated short that should be seen by any visitors to my blog. It's currently on the Festival circuit, having been screened at Annecy, Stuttgart, Anima Mundi, and Mostra Lisboa, among others.
Mr. Grella takes his inspiration from William Kentridge rather than Walt Disney, and he makes a solidly strong debut with this film which was his Masters thesis at SVA. If you go to his site you can see other film samples he's created.
The message of this film is in the title, Prayers for Peace. And we're still praying. After seeing the docfeature, Restrepo, I could only come out of it depressed, wondering what the hell we're doing there.
This guy has to be ecouraged and pushed to go on. I look forward to Mr. Grella's next film. The man uses his brain and tries to animate from life not other cartoons. A rarity in today's community.
___________________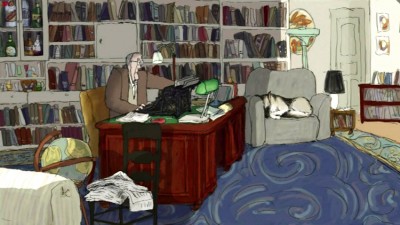 - Speaking of drawing from life, Paul and Sandra Fierllinger's feature, MY DOG TULIP, is the first acquisition of the newly reopened New Yorker Films and will open at New York's Film Forum on Wed, September 1st through Tues, September 14th.
MY DOG TULIP was written, directed and animated by award-winning Philadelphia filmmakers Paul and Sandra Fierlinger. As we all know, they did all of the artwork themselves. The film has been seeking a distributor for the past year, and they've found a good one that'll give it special concern. Getting the New York reviews in early September will be helpful. Hopefully, this one will be eligible for Oscar consideration.
I'll give the film more attention and review it when it opens.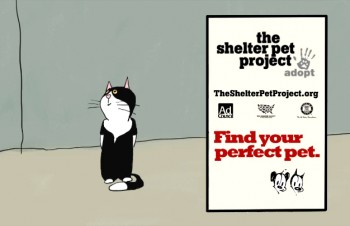 If you'd like to see some other recent work by the Fierlingers, go here to see some 6 short pieces, called "Shelter Stories". These pieces were done in collaboration with MUTTS' cartoonist Patrick McDonnell. Here's what Paul wrote about these pieces:
"This is something new for us because it is the first time I had to draw someone else's cartoons. In this case it is the art of Patrick McDonnell, of the "Mutts" cartoon strip and books. These are six Shelter Stories, PSA's (Public Service Announcements) urging people to adopt their pets rather than buy them from breeders. Our specific assignment was to communicate that shelter animals are normal, healthy pets that have ended up in shelters due to unhappy circumstances of their owners, rather than coming from cruel treatment, and that they often make the best pets.

All the stories are lifted off of Patrick's strips, which heavily relied on written word, sometimes comprising of three panels of the same talking head. It was up to us to give the theme a background story. Patrick was a very generous collaborator, not insisting that we stay 100% on model, which would have been often difficult anyway because his cartoons often don't even have legs. He also wanted me to employ close to real animal locomotion so we agreed that in some instances my drawings might drop out of model completely, only to return to model whenever the action would stop.

The music and sfx is by Shay Lynch, the stories are written by Patrick and Sandra and me (mostly Patrick & Sandra, actually). Sandra also did the kitten's voices and the other two voices are read by two people in our neighborhood. The Agency is the Advertising Council and the client the Humane Society of the United States (HSUS). The spots haven't been aired yet; actually I haven't even quite delivered them because I'm waiting for the address where to send them.

By the way, these spots hold a record for me; this is the very first time in my long career that a client has accepted delivery of my work without requesting a single change!"ul>
5 Responses to "Prayers and Tulips"
Leave a Reply