Commentary &Independent Animation 31 Aug 2010 07:43 am
- Rather than have a single review of Paul and Sandra Fierlinger's feature film MY DOG TULIP – which opens at the Film Forum on September 1st – I decided to get the two animators in my studio, Matt Clinton and Katrina Gregorius, to see the film and give their reviews as well. Hoping this would give a non-biased view of the film and a chance for you to see it through the eyes of pencil animators who happen to be working digitally. I hope this exercise is illuminating. I think it is.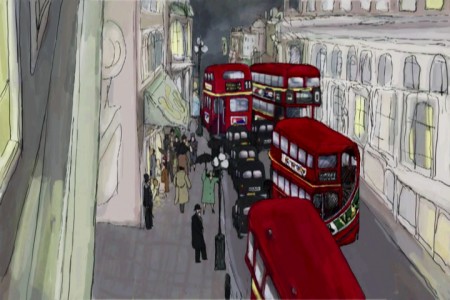 Matt Clinton
My Dog Tulip is a wonderful new animated film from Paul and Sandra Fierlinger. I've enjoyed their particular style of animation ever since I saw Still Life With Animated Dogs on TV years ago. The drawings were so sincerely animated that it surprised me, and the film stayed in my memory. The locomotion and behavior of dogs is something that seems to flow effortlessly from Paul Fierlinger's pen. I love seeing that sort of thing in animation – where it feels natural, and nothing is worked over too much.
It's all there in My Dog Tulip. I was very impressed with the animation, which is loose and full of life. It was animated paperlessly using TVPaint. (This film is quite a showcase for that software, and I hope it becomes more widely known.) There are a few different visual styles that pop up in the film. Much of it is drawn in a realistic style. It takes a lot of skill to be able to animate so much footage of a realistic dog who is moving around spatially. Fierlinger excels at this, keeping the animation spontaneous and giving a lot of character to the dog. Tulip doesn't just show up and bark, like some other ruddy dog actors. She's a pro. Fierlinger also animates some parts in a simpler style, made to look like doodles in a journal. These scenes were often very funny, and fun to watch. I laughed at Tulip prancing around in a skirt urinating on everything in sight. She is like a young child.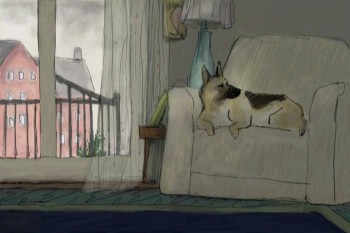 Fierlinger allows time in the film for things to happen, which is rare in animated features. I really get annoyed at the spastic actions and pacing in some animated films; I don't like leaving the theater with a headache and feeling exhausted. My Dog Tulip is not like that. For example, in one sequence, Ackerley and Tulip are being driven in a sidecar motorcycle to the country home of Captain Pugh. Instead of just showing them departing and arriving, we get to see their silent journey for quite a long time. This lets the audience get a feel for the world that Tulip lives in. Moments like that combine to give you a thorough understanding of the place.
The background paintings are stunning. They were painted by Sandra Fierlinger directly in TVPaint. That software comes with many natural media brushes that you can customize. She used her expertise in painting and color styling to create, in this software, backgrounds that are very classy and sophisticated. I noticed that she created well-placed shadows throughout the film. In his study, Ackerley walks in and out of shadows cast on his rows of books. In another scene the shadows from unseen clouds move across a field where Ackerley is standing. These details add some depth and atmosphere. It's nice to see such a focus on this. The paintings themselves are not overly detailed but they give you all you need. The film looked great up on the big screen.
It's clear that these two artists compliment each other very well. It's a huge achievement that just two people can make a feature film in their home studio, one animating, the other painting. In the press notes, it says that the producers had contacted the Fierlingers and asked them to choose a classic book to adapt as a feature film. I like the thought of that; picking a book and going for it. It would be fun to try. I believe that the Fierlingers are now at work on a film about Joshua Slocum's book Sailing Around the World Alone. I'm looking forward to seeing how he handles animating all that water. Rough seas are probably haunting his dreams by now.
Christopher Plummer's narration of My Dog Tulip is notable. There is a large amount of narration and he gives it a bold flourish! J.R. Ackerley's sense of humor comes bursting out of Plummer's performance. The rest of the cast is top notch as well.
I think that most dog owners will see a lot that they can relate to in My Dog Tulip. I've had a lot of American Eskimo experience. Great dogs! Our first one loved to be wild in public. She loved to make a scene. At home she behaved pretty well and we didn't mind her nipping at all. You really do learn to love all the unique things about your own dog – their personality and certain tendencies. My Dog Tulip is all about this. Tulip comes into J.R. Ackerley's life and changes it in unexpected ways. There's a big impact that Tulip makes. Near the start of the film, Ackerley is racing, racing, racing home to be with his dog, who is waiting. She knows what time it is. The door swings open and the day can finally begin in earnest! The film is an account of their friendship. That's something anyone can relate too.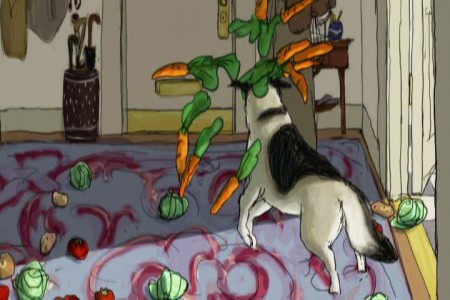 Katrina Gregorius
Humorous and full of tender moments Paul and Sandra Fierlinger's new feature, My Dog Tulip, is an honest account of the relationship between J.R. Ackerley and his dog, Tulip. The film pulls you in as you share the experiences Ackerely goes through in trying to understand his new dog and eventual companion.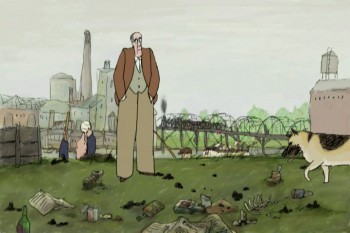 My Dog Tulip begins by showing us the loving relationship between Ackerely and Tulip. Ackerely is rushing to get home and Tulip is excitedly waiting by the door for him. The story then takes us on a journey through the "couple's" life. Mr. Fierlinger has captured the essence of owning a dog and he isn't afraid to show it like it is. The feature is filled with scenes of Tulip defecating and urinating all over the place. While some scenes may have been too much for me, I can't say that they were entirely unnecessary. I'm sure anyone who's ever owned a dog, cat or any pet can relate.
The film takes on a few different styles throughout, but I especially enjoyed the "yellow pad scribbles"-style. These sequences were meant to be from Ackerley's perspective and in them Tulip was depicted walking on two legs and wearing a dress, almost human. For me this emphasized the closeness that these two had. Tulip wasn't only Ackerley's dog but she was also his friend and companion.
Overall My Dog Tulip is a very touching and heart-warming story of finding love and friendship from the most unexpected places.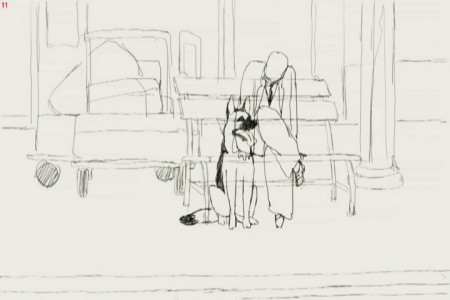 From the pencil test of the film
Michael Sporn
Paul Fierlinger has been making animated films independently for more than 50 years. Recently, his work has turned to the long form. He's done a number of half-hour shows for ITV which have been aired on PBS local stations. Drawn from Memory, Still Life With Animated Dogs and A Room Nearby were strong programs that brought some decided interest to Fierlinger's work.
My Dog Tulip, a theatrical feature, came via a couple of producers willing to invest a million dollars in a well-known book adaptation. The book by J.R. Ackerley was more famous in England, but Paul and Sandra Fierlinger sought out the title. The film started with fists and stops, then finally got going after the animators produced a short piece of beautiful animation. The producers were sold, and the film went forward.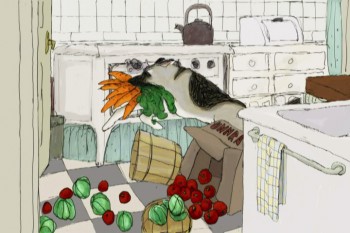 With a strong cast of voice actors, including Christopher Plummer, Isabella Rosselini and, the late, Lynn Redgrave the film sparkles. The backgrounds are a treat, particularly at the start of the film looking at some of the beautiful shots of London.
The film moves into its story about the tight relationship between a man and his German Shepard. At first, there's a lot of anxiety between the two, but soon they warm up to each other and become almost too close. Plummer's narration is just excellently delivered and totally conveys the conflict in the relationship.
The film seems to take a strange turn in that it becomes almost too concerned with the scatalogical elements of dog-ownership. We're treated to the dog's constant urination, pooping and many attempts at mating. This gets a bit off-putting for some, but the film uses it to detail the tight marriage of man with dog.
Ultimately, the film is a peculiar one. It's beautiful in its graphics; the animation is often stellar – as expected from Paul, and Sandra shows that she can paint glorious backgrounds with the best. The artwork just glistens. However, the story is unlike anything that's been seen on screen before; it's adult. This is surely no 101 Dalmatians – purposefully.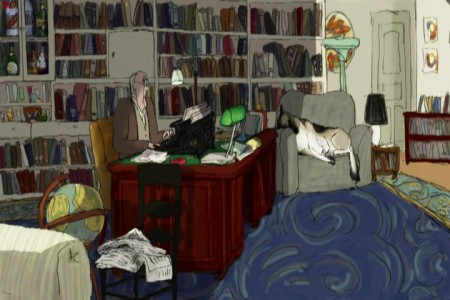 Anytime an individual takes on the task of producing, directing, animating, and coloring an animated feature, it's a big deal. We're getting to see this more and more now that digital technology has made it a tad easier for those folk. Something that has to be said is that they are determined to get a film finished. That kind of energy has always produced inspiration in me. I've gone to see any such film, just because I feel obligated. Obligated to the art of animation.
There is definitely an obligation, in my mind, for everyone reading this blog to get out and see this film. Support your own.
There was an excellent article in the NYTimes about the methods of TVPaint used for producing the artwork of this film.
The NYTimes critic Stephen Holden reviews the film and makes it a "critics pick" as one of the best movies in the market.
8 Responses to "My Dog Tulip – 3 Reviews"
Leave a Reply