Animation &Daily post &Disney 26 Aug 2010 08:04 am
- I have to take note of the passing of Satoshi Kon. There's a short piece via Charles Solomon, about him on Cartoon Brew, which I suggest you read. The links there brought me to this piece with more information. He died abruptly of pancreatic cancer. His diagnosis on May 18th was that he would have at most 6 months to live. He died August 24th at the age of 46.
There's an excelelent obit in today's NYTimes by A.O. Scott.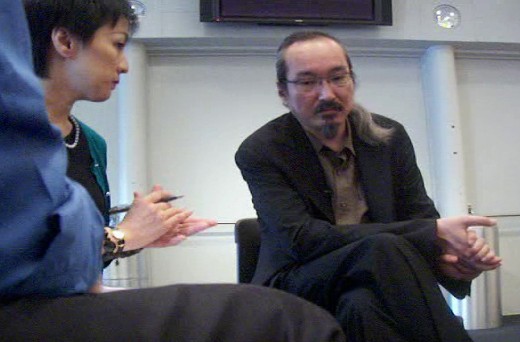 L to R: Me, the interpreter and Mr. Kon
I had the pleasure of interviewing him back in June, 2009. Unfortunately the recording of the interpreter, who spoke so softly, was not good, and I couldn't get much of a transcript. He was polite, positive and a pleasure to meet, even though a great deal didn't come of the conversation. His art around the room was stunning. I am decidedly a fan of his work. He died Tuesday, a terribly sad end.
You can see some of this art in the blog post I wrote that day. Go here.
Richard O'Connor also wrote a short, nice pieco on his blog, Asterisk Animation
You should also check out his films Millenium Actress, Tokyo Godfathers, and Paprika.
________________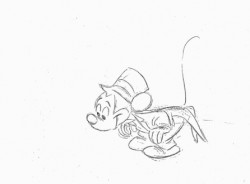 - Back in February 2007, Hans Perk offered the storyboard and some notes on the shelved Mickey Mouse cartoon, The Plight of the Bumblebee. This was on his site A FIlm LA. It was animated by Fred Moore, Hal King and Cliff Nordberg and was shelved partially because of length. Jack Kinney, the director, calls it the best Mickey film (though it's definitely not despite the generally fluid yet unispired animation.)
This is important because Thad Komorowski offers the entire pencil test of the film on his site.
Hans suggests that Mr. Lasseter call down to order the film completed since it's already so close. Nothing happening since that was written in 2007. I'd guess that Lasseter won't take notice.
Anyway, this is great payoff. Thanks Hans and Thad.

________________
.
-
John Canemaker
's column about Charles Burchfield receives an excellent comment from
Richard O'Connor
on the Asterisk Animation blog. The connection is made to the new show of
Burchfield's work
at the Whitney Museum of Art.
Richard's article
is worth a read, and
John's article
is, obviously, also worth reading.
________________
.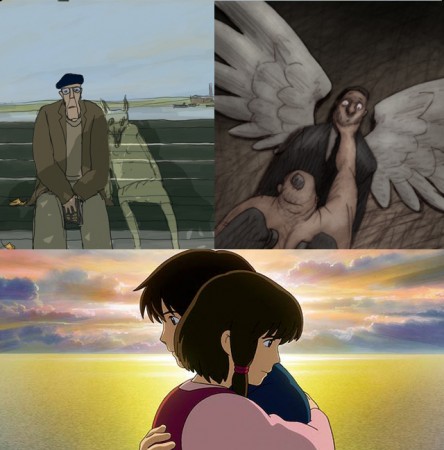 - I'd like to remind those in New York that there are three features on the horizon (or in one case, already here), about to play in theaters.
Paul and Sandra Fierlinger's film, My Dog Tulip, starts at the Film Forum next week, September 1st. For this film, we'll feature three separate reviews by the animation staff (that includes me, of course, as well as Matt Clinton and Katrina Gregorius) here at the studio. We'll probably post it on Tuesday, a day before the opening.
Bill Plympton has his feature, Idiots and Angels, opening at the IFC Center on Oct 6th. I intend to offer an interview with Bill before the film opens, so you can look forward to that. The film has played at many Festivals, so there's been ample chance for enthusiastic animators to get a preview. If you haven't seen it the chance will now be there.
Currently playing at the Angelicka is the feature Tales from Earthsea. This was directed by Goro Miyazaki, the son of Hayao Miyazaki. Goro was chosen as a potential way of handing down the father's directoral mantle when Hayao was planning to retire. When Hayao saw the final of Tales from Earthsea, the father decided not to retire. Instead he made one of his best features with last year's US release, Ponyo. He's currently doing another two features. He and his son didn't speak during the making of the film.
The best review I read of this film is, naturally, on The Ghibli Blog by Daniel Thomas MacInnes.
There's also a good interview with the book's author Ursula Le Guin.
________________
- A small footnote. Disney has decided to withdraw its animated product from the Annie Awards. That's right Toy Story 3 and Day & Night will not be competing for Annie Awards this year.
The people at Disney/Pixar feel that anyone can join ASIFA and vote for the awards. They don't say that they haven't won against the Dreamworks product for the last few years. Rotten Tomatoes, indeed.
Here's the Variety story, if you can't get it without a subscription.
________________
.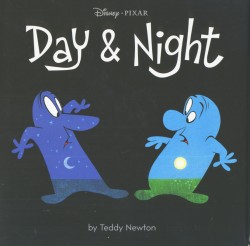 Speaking of Day & Night, I received a copy of the book which sells for only $10 at Amazon.
The book is better than the short film – it takes less time to read. The graphics are better; it's not a melange of hand drawn work and cgi inner-body motion. The cg is replaced with watercolors. The artwork by author/illustrator Teddy Newton is more constant than the film and decidedly better.
The story – it's the same sophmoric tale. However, you don't have to listen to the ending's narrator telling us what we already know. I doubt I'd ever have bought this book, but thanks the excellent publisher, Chronicle Books, I now own it. This publisher always does a good job with their product.
34 Responses to "Kon/Mickey/Indep'ts/Day&Night"
Leave a Reply