Photos 29 Aug 2010 08:22 am
- Last Sunday Heidi and I went to the new Yankee Stadium for the first time, and we sat in the rain for most of the day. We knew it was scheduled to rain, and the game was ultimately held up. Regardless, we had a blast.
Here are some pictures.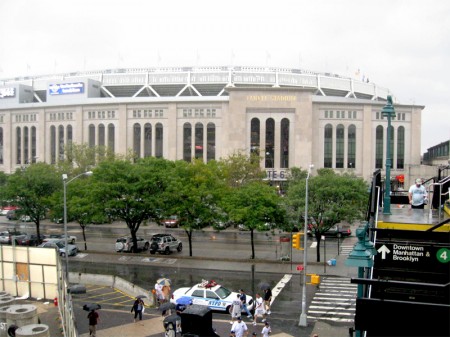 1
When you get out of the train, this is the first thing you see.
You then have to follow the police barricades until you get
across the street.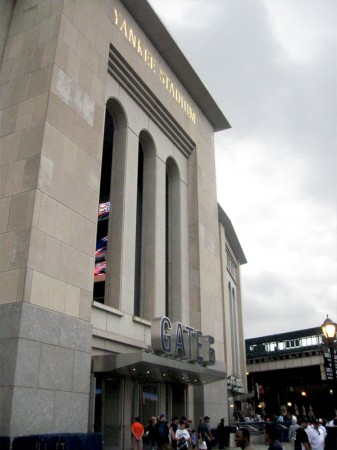 2
The stadium looked glorious at the front gate.
They used to have a giant bat statue. I think they left it behind.
At least I didn't see it.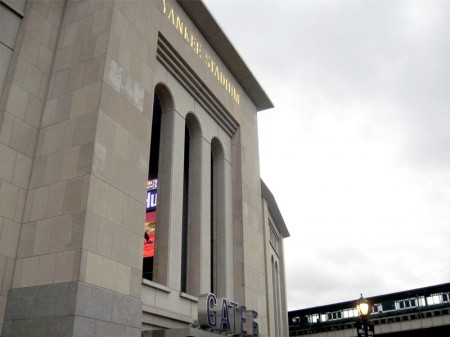 3
It looks good close up, too. At least for a Yankee fan.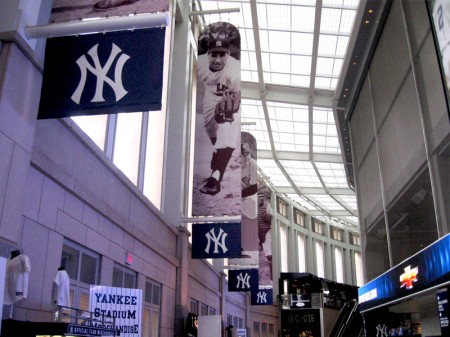 4
Once you go through at pointless security check, you get inside
to a rotunda of stores and shops selling a lot of Yankee goods.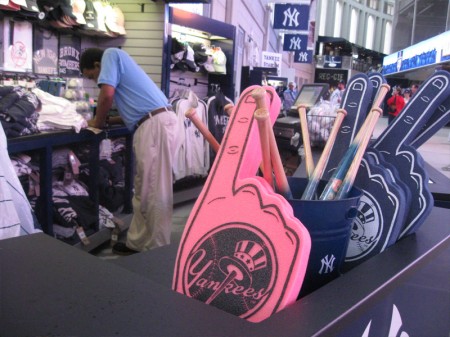 5
Useless souvenirs for the fanatic.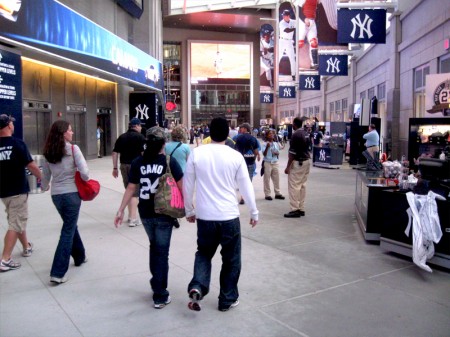 6
There are plenty of shops and places to eat
as you wander about. A real mini-mall.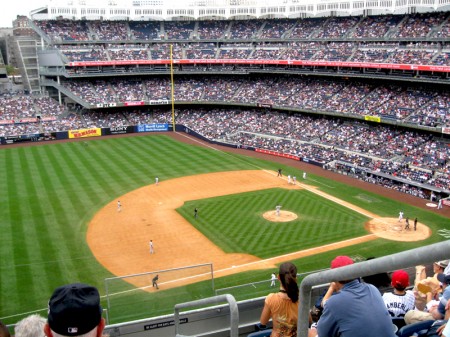 7
Once we found our seats, the view was fantastic.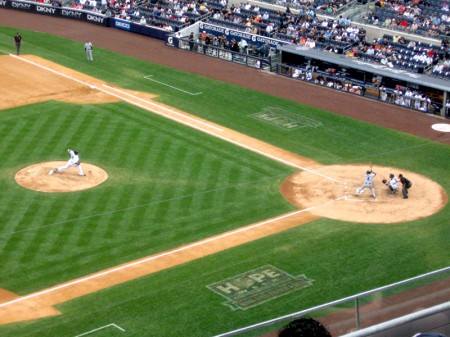 8
C.C. Sabathia just mowed down the traffic in the first inning.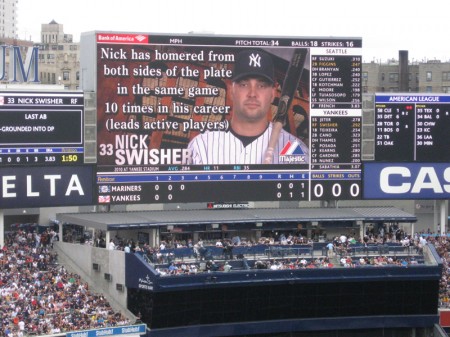 9
The big board kept you informed of everything. In between innings
there were plenty of shots of people in the audience. Once they had
the couple just below us. You could see my legs on tv.
Later they had a shot of the couple above us. I guess I wasn't wearing
any Yankee logos. No cap, no Tee shirt.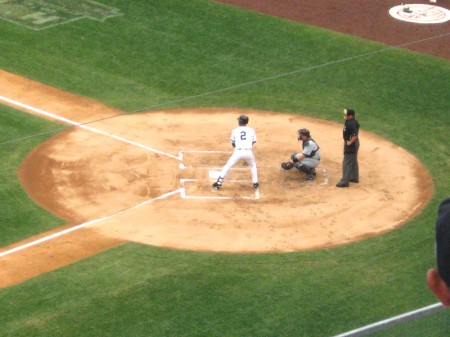 10
Jeter led off for the Yanks and promptly hit
to the shortstop for the first out.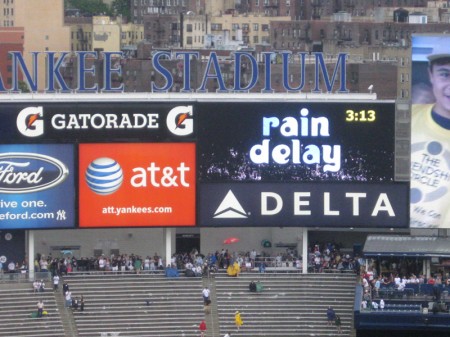 11
The rain came first as a drizzle, then a downpour.
The big sign let us know we were in a rain delay.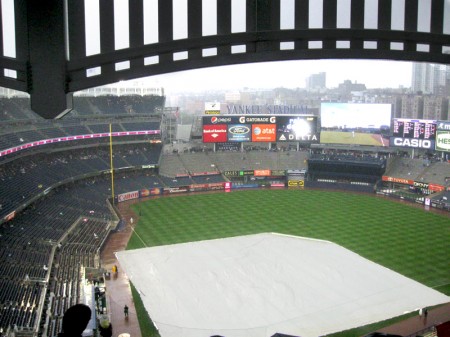 12
They pulled a tarpaulin over the field.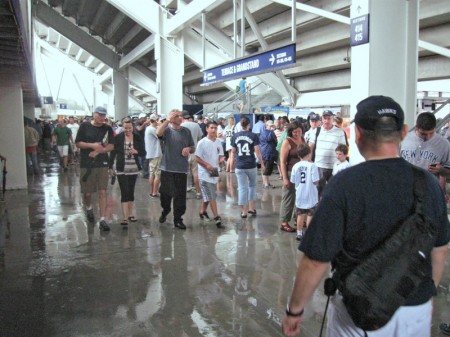 13
We travelled underground for a while window shopping.
We went the Yankee museum but the line was too long.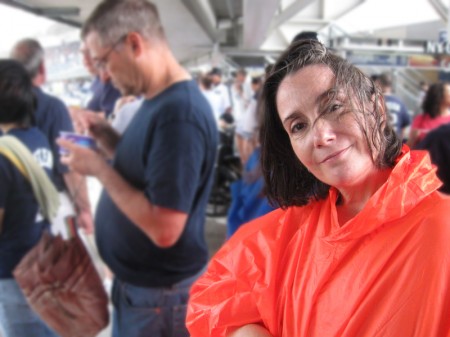 14
Heidi was having a blast. So was I as a matter of fact.
The kept us so entertained – even for the rain delay.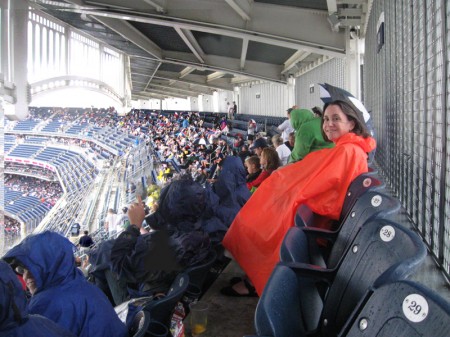 15
We decided to head to the very top. There was an overhang
that would keep us dry, and we could sit down.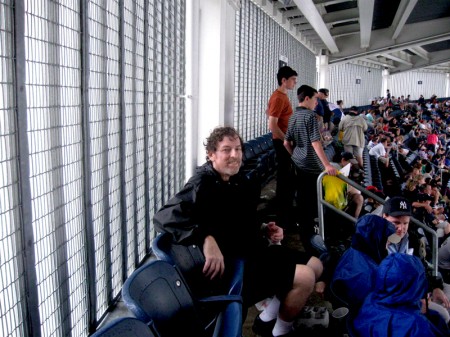 16
I sat drenched but happy. We really were having a great day.
The stadium was a hit for us, and that's all that counted.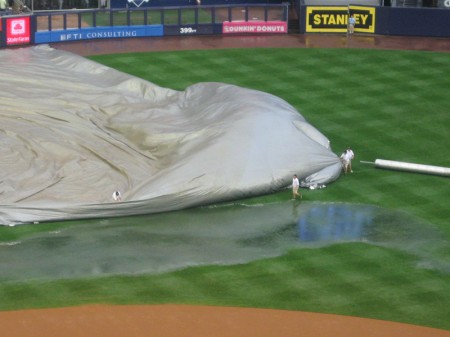 17
Eventually the rain stopped and we watched them pull the tarp up.
You could see the drenching water being dumped onto the field.
We went back to our seats.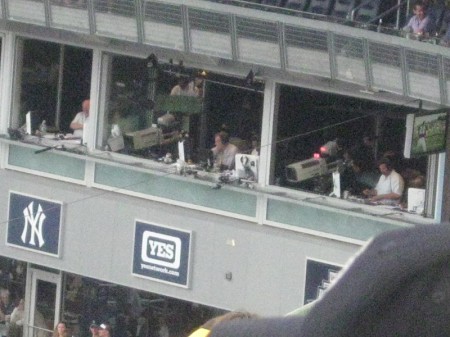 18
When we returned, I noticed the YES Network booth. You can
see the announce Michael Kay trying to get us back into the game.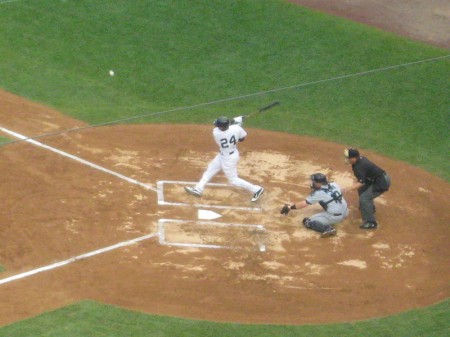 19
Cano hit a Grand Slam putting the score out of reach for the Seattle Mariners.
We left after the 7th inning to get ajump on traffic out of the stadium.
The Yankees won 10-1.
3 Responses to "Yankee Pix"
on 29 Aug 2010 at 8:40 am 1.steve fisher said …

Looks like a great time was had by all – except for the Mariners, of course.

on 29 Aug 2010 at 10:28 am 2.Bridget Thorne said …

Wow, Mariner rainy day wash out , looks like a lot of fun tho.

on 30 Aug 2010 at 7:53 pm 3.Hachtman said …

great pictures of the new stadium – i have a feeling we'll be using these for reference some day. tom
Leave a Reply