Guest writer &Illustration &SpornFilms 09 Sep 2010 09:28 am
- I got to know Patti Stren well when we worked together making the short film, MONA MON AMOUR. This was something that Patti had developed as a print piece, and we jointly came up with the idea of making a short. We financed it jointly and love the end product. It's the film that probably got the most laughs when I saw it projected at the Museum of Modern Art. I was quite proud of it then.
I'm going to turn this post over to Patti to showcase some of her past work including a couple of the many books she's written and illustrated, some of the print ads she's done, the post Mona artwork she's done with the characters, and other material.
I hope you enjoy it.
___________________________
Often my Canadian friends and here, many of my colleagues; but especially my Mama's mahjong buddies in their 90′s who watch MONA MON AMOUR every day, as if it were a new film -ask me how did this Michael Sporn and I meet? Then collaborate and then become good friends. Well, for sure I immensely respected Michael's work. And Michael said some lovely things about mine. Coincidentally, my best friend in Paris, Tana Hoban was the sister of one of Michael's most beloved Children's Book Writer Russell Hoban. Of which he animated. The Marzipan Pig exquisitely.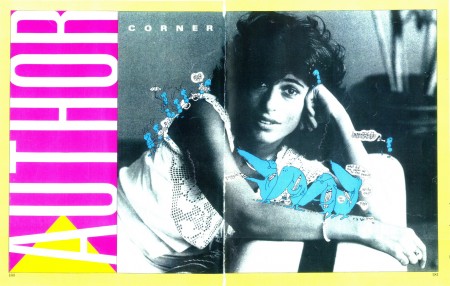 Tana Hoban's photo of Patti for a flyer.
Actually Michael and I were introduced by the Executive Producer of Babar and Father Christmas to work on a project, that sadly fell through. And then one day Michael invited me into his studio after some wonderfully funny phone calls about work and stuff. I remember telling him," I'll bring in my portfolio," and he said, "don't." And I did.
I remember the visit exactly. Michael opened the door to his 632 Broadway studio. He was very tall and I was very small. I was very nervous and said: "I am nervous, and I'm probably going to talk and talk and talk a lot." And he said: "'That's okay. Everything you'll say will be IMPORTANT." IT wasn't that a Large Capital Letter bubble came out of Michael's head. But when Michael spoke I could tell what he meant in Capital letters! Then Michael led me straight back to the long table at the end of the studio. Where I proceeded talking and talking and talking while showing Michael my Portfolio.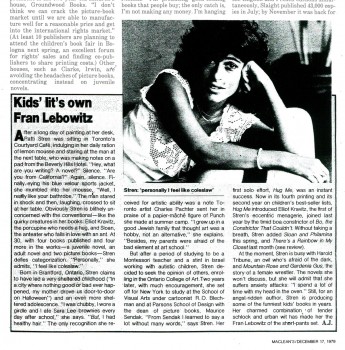 An article from Maclean's Magazine about Patti.
And, the coincidences in our careers were astounding to me.
I had abruptly come to New York City on a quest to study with R. O. Blechman in a night class at The School of Visual Arts; taking a leap of faith from my first year at The Toronto College of Art. I don't remember if I showed Michael or told him about my submission for R.O. Blechman's class book contest: "DRAW the UNEXPECTED." But I'm Including the illustration now. I had faxed home roughs to my Mom's mahjong buddies and they had responded to: "not to forget to draw 'the dangling participles!'"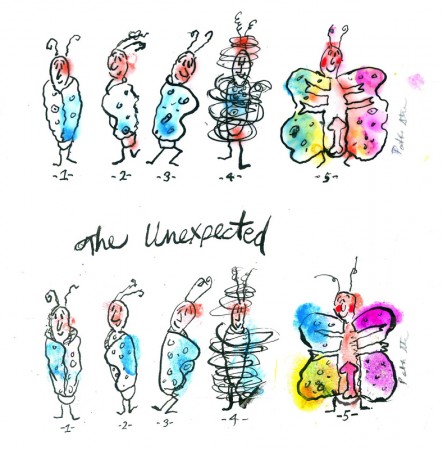 (Click any image to enlarge.)
Suddenly Michael was telling me that when I was studying with Bob Blechman at SVA, he was either working with Bob or had just opened up his studio around the same time. I was so elated, since I had shyly, after the class had ended, shown HUG ME (the moment it came off the presses), to R. O. Blechman, one evening when he was lecturing. And, later, Bob had redesigned the cover for my second book since the publishers design was hideous. And . . .
I was so nervous we knew the same person I kept turning pages of my portfolio and forgetting to breathe as I was talking. Michael offered me a glass of water. Since Michael had seen all my children's books he was very patient with the work I was showing. I turned the pages to my favorite MS Magazine illustration I did for them. The Subject: MEN – The Case for Remarriage. . . Among Friends by John Leonard.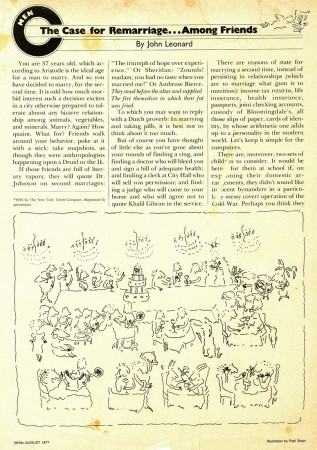 The John Leonard article with illustration.
Then In one of the side pockets in my portfolio I pulled out MS MAGAZINE, Sept/1978/, that had the Prestigious Selection for STORIES FOR FREE CHILDREN. And HUG ME was in that section.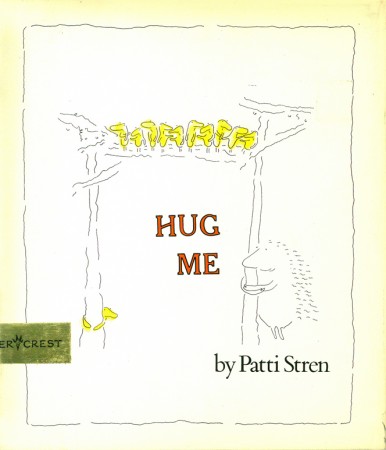 HUG ME book cover and two page spread (below).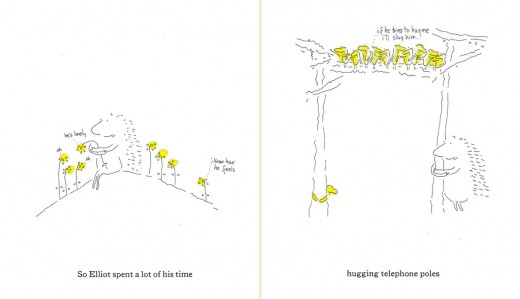 Michael and I had already talked about HUG ME, my book published by Harper & Row at the time. And . . .
Producer Nick Bosustow animated HUG ME as part of the CBS LIBRARY SPECIAL called 4 WISHES. Winning 1st Prize at Zagreb Film Festival in Children's Film Category in 1984.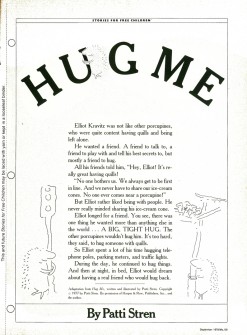 a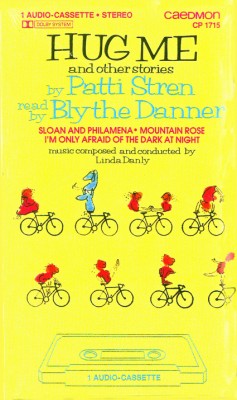 b
a. The back cover of the video cassette.
b. The front cover of the audio cassette.
Michael seemed to know everyone I talked about in the business of film. HE had this way of making me feel comfortable, and I kept talking and talking and I confided to Michael that when writing for children I never really try to just write for children but for myself. And I never really planned things out. And Michael described how he created spontaneously in his films. Especially describing the broom closet scene in Lyle Lyle crocodile. . The more he spoke the more Michael reminded me of another gentle genius writer I knew. The wonderful and understanding and exceedingly exciting Writer John Gardner. Who always used to tell me to ignore intellectuals snobs that would act superior and to promise to be myself. Then Michael told me, that not only did he know John Gardner but that he illustrated for John Gardner too. And then we both discovered that John had sent us to the same Random House art director to be published by them. And how we'd both been sent away The coincidences kept adding up.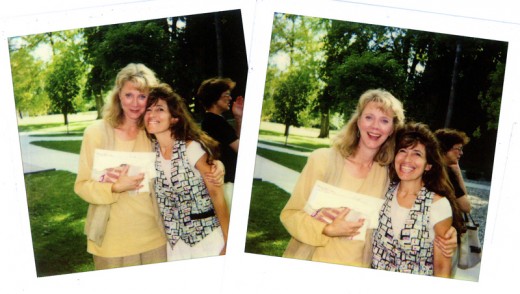 Blythe Danner and Patti Stren
Then Next in my portfolio were the most wonderful photos of Blythe Danner and myself. Always to remind me how happy I am that Blythe Danner Narrated the recordings of HUG ME and Other stories of Patti Stren.
Michael seemed pleased to see Blythe, since he had been really wanting to work with her, but the times had never coincided. Now I have all the rights back for the recording, and I am hoping to get Hug Me animated with the pages turning with Blythe's narrating. Hopefully with Michael animating. And hopefully with a grant again as with many of my projects.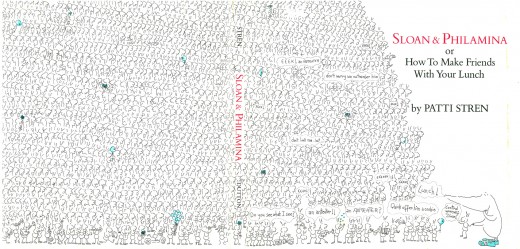 (above) The two page book cover for another of Patti's books, SLOAN & PHILAMENA
(below) and two sample pages.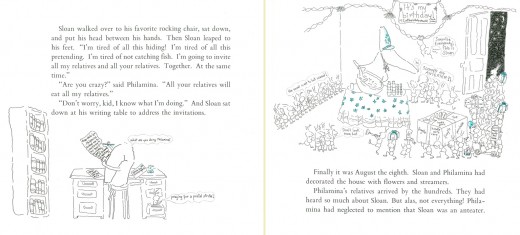 Finally I showed Michael my Secret Book Jacket Cover to my next Book in The Works! Therapy. Sex and Shopping. What Else is There in New York City. ( Except Alternate Side Parking!)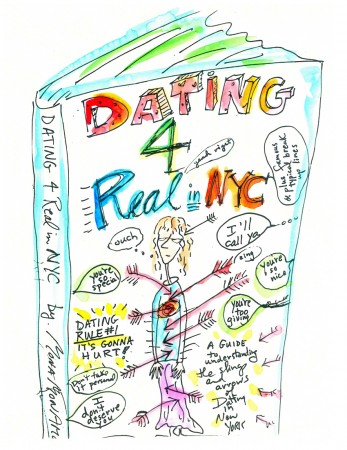 Sample covers.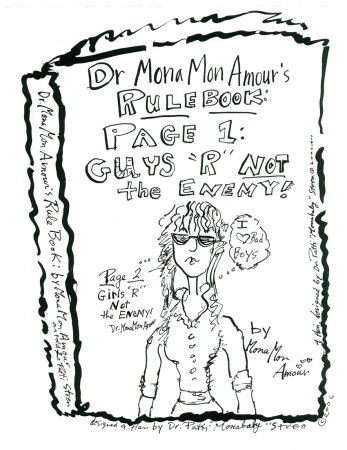 Little did I know showing my main character MONA MON AMOUR with the caption underneath her saying: Mona was convinced that she'd lost the meaning to life. Her therapist told her she'd just misplaced it –Would lead to our collaboration.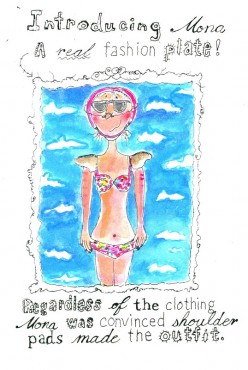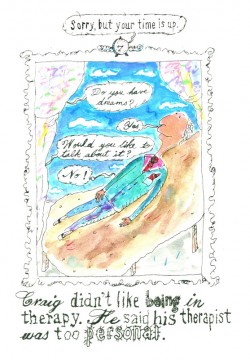 Patti's creativity with Mona is endless.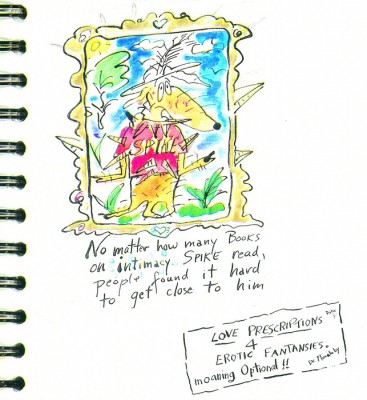 And when I stopped talking to Michael Sporn about all these ideas I had; I thought I was going to faint. . . . I'd forgotten to breath. And when Rich my husband picked me and my portfolio up in our car; I had no idea Michael would want to make a film with me. But I knew if he did – I'd say yes!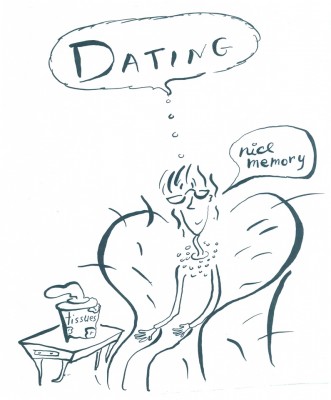 And Now heaps of years in the business, 1′m still having fun designing animated shorts, (the latest animation for Michael again), working on books (both adaptations from the two short animations, MONA MON AMOUR and the little genius Mozart).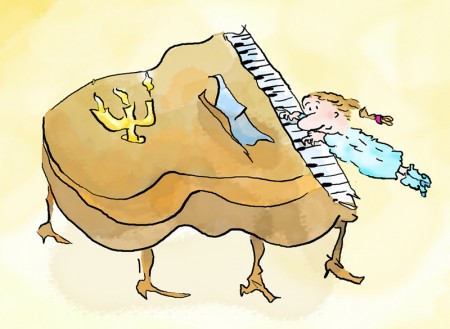 A scene from the Mozart film.
And I'm back to my Commercial Art Career. I'm available 24 hours a day, now designing for Eppes Essen Deli, in N.J. in hopes that Eppes will Fed Ex me Heaps of Chopped liver!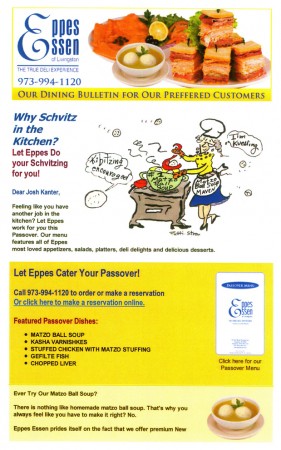 20 Responses to "Patti Stren"
Leave a Reply