Articles on Animation &Guest writer &Independent Animation 11 Sep 2010 07:56 am
MY DOG TULIP opened at New York's Film Forum and will be followed by a limited national release. The NY reviews were excellent. The film did so well in its opening week that it's been extended to Sept. 28th. You have even more of an opportunity to see it.
This interview/article was written by Karl Cohen for ASIFA-SF and he has given me his permission to post it.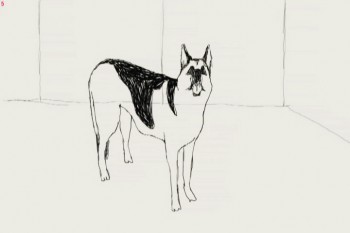 One of the impressive animated features coming out this fall is My Dog Tulip based on the book of the same name by J.R. Ackerley (1956). It's a delightful comedy that I fell in love with at the SF Film Festival. Its directors, Paul and Sandra Fierlinger, have created over a hundred award winning films including Still Life With Animated Dog (2001) that won a Peabody Award and a Special Jury Award from Zagreb. A Room Nearby (2003) also won a Peabody and their Drawn From Life series (2000) has won a grand prize at the Ottawa
International Animation Festival. In 1980 Paul received an Oscar nomination for It's So Nice To Have A Wolf Around The House.
Although the couple may not be well known by the public, they are highly respected among their peers, so when asked how Tulip came about as a project Paul explained that the film's producers Norman Twain and Howard Kaminsky, "Just called us out of the blue. One of those calls you think never happens." They asked right off if the Fierlingers wanted to make a feature film. They didn't know the couple and their main concern was that the film had to be based on a famous book.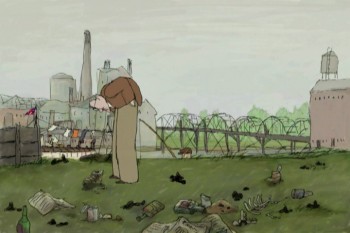 After some discussion about possible books to adapt they decided upon My Dog Tulip. It turned out Howard Kaminsky knew the book and controversy over it when the book was published, as he was president of Random House, the book-publishing firm, for twenty-five years and prior to that was president of Warner Books for seven years. The book and film have scatological references that were quite shocking to polite society in 1956. A contract was eventually agreed upon and it took about three years for Paul and Sandra to complete the project.
Paul says, "It was wonderful work. I could wake up every morning and know exactly what I was going to do and I loved the work. The whole process was very pleasant. There are no horror stories to tell. Nothing bad happened." The Fierlingers had total artistic control and the budget was $1.3 million, enough for the couple to complete the production with famous voice actors (Christopher Plummer, Lynn Redgrave and Isabella Rossellini) and to be able to provide film festivals with 35mm prints with Dolby sound.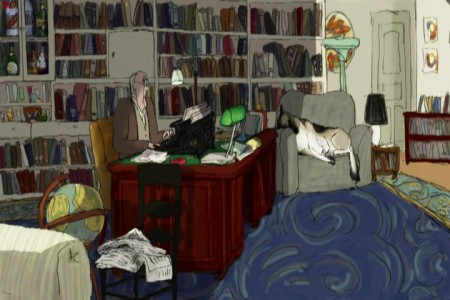 Adapting the book did present problems, as it is basically a series of humorous tales about incidents in the life of J.R. Ackerley as he raises the dog, an Alsatian (German Shepherd) and they become great friends. To flush out the film's script Fierlinger added true elements not mentioned in the book, including having the author's sister live with him for about a year. During that period she tried but failed to win over the dog's affection.
To flush out the story Fierlinger's producer hired Peter Parker, an excellent British writer who had written a biography of J.R. Ackerley. Paul says, "His prose is equal to Ackerley's." If you see the film I think you will assume, as I did, that every word came from the book.
An unusual element in Paul's long format work (he has also done hundreds of TV commercials, short pieces for Sesame Street, etc.) is his use of different styles and techniques that separate segments of the story. He wasn't sure what I was referring to when I brought up the subject so I pointed out that in his film And Then I'll Stop (1989) he had five or six people talking about their lives and each person had a different style of art representing them and their world. Paul then explained that he feels long animated films using the same art styles and rendering techniques throughout the film get boring no matter how well they are done.
He remembers that the first animated feature he saw that he really liked to the very end was Yellow Submarine (1968) because it was done in so many different styles. In his work you know the same artist drew each style, but the variety keeps the work visually interesting.
When working on a story Paul says he gets into a special frame of mind. "In my mind I live the story," so he draws what he imagines. "If it is a sloppy character then you draw a sloppy line. I did that in And Then I'll Stop. And if it is the story of a very pristine accountant of a big company I draw him in almost Saul Steinberg type lines."
Paul has been around long enough to see sound recording technology change drastically. With new microphones and digital recorders he no longer needs to use a big studio with sound booths. Some of Tulip was recorded around a kitchen table, but to record Christopher Plummer the producers rented studio time.
Paul pointed out why it is important to record most soundtracks before animating characters. The character Plummer created in his reading of the script wasn't the man that Paul had envisioned so he ended up drawing the main character somewhat differently than he had originally planned.
The film's composer/sound engineer is John Avarese who has worked with Paul for many years. Paul says, "You can tell him the kind of music you want and he can just pull it out of his hat." Most of John's work has been for corporate and industrial clients.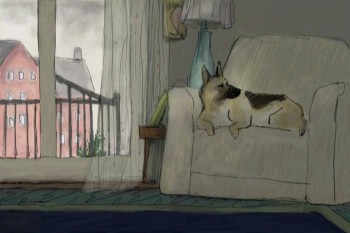 The animation was done using TVPaint, one of the oldest 2-D animation systems available. It was started in 1991 and was developed by an independent producer as a work of love. Paul became a beta tester in 1992 or '93 and helped develop the system's capabilities.
His wife Sandra is the film's co-director. Her background is in painting. She studied at the Boston Museum's school and graduated from the Philadelphia Academy of Fine Arts. They work together quite well as Paul is a skilled draftsman, but he says, "I never learned to paint or work with color. Most of my films have had very little color in them." She started working with him in 1989 as a painter when animation was hand painted on cels. She enjoyed the work and together they learned the TVPaint system. She also was involved in beta testing the software. As they learned the system they would ask the software developers to make certain adjustments. Thus the system became tailored to their needs. Eventually other accomplished 2D animators from all over the world joined the beta team to create a unique application specifically meeting the needs of independent artists.
One important part of Paul and Sandra's good working relationship is her helping him to resolve drawing problems whenever he feels stuck trying to make a decision. He says that often happens, that he can "paint myself into a corner and nothing seems to work, so she looks at it with fresh eyes. We figure it out together. We do that all the time, even when I start writing a script, before I start drawing." Paul feels all their films should simply say "A film by Paul and Sandra Fierlinger."
We closed our discussion with Paul's advice for couples that want to work together on animated films. Based on having lived and worked with Sandra for almost 20 years he says, "The trick is not to have children. If you have children, that gets in the way. You have conflicts. If you don't have children, you only have your work." I'm not sure how popular his advice is with parents, but judging from their films that I've enjoyed over the years, the advice certainly works for this animating couple.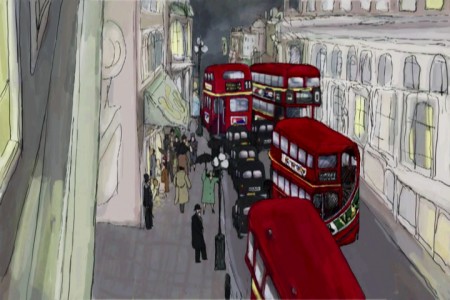 Before I spoke with Paul I asked Norman Twain, one of the film's producers, about their distribution plans for the film. He said, "The film will open at the prestigious art house, Film Forum, in New York City on September 1 and concurrently in similar calendar art houses in San Francisco,* Los Angeles, Dallas, Philadelphia, Chicago, Boston, and Toronto, as well as in other New York theaters. Hopefully, as the traction grows we will expand to other major calendar houses in the larger markets in the United States. We will promote the film in the best possible manner, directing promotion toward an Academy Award nomination. Pending the reception of the film in America, we will exploit the foreign market to the best extent we can. Cinemavault, a film sales group based in Toronto will handle foreign sales. After the US distribution has run its course, we will look for a VOD (video on demand) release, concurrently with a DVD release and after that, will try our best to get it on television (hopefully PBS or cable TV network – as it is much too nasty for a broadcast network to show)." *Tulip opens in SF and Berkeley Oct. 15 at Landmark's Embarcadero and Shattuck cinemas.
I also asked if it was difficult financing the project. He replied, "Fortunately, most of the fund-raising took place prior to the crash, or should I say prior to the sudden scarcity of funds. It's not an expensive film, under $1.3 million. I think, as all entertainment investments go, it's risky, but will prove profitable. I am happy to have produced it and will be happy to see it in release."
I end this discussion with a disclosure. Both Paul and I are extremely fond of dogs. My wonderful yellow Labrador Retriever recently died after being my close friend for 14 years and Paul and Sandra Fierlinger have two rescue dogs at present, a Jack Russell, "probably from a puppy mill," and a mutt that he says is a cross between a German Shepherd and a Corgi. It had been abandoned. It has a large Shepherd head and a strange body so a friend of Paul's once remarked, "Oh, a Photoshop dog." Paul tells me that he sometimes used her as a model when he was drawing Tulip.
14 Responses to "Paul & Sandra & Tulip"
Leave a Reply