Books &Disney 28 Oct 2010 07:47 am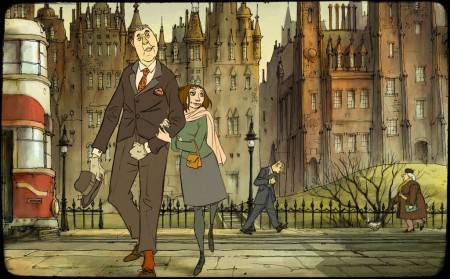 - Mark Mayerson has given an initial review of The Illusionist. I've waited a while to see this feature. I'd intended to go to Ottawa, not only to represent my film shown there, but to see this new film from Sylvain Chomet. The first screening I will be able to attend is on Wednesday Nov. 10th.
Richard O'Connor in his short review at his site Asteriskpix.blogspot, left me something to think about, but he didn't feel it was the best of the features at the Festival. Mark Mayerson certainly did. In the comments section of Mark's site, Richard extends his review telling me, clearly, that I'll have to judge for myself.
Mark's review is answers some of the questions I wondered about. He predominantly focuses in on the story elements and leaves plenty for us to digest. His comparison to not only other animated features but live action, as well, takes this review to a high level, which is where Mark seems to be placing this film and where he always writes from.
______________________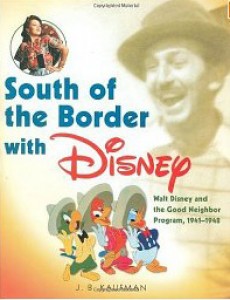 - Michael Barrier has reviewed the two important, relatively-new books: South of the Border with Disney by J.B. Kaufman and Two Guys Named Joe by John Canemaker.
The review is quite long and goes into plenty more about Disney and his employees, covering all the times that Joe Grant would have been working there. Barrier talks more about Grant than about the book's other half, Joe Ranft. This gives a wider view of the studio. Since Barrier has less interest (admittedly this goes for me as well) in Ranft, he's give short shrift in this review.
There's quite a bit about the anti-Semitic remarks Disney and others made and faced at the studio. There's plenty about the importance (or non-importance) of those travelling with Walt for any length of time. And, most importantly, there's an analysis of others with equal position to Grant in making the films at the studio – particularly as to how the person was moved by Disney into other branches of work as the studio transitioned into live action and television.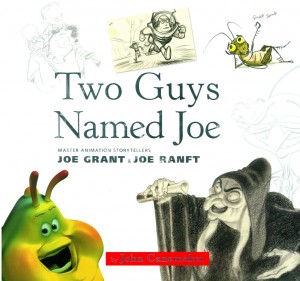 Finally, Mike's take is that all-things-Disney is starting to get tiresome. He questions whether the two books would have been written differently if they weren't published by Disney. This was a question I'd asked as well, though I didn't have the courage to add it to my reviews.
It's another excellent commentary article by Mike and is a must read for anyone interested in animation. As with some of his other recent reviews, I more taken with some of the side notes – slight tangents Barrier takes – than with that which is directly addressing off the book. The article doesn't flinch in calling the shots against the authors, although I know that Mike is very sensitive, expecially in this piece, in not wanting to hurt either of the two authors.
______________________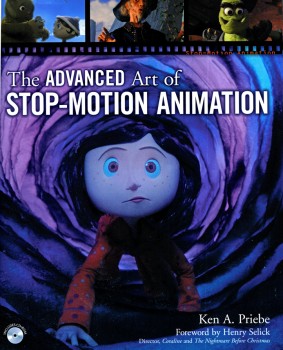 - This pushes me into doing my job of reporting on two books I've meant to cover for some time. Ken Priebe's excellent The Advanced Art of Stop-Motion Animation is a follow-up to his first book, The Art of Stop-Motion Animation.
The first book was a primer about the art of that medium. Ken covered it thoroughly and gracefully. He not only revealed many of the secrest of the process, but he gave plenty of examples of other stop=motion animation which elucidated on the art.
The second book is much more involved with many of the films out there. There's a good history of the medium in this book, and I was not disappointed to find some of the rare pieces from the early days. Just look into the films of Starewicz (Americanized as "Starewich", here), and you'll read plenty that you might not know. The same goes for A. Ptushko and G. Pal. There's also plenty said about newer stop-motion. Caroline, The Fantastic Mr. Fox and The Corpse Bride are well covered.
The illustrations are plentiful and large, and the book comes with a DVD so that you can view some of the exercises in the book.
Ken Priebe loves the medium of stop-motion. He often advises me of some rare piece he's found and put up on YouTube. These are often gems in good quality. He brings that same love of this often-neglected branch of animation to the book at hand. If you, too, have any love of the form, get this book.
It's a paperback published by Course Technology PTR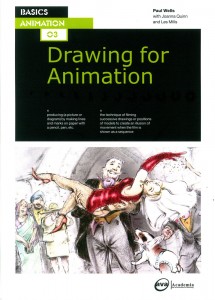 The second book I'd like to present to you is Drawing for Animation by Paul Wells with substantial help from Joanna Quinn and Les Mills.
Need I say more than Joanna Quinn to get you interested in this book? Her films are brilliantly drawn works of art, as if Daumier had come to life. The drawing in this book is outstanding as well, and we're treated to a plentiful look at her art – from storyboards to animation drawings to final setups. My only complaint is that the images are small. One wishes it were on line so you could click the thumbnails and enlarge. Alas, it's a book, and we have to settle for the thumbnails (or scan and enlarge them ourselves as I did at the end of this review.)
The use of drawing is detailed and instructed through many many examples and it's all worth studying. Paul Wells' writing is clear and concise, and he well uses examples to illustrate his thoughts. This book is a little gem and I recommend it highly for any animation (especially 2D animation) lover.
The book is a paperback published by Ava|Academia.
Here are a couple of the other illustrations in the book which you can enlarge by clicking: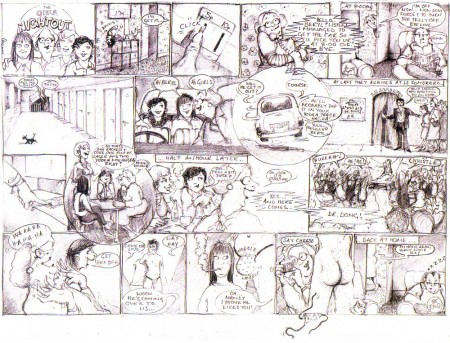 A comic book version of a storyboard
for the film A Girl's Night Out.
An unorthodox method that energized the film.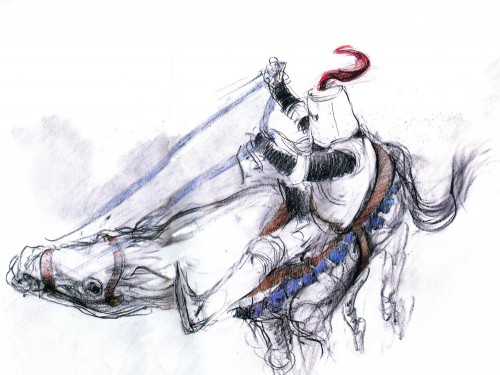 A study for The Knight Riding Horse 0f Wife Of Bath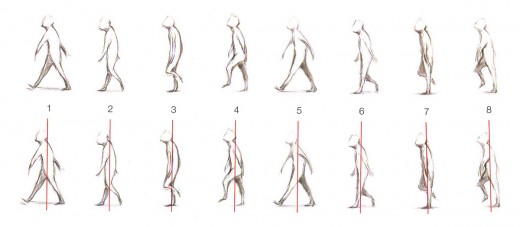 A walk cycle which I put through a QT movie (on threes) below.
11 Responses to "Reviews-a-Plenty"
Leave a Reply