Books &Illustration 26 Nov 2010 08:41 am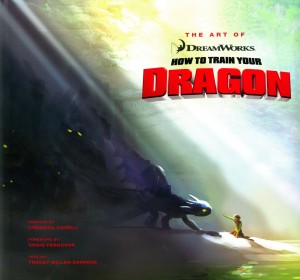 – A couple of weeks ago, I went to a cocktail party of How To Train Your Dragon. I got to meet the Directors, Chris Sanders and Dean DeBlois, the Producer, Bonnie Arnold, and even Mr. Dreamworks, Jeff Katzenberg. There was a good assortment of the NY anmation community present, and the "wine and hors d'oeurves" was superb. It took place at the 21 Club.
Then, when leaving the event came the best part. There was a goody-bag that contained the DVD, a bunch of picture postcards and a copy of the book, The Art of Dreamworks How To Train Your Dragon, by Tracey Miller-Zarneke.
This book is a beauty and I've wanted to review it since receiving it at that party.
There you'll find artwork of all stripes leading from the roughest pencil sketch to final images from the film. Here, for example, are a couple of model sheets of the lead character and a sample of what he finally looks like.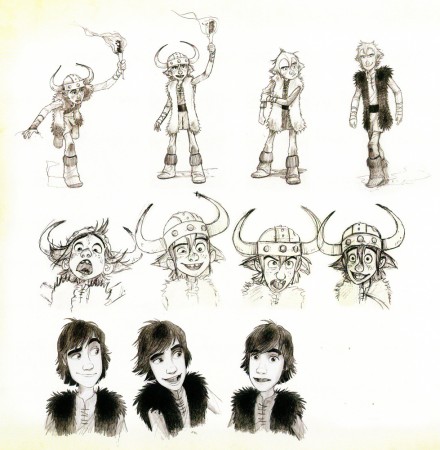 1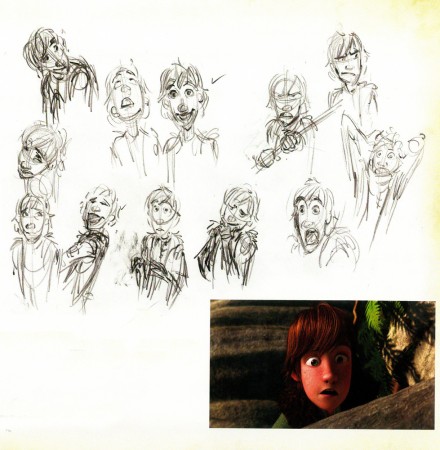 2
.
The book is broken into a number of chapters which are a bit peculiar, but it's meant to lead somewhere in the end, and it does. There are an assortment of dragons displayed, there are the Vikings and the landscapes. The most interesting chapter to me, and probably most animation people, there are the samples of artwork which lead up to the final cgi work. The models, drawings and final digital artwork is all telling and seems a natural development from earlier work.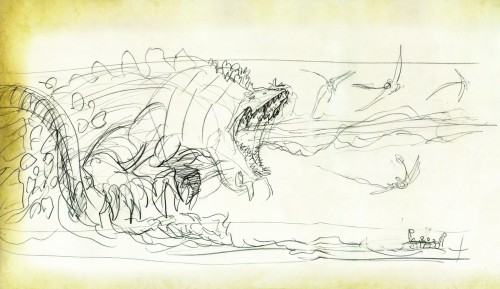 3
As I said, the artwork goes from the roughest sketch . . .
.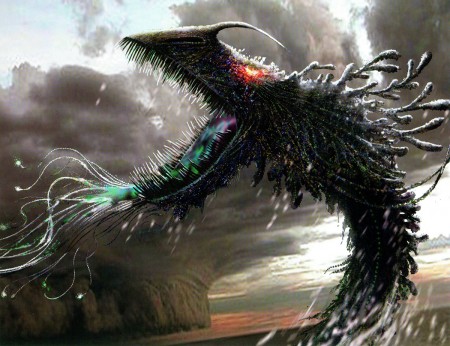 4
. . . to the finished digital painting.
.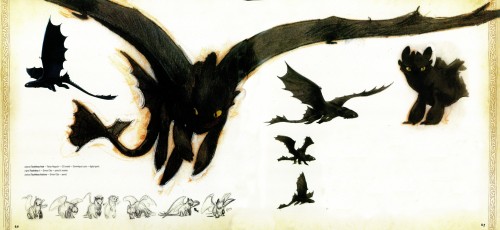 5
There are many beautiful and original sketches of dragons.
.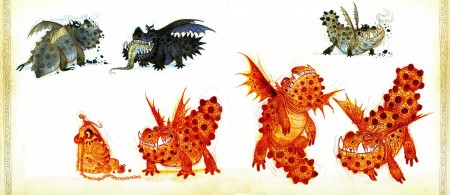 6
Dragons of all types.
.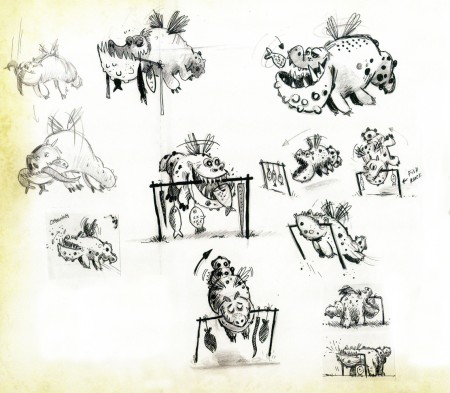 7
.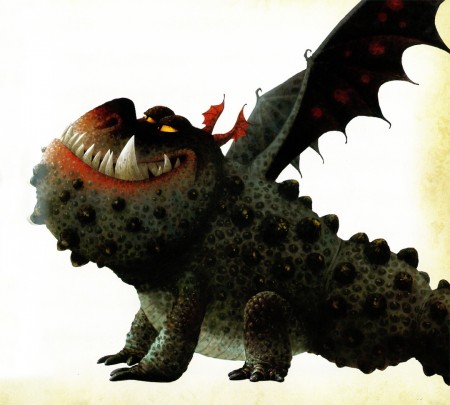 8
.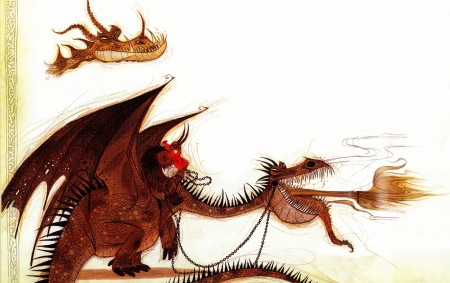 9
.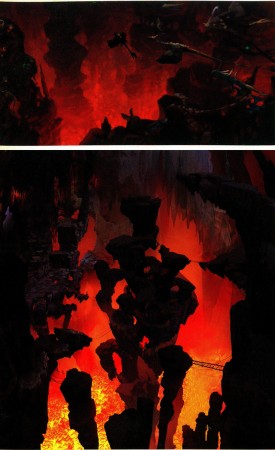 10
The abstraction turns into a reality . . .
.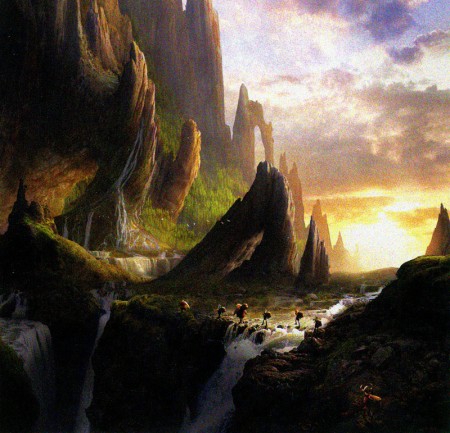 11
. . . the most realistic of Fantasy Illustration.
.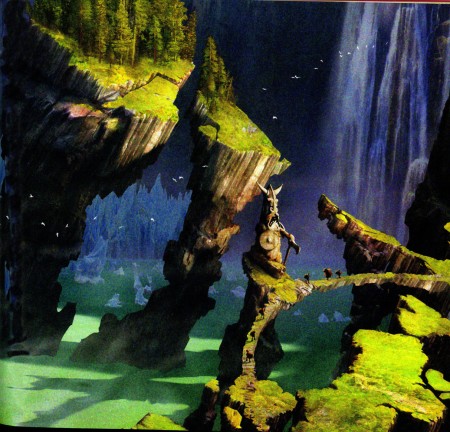 12
.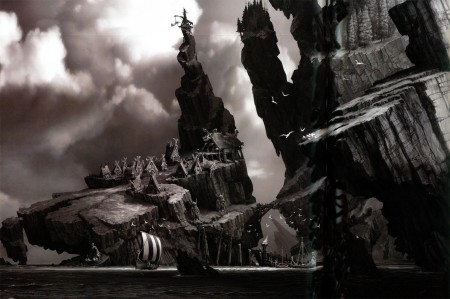 13
Quite an impressive assortment of sketches.

Here's a sample of a storyboard done which looks as though it were done by Chris Sanders. However, it's actually by Alessandro Carloni.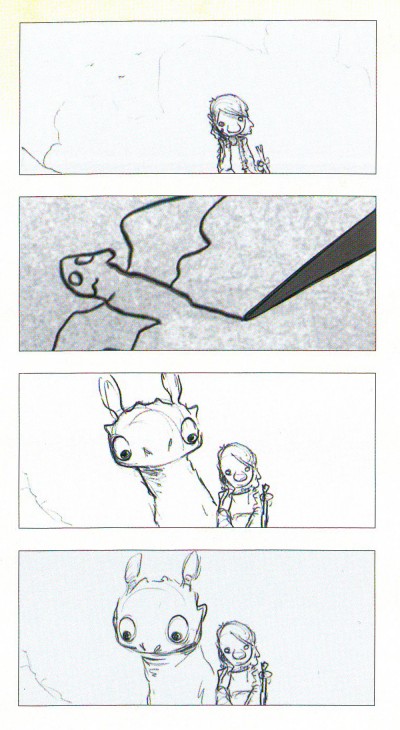 a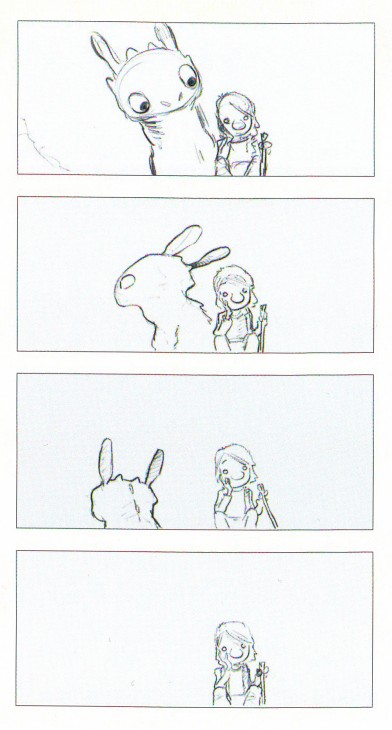 b

d

e

f
I've haven't, as yet, written about this film, but I intend to do so tomorrow. I'm impressed with this book. You can see how they got to the film on the screen.
Illustrations:
1: Simon Otto, pencil
2: Gabe Hordos, pencil
3: Ricardo Delgado, character design, pencil
4. Nico Marlett, design, pencil / Zhaoping Wei, digital paint
5: Takao Naguchi, cg model / Dominique Louis, digital paint
Simon Otto, pencil & marker
6: Nico Marlet, pencil & marker
7: Morgan Kelly , pencil
8: Nico Marlet, design / Zhaoping Wei, digital paint
9: Nico Marlet, pencil & marker
10a: Zhaoping Wei, digital paint
10b: Pierre Olivier Vincent, digital paint
11: Pierre Olivier Vincent, digital paint
12: Pierre Olivier Vincent, digital paint
13: Pierre Olivier Vincent, digital paint
14: storyboard seq 2475 -Alessandro Carloni, digital paint
4 Responses to "How To Dragon – Book"
Leave a Reply