Articles on Animation &Commentary &Daily post &Miyazaki 04 Dec 2010 09:53 am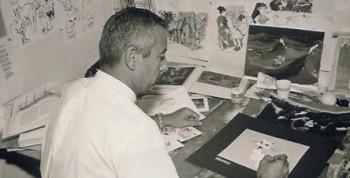 - There's a wonderful new blog post on Darrell Van Citters' Mr. Magoo's Christmas Carol blog. It features the story of Abe Levitow as told by his children, "REMEMBERING THE MOOSE" by Judy, Roberta and Jon Levitow. A great piece to read, I encourage you all to take a look.
This is a great site, by the way. Plenty of material about the artists who were involved in those changeover days at UPA. Great artists get their due, lots of artwork from the film and the period, and lots of info to learn.
________________________
.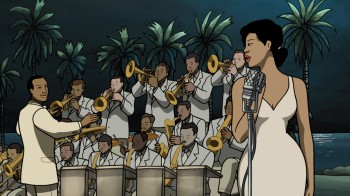 - According to
Variety
, Disney has picked up the distribution rights for the Spanish animated feature,
Chico and Rita
. This is director/producer,
Fernando Trueba
's first attempt at directing an animated film. Spanish graphic artist,
Javier Mariscal
, co-directed the film.
The film celebrates the Cuban jazz pianist, Chico, and his relationship with nightclub singer, Rita, as they leave Cuba to move to the jazz world of the New York in the late 40s.
Disney will release Chico and Rita Feb. 25 on more than 100 screens. (This, of course will allow Disney to enter it into next year's Oscar fest. in an attempt to get the number up to 16 for a five nominee ballot.)
The film won for best feature at the Holland Animation Film Festival in November. The animated movie continues Trueba's taste for Latin music, already reflected in three awarded musical docus ("Calle 54," "Blanco y negro" and "The Miracle of Candeal") and the creation of a Latin jazz record label.
It's unlikely they're expecting a wealth of cash from the distribution of the film except, perhaps, making something from the DVD, if it gets good reviews. I notice that they haven't picked up the TV rights.
________________________
.
– Meanwhile, writer/director, Geoff Marslett's animated feature, Mars, opened in New York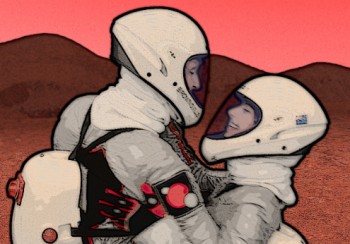 yesterday. The NYTimes review by Jeannette Catsoulis wasn't all that it might have been. She called it ". . . low key, low budget and low energy . . ." and pretty much left it at that. The film is another of those rotoscoped-animation type things not quite as energetic as "Waking Life" and "A Scanner Darkly."
Marslett, who teaches animation at the University of Texas at Austin. The film is playing at: the reRun Gastropub Theater, 147 Front Street, Dumbo, Brooklyn.
________________________
.
-
William Benzon
, again, has written several excellent pieces on animated films on the blog
New Savannah
. He has a two part article on
Miyazaki
's film
Porko Rosso
. The article intelligently argues the idea of a pig, the leading character, being the only non-human in a particular world where no one takes notice.
Part 1
and
Part 2
.
There's also a third recent article on thoughts generated by Miyazaki in his book, Starting Point, about how he constructs his films with an ever changing and growing storyboard that doesn't get done until the film is, usually, already being animated. Go here to read this piece.
________________________
.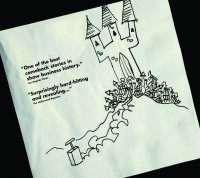 - I received a letter, accompanied by a Press Release, from Don Hahn re the video release of his documentary,
Waking Sleeping Beauty
. Here's part of the email letterL
After a yearlong trek though film festivals and art house cinemas, my documentary WAKING SLEEPING BEAUTY is coming out on DVD this week and I hope you'll get a chance to review it. WSB tracks the renaissance of Disney Animation from box office disappointments and the near closure of the studio, to great success with films like The Little Mermaid, Beauty and the Beast and The Lion King.

The positive response to the film has been bigger than I ever imagined. Not only has it appealed to the fans of animation, it's also struck a chord with corporations and organizations of all kinds that have gone through their own periods of declines and resurrections. We found that WAKING SLEEPING BEAUTY not only entertained, but touched people emotionally as well.

The DVD has over 80 minutes of bonus material with amazing footage of Howard Ashman working with Jodi Benson during the recording sessions for The Little Mermaid and Howard's priceless talk to the animation crew about musical theater and animation. I also put together an audio commentary track that features alternate narration from Peter Schneider and myself as well as new unheard material from Glen Keane, Mike Gabriel, Kirk Wise, Rob Minkoff, Jeffrey Katzenberg and Roy Disney.

I hope you'll get a chance to view the doc and announce to your readers that WAKING SLEEPING BEAUTY is out on DVD tomorrow, November 30th.
I wrote about this film and reviewed it when it was released theatrically back in March of this year. You can read that here.
3 Responses to "Grab-bag"
on 04 Dec 2010 at 11:59 am 1.Stephen Macquignon said …

Thanks for the link on Mr. Magoo, some great stories looking forward to reading more of it.

on 04 Dec 2010 at 7:25 pm 2.Bill Benzon said …

Thanks, Michael. I've since added another post about Porco Rosso, one on pigs in Spirited Away, and a quick survey of animals and animal-human crosses in Miyazaki's features. I'll be doing more Miyazaki posts. The man is a master and deserves and replays the most serious investigation. Here's a general link to my Miyazaki coverage:
Leave a Reply