Books &Comic Art 16 Dec 2010 08:19 am
Polly and Her Pals: the Complete Sunday Comics 1925-1927 has finally arrived. Dean Mullaney has written what may be the finest book on Polly and Her Pals, gathering many many examples of the Sunday strips and adding some excellent essays at the head of the book. It's a gem and should adorn any collector's shelf.
Dean sent me a copy of the uncorrected proofs a while ago, and I've been so embedded in the strips that I haven't written a word about it, as yet. I hope to correct that delay.
Until now, we've had the fine books edited by Rick Marschall: The Complete Color Polly & Her Pals 1926-1927 and 1927-1929. Both provide beautiful reproductions of the Sunday strips for those years, but offer only short essays as introduction. This new book edited by Dean Mullaney provides an extended and extensive essay with a lot of solid information about Sterrett and the strip by Jeet Heer. It's an important document, in its own right, but then the wealth of material in the book beyond that is enormous. What a job! A delight for any lover of the strip.
The essays include:
AN ARTIST'S ARTIST by P. Craig Russell and
THE MOST MUSICAL OF CARTOONISTS, CLIFF STERRETT by Jeet Heer.
There are plenty of ads, trivia and the earliest examples of the strip, giving us a full picture of the birth of Sterrett's comic and the popularity in its day.
This book is magnificent and deserves all of your attention if you love comic art and especially if you have any fondness for Cliff Sterret's Polly and Her Pals.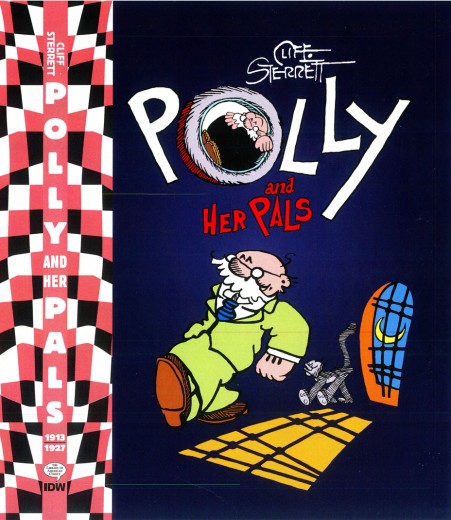 (Click any image to enlarge.)
.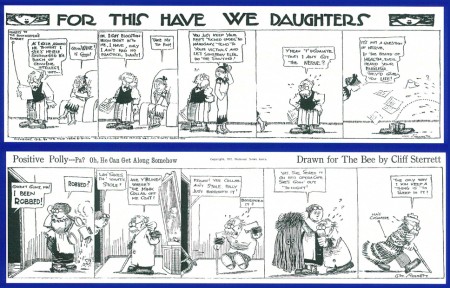 The original strip.
.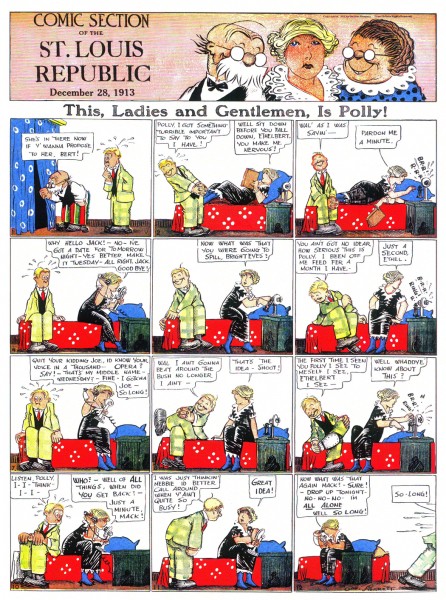 Polly appears.
.
I'm always blown away by the incredible graphics in the strips. I didn't want to give away too many (though there are plenty in this book) so I've pulled some panels from a few other strips to give you an idea of what I mean.
.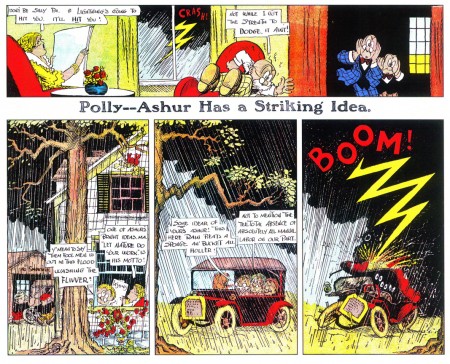 June 8, 1917
.
Even early on there's a lot of black with the tree silhouetted.
The rain takes over right from the start even with all the black.
.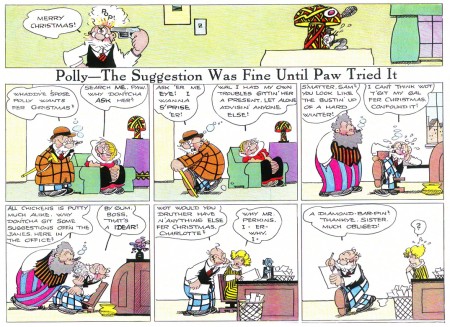 December 14, 1924
.
This strip seems to use a lot of white space. This is just
the opposite of most of the Polly strips. Black and black
silhouettes usually take over . . .
.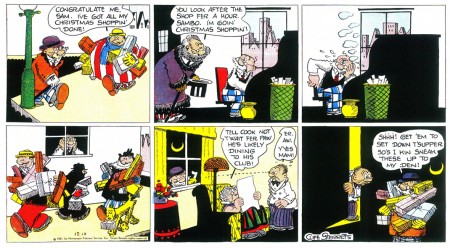 December 13, 1925
.
. . . like this strip where the silhouette of the desk takes stage center.
.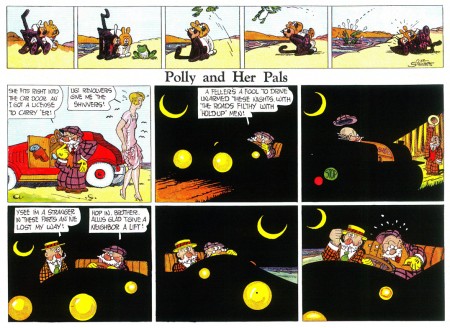 June 20, 1926
.
Here's a strip that uses black for the night sky
as well as the car being driven. Very effective.

.
Take a look at this book. It'd make a great Christmas present for yourself.
5 Responses to "Dean Mullaney's Complete Polly"
Leave a Reply