Articles on Animation &Disney 23 Dec 2010 08:15 am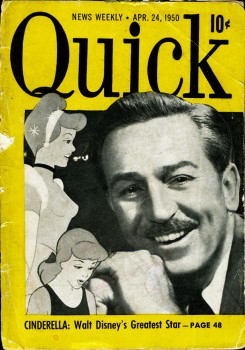 - My friend, Tom Hachtman, dropped by with a little gift. Here's an ancient magazine he'd found called Quick. It's a "News Weekly" and publishes a lot of strange stories. (One page includes a picture of a woman who'd jumped out of a window and landed on the hood of a car. A bit sensational, for my taste.)
The cover features Walt Disney and Cinderella, which was obviously in its first national release. There's a nice picture-feature on this film, and naturally I'd like to share.
Curiously enough, the magazine is dated one day after my 4th birthday. The film opened on Feb. 23rd, two months earlier.
The Magazine is printed on poor quality newsprint paper. That means it's virtually crumbling in my hands. Hence the quality of the photo features isn't quite up to the Life or Look magazine features you'd have seen in the day. But it does provide some small record.
Here are the four pages, double spread: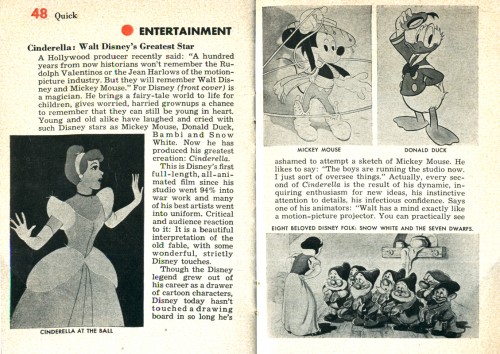 1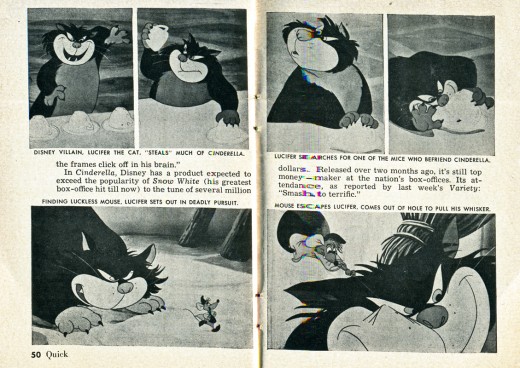 2
For amusement I'm posting a couple of other pages. Apparently, Bob Hope televised his first TV Special. One of many to come.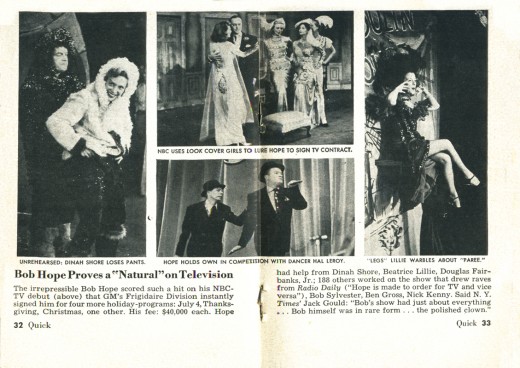 3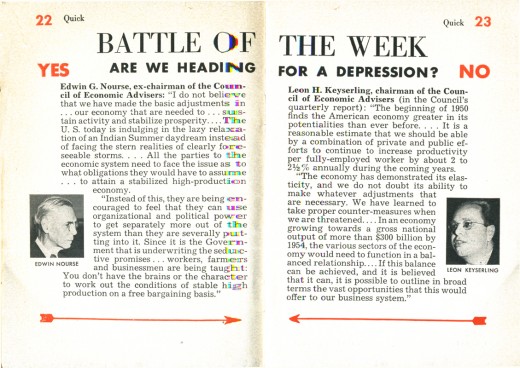 4
Below, just for amusement's sake, I've added the 1950 review from Boseley Crowther at the NYTimes.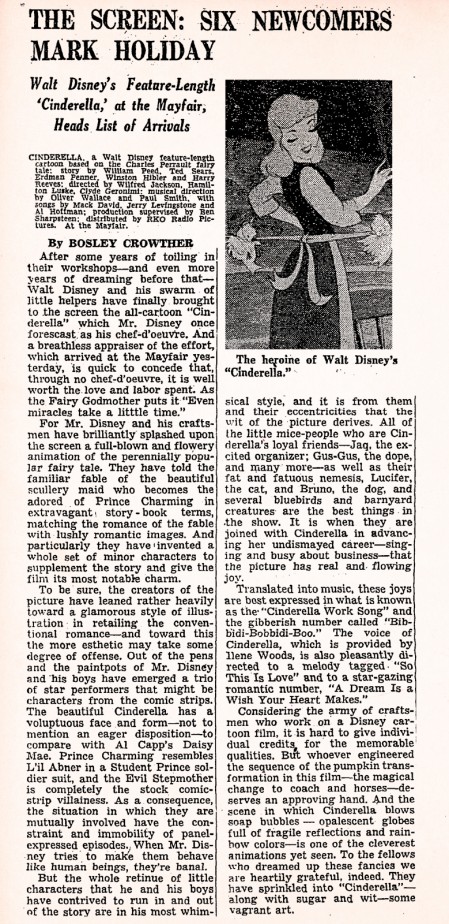 (Click any image to enlarge.)
2 Responses to "Quick 10¢"
on 23 Dec 2010 at 6:49 pm 1.Sat said …

The photo of the woman on the hood of a car, is it this one ? http://www.ecrans.fr/local/cache-vignettes/L450xH600/suicidee-3fc61.jpg
It's one of the very famous photo of the 20th century.

on 24 Dec 2010 at 1:56 am 2.Michael said …

No, that's not the photo. it's less artistic and more graphic – more newsreel.
Leave a Reply