Animation Artifacts &Illustration 26 Dec 2010 08:28 am
I posted this back in 2006 and love it so much I've decided to put it up again.
Lu has since died, and I post this in memory of him.
- Years ago, Lu Guarnier, an older Warner Bros animator who relocated to NY after WWII and has been working here ever since, offered me a photostat of a christmas card from the WB studio back in 1937.
He told me two days later that he was heading out to LA, and he'd see if he could get any of those pictured to sign it for me. Imagine my surprise when he came back from California with the stat covered with original signatures. Even some of those not in T.Hee's drawing signed it. (Unfortunately, not T.Hee). They'd all met at a local watering hole. (I guess animators drank together back then.)
Though the card has been seen on line before, I thought it a good image to put up for the holidays. I've identified a lot of the people in the picture. My favorite is Henry Binder; he stands out in his stiffness. The lord overseer. And the only one shorter than him is Friz.

Have a great Holiday Week.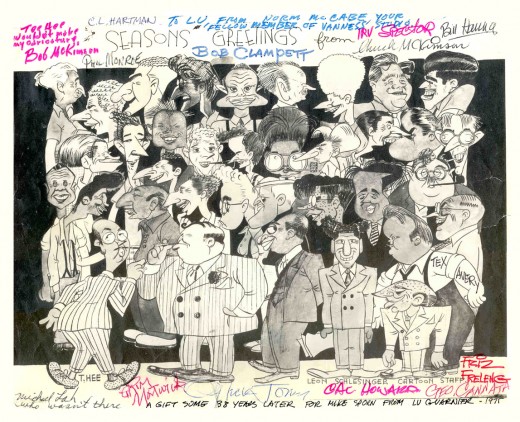 Below is the key to I.D. most of T. Hee's caricatures in this picture.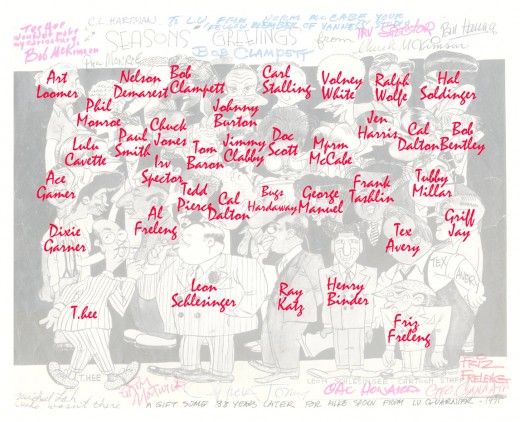 (Click on either image to enlarge.)
2 Responses to "Happy Holidays – 2010"
on 26 Dec 2010 at 1:44 pm 1.Eric Noble said …

That is AWESOME!! Thank you for sharing this with us.

on 03 Jan 2011 at 12:36 am 2.Yowp said …

I wonder why he didn't do McKimson.

It's great seeing the names, but isn't the one marked "Cal Dalton" really Cal Howard? Dalton was heavy-set in the pictures I've seen; Howard was blond with glasses.
Leave a Reply