Daily post 25 Dec 2010 09:26 am
- As in most years I did two cards. One is posted here: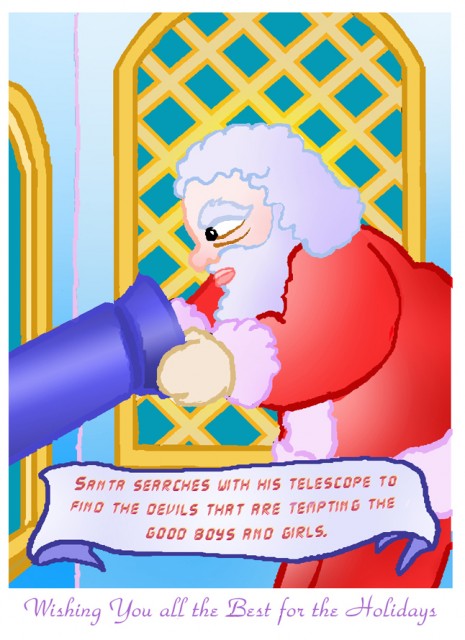 I took the image from a movie I saw on TCM a couple of weeks ago. SANTA CLAUS is a wierd Mexican film where Santa battles a devil who tempts good boys and girls into doing bad. Santa has to scour the world searching for the devil to stop him in his bad actions and correct the boys and girls before they perform any naughty deeds.
When I was a kid, I had a Castle Film 8mm version of this movie, condensed to about 6 mins. I'd rigged a rough rear screen projection so that I could combine animation with shots of Santa in a home movie animation film I did. Seeing the whold movie brought back memories.
The set design is so peculiar that I had to draw a couple of the images. This one went through a couple of versions before it ended like this.
Anyway, all this to wish you all a Merry Christmas and a memorable holiday. All the best.
_________________________
- Today, in the Opinion Page of the NYTimes, you can find an animation designed and written by R.O. Blechman, animated by Ed Smith and composited and reworked a bit by me. We all worked for free on this spot (about a week's work compositing) so the Times could post it without paying. Go here.
2 Responses to "My Christmas Card"
on 25 Dec 2010 at 9:32 am 1.Steven Hartley said …

Merry Christmas and a Happy New Year, Michael!
Leave a Reply