Disney &Music 28 Dec 2010 09:20 am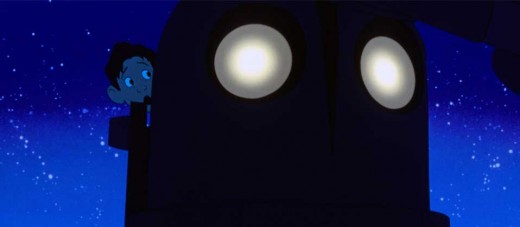 - This is just a quick reminder to say that The Iron Giant is playing at the Film Forum. Today's the last day it'll be screened so get out into the snow and head for the theater.
It was Brad Bird's first feature. He followed this with The Incredibles and Ratatouille. His next feature will be Mission Impossible 3 (or is it 4?) with another cartoon character,
Tom Cruise.
Showtimes: 1:00, 2:50, 4:40, 6:30, 8:20, 10:10
Oddly, My Iron Giant dvd played wonderfully and had all sorts of extras when I bought it.
I just tried the thing on about four computers and three dvd players, and none of them can read it now. The disc is an expensive piece of garbage at the moment. Thank you WB.
_____________
- The Illusionist did well in its first weekend, playing in three theaters – two in NY and one in LA. $16,867 per theater for the weekend. This, on a per screen average, is about twice what the best film is doing and nine times better than Yogi Bear. Of course it'd be lower if it were playing in more theaters, but perhaps this will be an incentive for SONY to get it wider than they plan in January.
_____________
- I'm going to start running off more of the Action Analysis notes from the after-hours lectures given at the Disney studio in 1936. To start. let me post this lecture about the relation of music and animation given by Albert Malette, who scored these Disney shorts, among other:
1935 Broken Toys
1935 Cock o' the Walk
1936 Alpine Climbers
1936 Moving Day 1
1937 Lonesome Ghosts
1937 Little Hiawatha
1938 Ferdinand the Bull
1938 Brave Little Tailor
1938 Moth and the Flame
1939 Ugly Duckling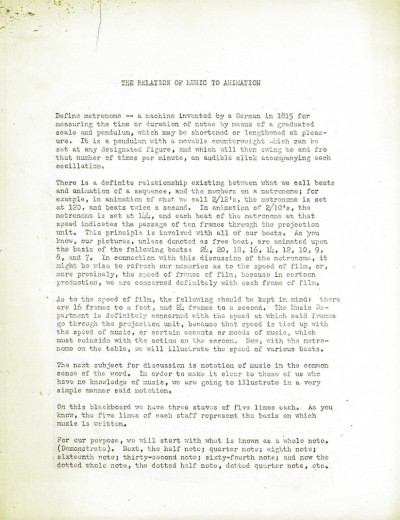 1
(Click any image to enlarge.)

5 Responses to "Bits and Albert Malette"
Leave a Reply