Animation &Art Art &Commentary 19 Feb 2011 08:05 am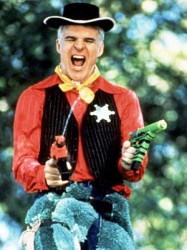 - I recently completed Steve Martin's autobiography, Born Standing Up, and I recommend it to anyone in the entertainment business – that means all of you reading this.
The theme throughout is his love for the work he's doing. Fine tuning his comedy (which started out as a magic act, then a magic act with jokes, then just the jokes), took years and years of serious dedication, hard work and fine focus. His life was about little more than the act, and he eventually got it right and became an enormous success.
Like many such books, he predominantly writes about the lean years and the unapproving father who remained cold and distant to him throughout his life. Naturally, there's plenty of funny material to read here. The short book, 206 pages, zoomed through my hands and was a great inspiration. I heartily recommend it. (it's real cheap in paperback on Amazon.)
___________________
.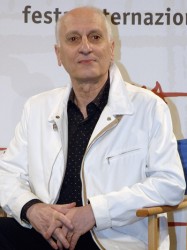 -
Michel Ocelot
talks to the
Hollywood Reporter
from the Berlin Film Festival where his latest feature,
Tales From the Night
is playing. (There's also another, much longer, interview with him on
Ghibli World
.)
The interview is candid and interesting, as usual for Michel. He speaks his mind about animation, and that always makes what he has to say worth listening for. Because he started as a 3D cutout animator,who now works in cgi, it's worth listening to his take on the medium.
I first met Michel back at the Ottawa Animation Festival in 1980. We were both over the moon for Tale of Tales, the Grand Prize winner of that Fest. The film made its North American Premiere there. The two of us spent the rest of the Festival talking about Norshtein's film and were pleased when it won the deserved prize. It gave me another chance to see it projected. It was wonderful to have someone so articulate and animation-informed with whom I could discuss the film's merits at length. I knew Michel would do well after that week's encounter.
Reviews of Tales of the Night can be found at Variety, The Hollywood Reporter, and Screen Daily
___________________
.
On February 24th at 6:30pm, animation writer, Joe Strike, will interview animation filmmaker, J.J. Sedelmaier at the Society of Illustrators.
Here's the press release that was emailed to me:
Interview with an Animator: J.J. SedelmaierThursday, February 24, 2011
6:30 – 8:30pm
Hollywood may be home to the big animation studios, but there's no shortage of
cartoon creators in New York City, the city that gave birth to animation. Join Joe
Strike for "Interview with an Animator," a multi-part series of live, in-person
conversations with some of New York's best known and most creative animation
professionals.

On February 24th, Joe will interview J.J. Sedelmaier,
writer/producer/director/designer, Beavis & Butthead (MTV), Harvey Birdman ([adult
swim]) Saturday TV Funhouse and The Ambiguously Gay Duo (Saturday Night Live) and
many award winning TV commercials.

Tickets
$15 non-members, $10 members, $7 students
RSVP@societyillustrators.org or call Katie Blocher 212.838.2560
___________________
.
Sam Borenstein is the father of Montreal-based animator, Joyce Borenstein. On Sunday, February 27th at 2pm, Yeshiva University Museum will be showcasing paintings by Sam. Joyce's Oscar-nominated short animated documentary about her father will be screened and she will attend the opening. Here's the press release:
Yeshiva University Museum, in the heart of New York City, is proud to announce the very first American exhibition of the acclaimed master of post-war expressionism in Canada, Sam Borenstein (1908-1969).

You are cordially invited to the opening reception of

"SAM BORENSTEIN AND THE COLORS OF MONTREAL"
on Sunday, February 27, 2011,
at 2 PM.

Following the landmark retrospective at The Montreal Museum of Fine Arts, which also toured across Canada, thirty-five of Borenstein's most vibrant works will be on display at

YUM's SELZ GALLERY, 15 West 16th Street, NYC
from February 6 to May 8, 2011.

We hope to have the honor of your attendance and you are welcome to invite your colleagues and friends.
___________________
.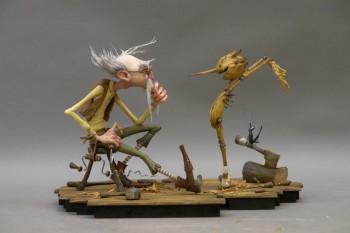 - Guillermo Del Toro has written the story with screenwriter, Matthew Robbins, and will co- direct a new 3D puppet version of Pinocchio. Set to take a darker turn than Disney's film, the film should be an interesting mix.
Del Toro, a live-action director, is responsible for the Hellboy franchise, and he also directed 2006 the fanciful Pan's Labyrinth in 2006. Gris Grimly will co-direct with Mark Gustafson in London. The two were previously involved in The Fantastic Mr. Fox, Tim Burton's Corpse Bride, and the upcoming Frankenweenie. The film is being produced by the Henson Company.
To read more about this go here.
2 Responses to "Steve, Michel, JJ, Sam & Del Toro"
on 19 Feb 2011 at 12:04 pm 1.Eric Noble said …

I am very interested in seeing this new version of Pinocchio. I would like to see where they take it.

on 20 Oct 2014 at 12:27 pm 2.Lauren Peevy said …

I really wanted to develop a simple remark in order to say thanks to you for all the magnificent information you are giving out at this website. My incredibly long internet lookup has at the end of the day been recognized with brilliant facts and strategies to write about with my friends and classmates. I d admit that most of us site visitors are quite lucky to be in a great network with so many marvellous professionals with interesting points. I feel quite lucky to have seen your website and look forward to plenty of more amazing minutes reading here. Thanks once again for a lot of things.
Leave a Reply