Commentary &Independent Animation &SpornFilms &T.Hachtman 21 Feb 2011 08:08 am
- Happy President's Day. This gives me the chance to talk about a show I've been doing for HBO. It feels like I've been working the last ten years on it, but it's really only 2½. The show is scheduled to air next year on President's Day, and we're in the throes of completing it now.
This is basically a program where we've asked some kids to tell us what they would do if they were President. The kids gave us some funny ideas and brought a lot to the table.
However, the show took a wrong turn somewhere in the beginning, and we went down a path that wasn't what Sheila Nevins, the head of Family Programming, was looking for. We'd done a half hour of finished-looking animatic to sell our work, and a lot of it went out the window.
I tried to make some small QT movies of a couple of the outtakes, but I couldn't get the files down far enough, and they took forever to load. So forget that. Instead, let me show off some of the great caricatures Tom Hachtman did for me.
We were going to tell some quirky stories about some of the Presidents, when they were kids. And we'd assembled some interesting ones. So Tom had to give me drawings of the Presidents as adults AND as kids.
Here's some of the art that went out the window: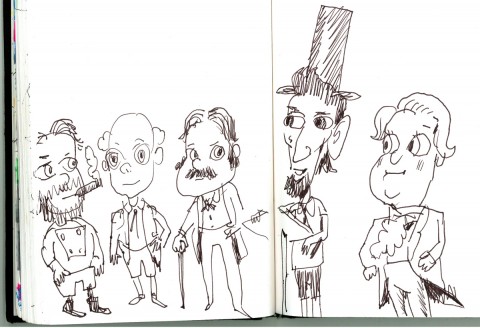 1
At first, Tom did a lot of scketches in his notebook to see
what I was looking for. He hit it on the mark first time out.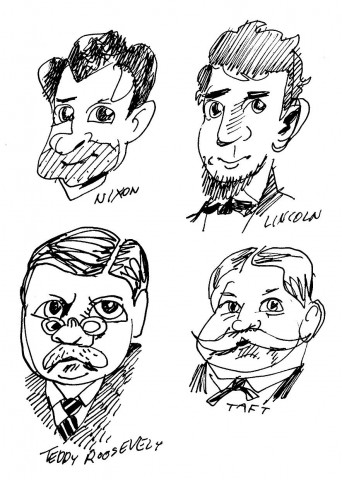 2
Then he produced a bunch of portraits of
random Presidents that might inspire something.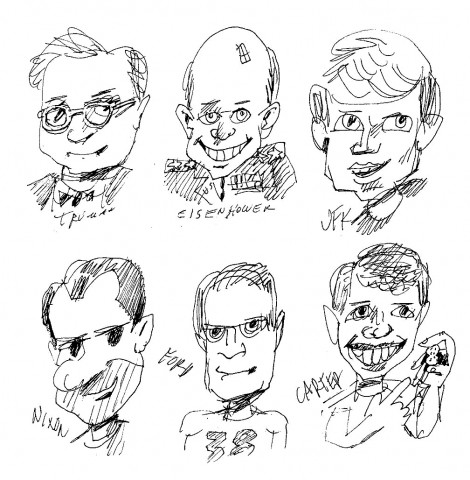 3
And more.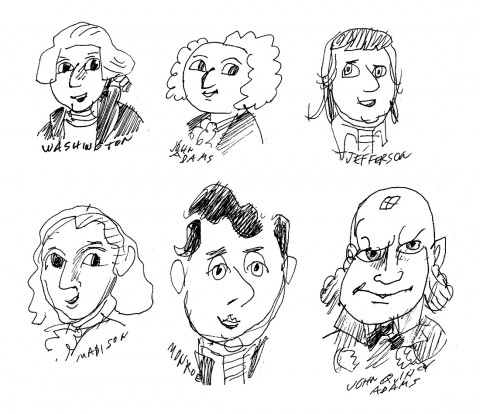 4
And more.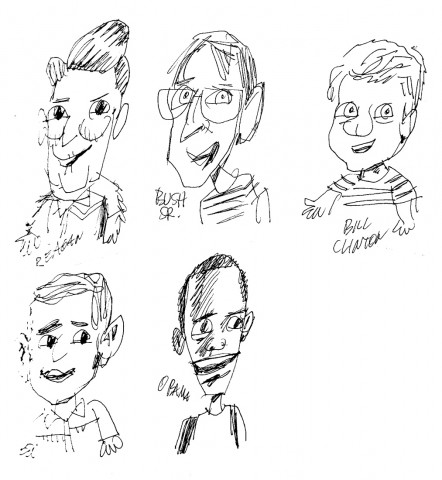 5
And as kids.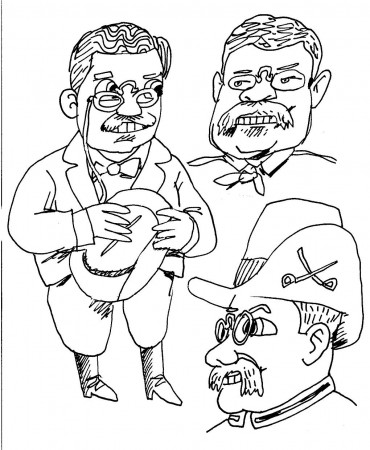 6
Teddy Roosevelt was heating up for us,
so Tom did quite a few sketches.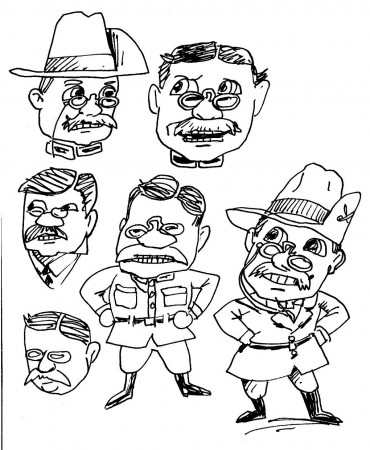 7
And more.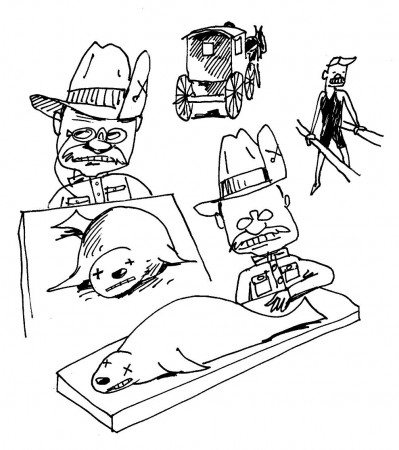 8
We had this story about Teddy, as a kid, finding
a dead seal. He took it home and performed an
autopsy, bisecting it to analyze its contents.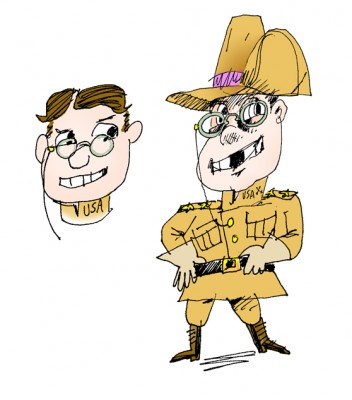 9
I colored one for presentation.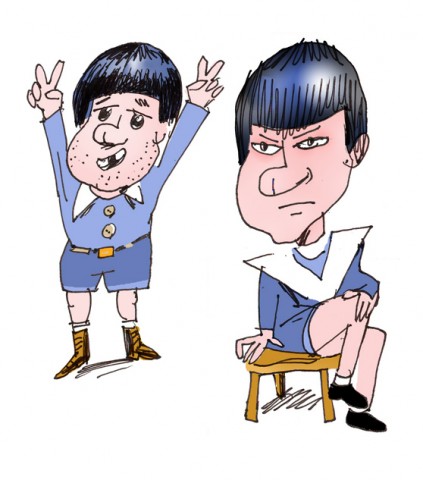 10
I also liked the idea of doing a story about Nixon,
especially after Tom came in with a funny drawing
that I colored strictly for presentation.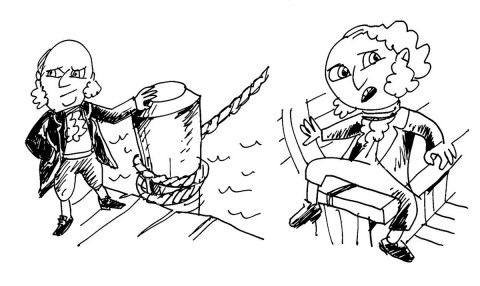 11
We did do an animatic on John Adams and his son, John Quicy Adams,
crossing the Atlantic to go to France – where they stayed for more than a year.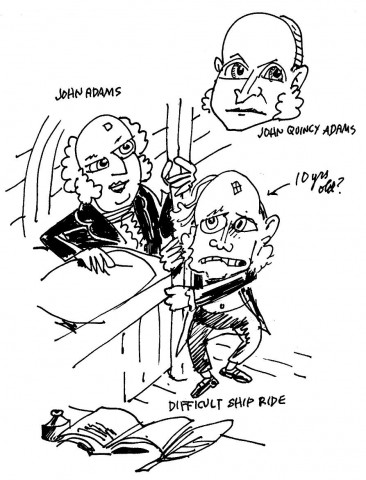 12
It was a tough voyage. Storms,
invading British ships and seasickness.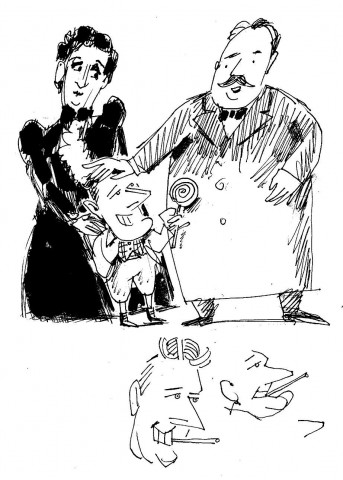 13
We also did a piece on FDR going to White House
as a child where he met Grover Cleveland and
was advised never to run for President.
But all this work was for naught. It was removed from the show. We didn't talk about past Presidents (with few small exceptions to comment on the conversations the kids have.)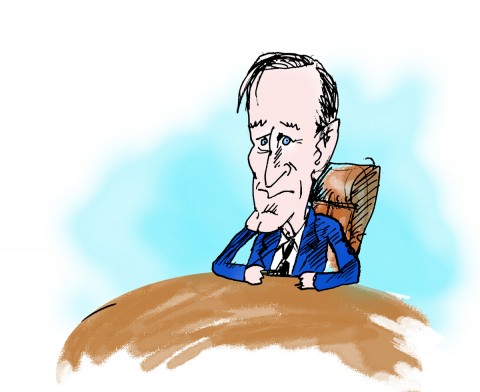 15
The one full piece that did make the show was
George H.W. Bush angry about eating broccoli.

The show's taken its own shape and I'm really proud of it. Matt Clinton and Katrina Gregorius did a magnificent job in handling a lot of the animation. It's really funny and poignant, too.
Look for it next year.
5 Responses to "President's Day"
Leave a Reply