Kentridge 14 Feb 2006 08:09 am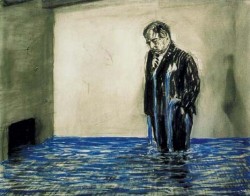 - This week New York Magazine is featuring an article on William Kentridge. For those who don't know, Kentridge is an artist who often uses animation as his medium of choice. Unlike most of us, his films don't play in theaters but art galleries. His work is quite unique and expressive. You can read the article on line here, but the printed magazine features a number of good illustrations.
The article is timed to coincide with the gallery show in New York of Mr. Kentridge's recent work. It's at the (Click on the stills to enlarge.)Marian Goodman Gallery at 24 West 57th Street, NYC 10019.
You can view 10 of William Kentridge's pieces on display at their site.

- I also would like to repeat mention of the show of art from The Corpse Bride. The gallery features puppets and art from the film until February 20. It's definitely worth a visit. It's at the Tribeca Cinemas Gallery at 13 Laight Street (at Canal Street) adjacent to the Tribeca Cinemas. Noon-8pm daily.
- Thanks to Cartoon Brew for notifying us about John Kricfalusi's new blog. His original Spumco website was worth the many visits, it'll be fun to see what he does with a blog.
- A depressing note: While watching Jeopardy last night, I was dumbstruck by one question. (I can't give the exact question, for you Jeopardy fanatics, but it's close enough.)
"The visionary behind 'Snow White & The 7 Dwarfs' which used the multiplane camera for the first time."
Here's the shocking part. No one buzzed in! The three college students didn't know that Walt Disney had done "Snow White" !?!
I'm sure it's just me. I'm going crazy!
10 Responses to "Kentridge"
Leave a Reply