Animation &Illustration &Independent Animation &SpornFilms 26 Feb 2011 08:34 am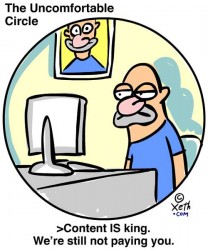 .
- Xeth Feinberg has recently been doing comic strip panels. He and his witty strip can be found on The Huffington Post – some pretty wide exposure. Quite a coup for Xeth. The only other animator involved with The HuffPost is Bob Blechman who did some animation for their original masthead and has had several commentaries posted there.
Xeth, of course, is famous for his early Flash animated pieces that flew across the internet in the early days of such things. Bulbo In The 20th Century is a brilliant piece of filmmaking that came out of this period.
Queer Duck, his biggest character, grew out of this work. The Queer Duck shorts poayed on Showtime with the Queer As Folk show; Xeth went on to make a DVD feature (called Queer Duck).
______________________________
.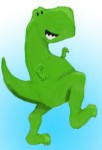 - Another animator who has his own blog is
Doug Vitarelli
. Doug has created a character named
Olifant
, a dinosaur who lives in New York City's Central Park. The site is dedicated to Olifant. As Doug points out, "It's a website for kids, 2-6, with stories, games and activities." This is a good place for animators to turn when they have children.
Doug worked for me years ago. In 1987, he interned on a film I did called Santa Bear's High Flyin' Adventure. It was a monster of a picture that struggled throughout its entire lifespan. One of those.
At the same time, we were doing Lyle Lyle Crocodile with another staff in another space. That one was the dream that just was fun to work on and flew out easily as a great film.
One of these days I'll write more at length about those two films. We had 86 people working on Santa Bear and only about 15 on Lyle.
______________________________
.
- And speaking of other blogs, I thought I'd take a moment to promote another blog that I have that doesn't change much but has a lot on it.
Poestory.net
features a lot of art bits from the preproduction of my
Poe
feature. The
Production Updates
page is about all that's been changing lately. I write infrequent notes about Edgar Allan Poe and the film several times a month. When the film actually does get into production I'll do it more regularly and frequently. (We're expecting the funds to come through soon, as expected, and we can get our hands into the work.)
Here's a QT of a short bit of test animation for the inner story MS. IN A BOTTLE. ______________________________
.
12 Responses to "Nuts to Notes"
Leave a Reply